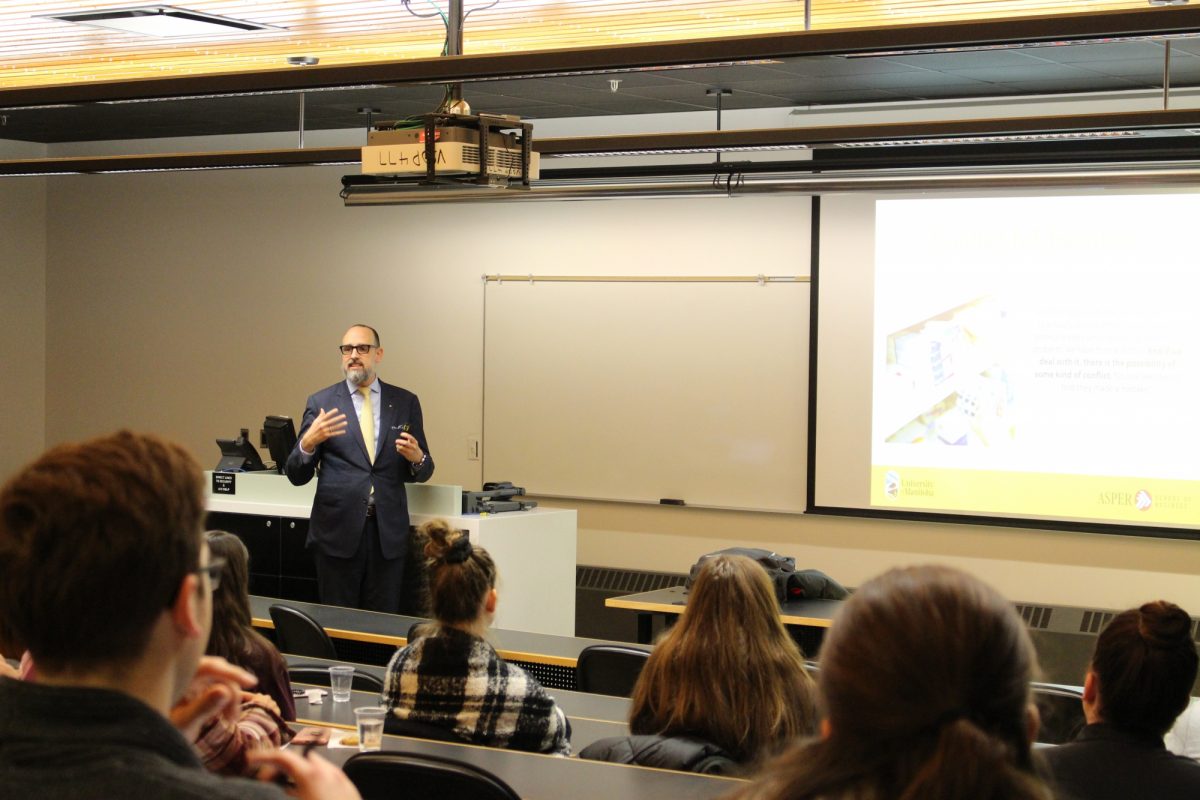 Pharmacy leadership series provides students with skills to be leaders in health care
November 8, 2019 —
The College of Pharmacy, in partnership with the James W. Burns Leadership Institute, has kicked off its inaugural Pharmacy Leadership Series for students.
The seminar and lecture series aims to provide students with transferrable knowledge that they can take and apply to their future roles as pharmacists. The series will also provide students with leadership skills applicable to community projects, rotations and effective teamwork.
Dr. Lalitha Raman-Wilms, dean, College of Pharmacy, said the leadership series will provide students with a solid grounding in leadership knowledge and skills, which will enable them to be better prepared to lead practice within a changing health-care system.
"The College of Pharmacy is very pleased to offer this series for our students," said Raman-Wilms, "Leadership skills are critical for all of our students in the health professions, as this will enable them to work effectively with each other and within the system, resulting in positive health outcomes for Manitobans."
As one of the key competencies of the Association of Faculties of Pharmacy of Canada (AFPC) Educational Outcomes, leadership skills aid pharmacy graduates to engage with others to optimize the safety, effectiveness and efficiency of health care and contribute to a vision of a high-quality health-care system.
"I think it's a great opportunity especially considering as we become pharmacists, we are going to take on leadership roles," said pharmacy student Christine Vaccaro.
"I want to see more pharmacists leading in health care as a whole and I think that this helps to cultivate these kinds of skills," added pharmacy student Marianna Pozdirca, "This way we will create a leadership framework where we move from a hierarchical framework into something that is truly inter-professional."
The first session featured a panel with accomplished leaders in pharmacy in Manitoba moderated by Dr. Suzanne Gagnon, associate professor of Leadership and Organization at the Asper School of Business, Canada Life Chair in Leadership Education and director of the James W. Burns Leadership Institute.
The series covers the following topics:
The Role of Leaders and Leadership in the Changing Landscape for Pharmacy in Canada
Knowing Yourself as a Leader, and the Power of Collaboration for Leadership in Pharmacy
Managing Conflict as a Leader
Leading in Intercultural Environments
The sessions are open to all College of Pharmacy students.
Smaller group workshops will be held in the winter semester for hands-on skill development in selected areas, dates to be determined. Each of these workshops will be repeated to allow for a greater number of student participation.