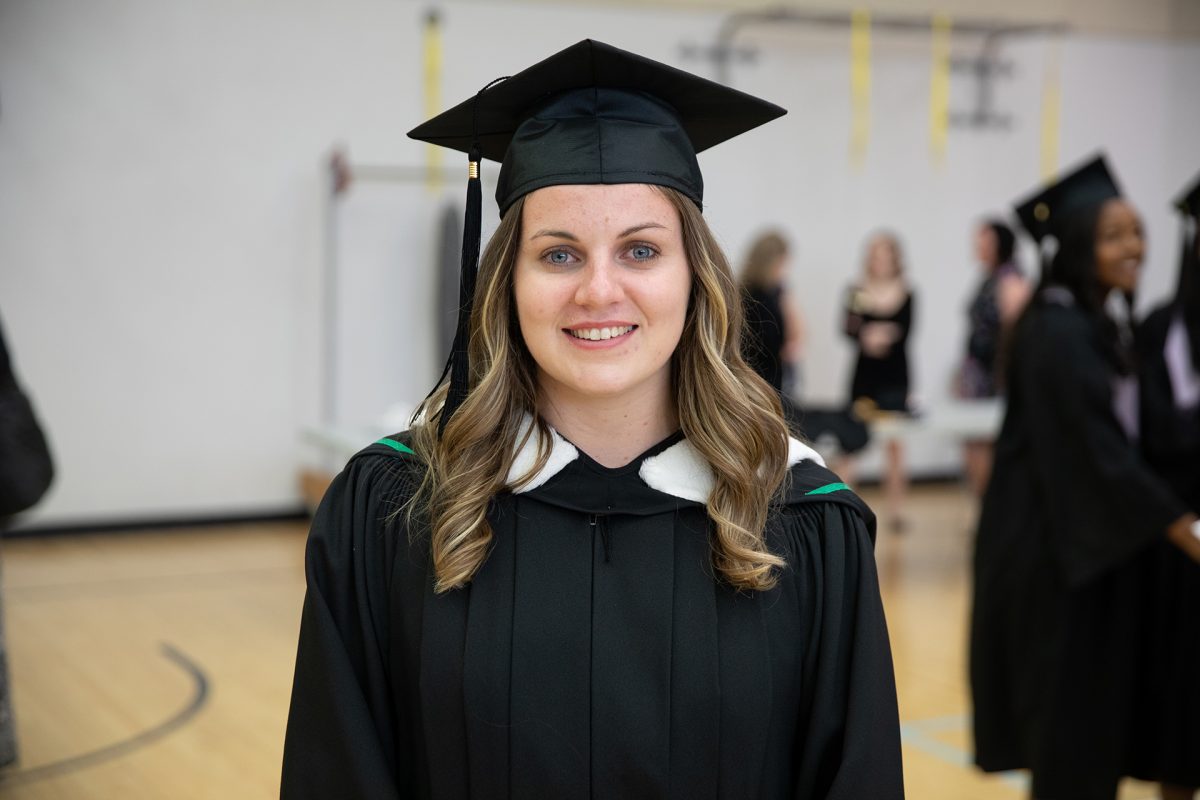 Pharmacy gold medallist credits support system for achievement
July 11, 2019 —
Mackenzie Murray graduated with the gold medal for the highest standing in the College of Pharmacy Class of 2019.
At Convocation this past May, Murray also received the College of Pharmacists of Manitoba gold medal for highest standing in the second, third and fourth years of the program, the Mark Rose Memorial Book Prize and the Abraham Schwartz Prize.
Murray talked to us about her experience in the program, studying abroad, and why having strong support systems made it easier to succeed.
Can you tell us about your experience at the College of Pharmacy in the Rady Faculty of Health Sciences?
I completed two years in the science faculty before going into pharmacy. It was a big change going from 250+ students in a class to 50 students in a class. The small class size gave me a chance to get to know my peers and make friends. I also got to know and make connections with the faculty, who were very supportive and wanted to see us succeed. We got full summer breaks, unlike some other programs, which was nice because it gave us time to reset before going back.
Did you take advantage of any opportunities offered by the college during your studies?
The college offers programs to travel and volunteer. For my elective I went to the Philippines for seven weeks with a classmate. I did an observational study in a public hospital, looking at the differences between the health-care systems in Canada and the Philippines. We got to spend time in every part of the hospital, including surgery and emergency.
The health-care system in the Philippines is very different compared to Canada. There is no publicly funded health care, so even in public hospitals, patients have to pay for everything. You end up seeing very sick people because they will only come to the hospital if they are really in need of care. It was an eye-opening experience, to see how lucky we are here.
We shared a house with students from around the world. It was cool to share experiences and hear about what things are like in their part of the world. The culture in the Philippines was also a huge part of the experience, to see how different it is from Canada. It's like a big family.
What was a highlight of your experience in the program?
Our class got along great and became a family by the end of fourth year. We would regularly make plans to get together, have potlucks and just hang out and study. That time together really sticks out for me. It was nice to have that support system.
What's next for you, now that you have graduated?
I'm currently finishing my internship (we're required to complete 360 hours) at a pharmacy in my hometown of Glenboro, Man. After that is completed, I want to get a job somewhere close to home.
What was it like to receive the gold medal for highest standing?
It was really exciting. I'm very proud. A lot of hours went into it – my family can attest to that. They're excited that I'm done. I think it was just as stressful for them as it was for me. But I think it's easier to succeed in a smaller faculty with the support of your peers.