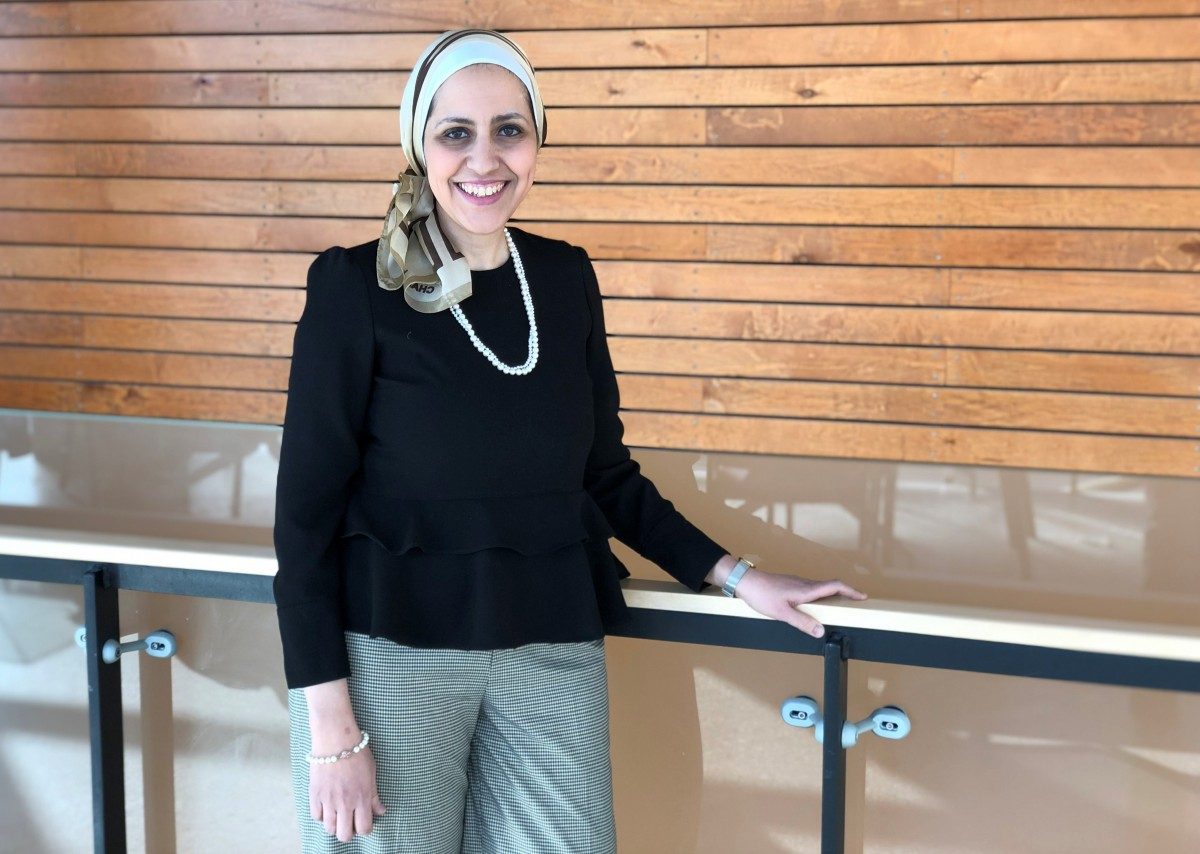 Pharmacy a family affair
March 13, 2019 —
Dr. Hagar Labouta jokes that the pharmacy field is in her genes. Her father is a professor of pharmaceutical chemistry, and her mother is a chemist.
"Maybe this triggered me," the new assistant professor in the College of Pharmacy said. It was in her first year of university in her hometown of Alexandria, Egypt, that Labouta realized she was destined to follow in her parents' scientific footsteps. And she hasn't looked back since.
Labouta brings more than 15 years of research experience to the University of Manitoba. Her expertise is in the use of nanotechnology in biomedical applications such as drug delivery.
The goal of researchers in this field, she said, is to design nanoparticles to carry drugs to a specific site in the body to maximize the effect and reduce side effects, especially with anti-cancer drugs that have a severe impact on the body. She said there is a lot of excellent research looking into this. However, there has been little success in clinical settings because when nanoparticles enter the body, they change and are no longer what they were in the lab.
"So far we really don't have a clear understanding of what the behaviour is of nanoparticles inside the body," she said. "My research is trying to dig into this new identity that the nanoparticles develop and how this identity dictates their behaviour throughout their journey inside the body."
Labouta is far from a solo scientist working away in a lab alone. She thrives on collaboration. She has worked with multi-disciplinary teams at 15 research institutes around the world – from Germany to Australia to Finland. She enjoys working with researchers in other disciplines because they bring their strengths and expertise to research projects. She also finds it fascinating to work with people from different countries and learn about their cultural backgrounds.
In a recent interview about her latest research study that was published in the journal ACS Nano, Labouta talked enthusiastically about the multi-disciplinary team she worked with – which included chemist Dr. David Cramb, biomedical engineer Dr. Kristina Rinker and computer programmer Nasimeh Asgarian.
"It was a really nice collaborative project where everyone has their own strengths, and it was really fruitful in the end," she said. "We have really good results."
She was the co-lead on the study that used machine learning to develop a framework to predict the toxicity of nanoparticles. The journal article states that the results will help future studies to build safe nanoparticles.
"The breakthrough here is that we are several steps closer to really predicting the toxicity of nanoparticles," she said. "I'm very excited. I'm very happy with the conclusion that we got, and I'm also, of course, very happy with the collaboration."
The institutions involved in the study include the University of Manitoba, University of Calgary, Alexandria University and Ryerson University.
Labouta earned a bachelor's in pharmaceutical sciences and a master's of pharmaceutical sciences from Alexandria University in Egypt. She received her PhD of natural sciences from Saarland University in Germany. She went on to be a postdoctoral associate in the department of drug delivery at Helmholtz Institute of Pharmaceutical Research-Saarland in Germany.
A career highlight came in 2014 when she moved to Canada to become a postdoctoral fellow at the University of Calgary. She went on to become the first postdoctoral appointee in STEM education research in the Faculty of Science at the U of C.
It was the opportunity to return to her comfort zone of pharmacy that attracted her to the University of Manitoba.
"When I read about the job, I was like, 'oh, yeah, that's the job I want,'" she said. "And then when I came here and met the people, it felt like a family in the College of Pharmacy. They are very close and very helpful."
The scientific process that captivated Labouta as an undergrad continues to engage her today.
"There's no research that's perfect," she said. "There's no research that's complete. Once you start, it takes over your life. You're willing, and want to do that, because you like it."