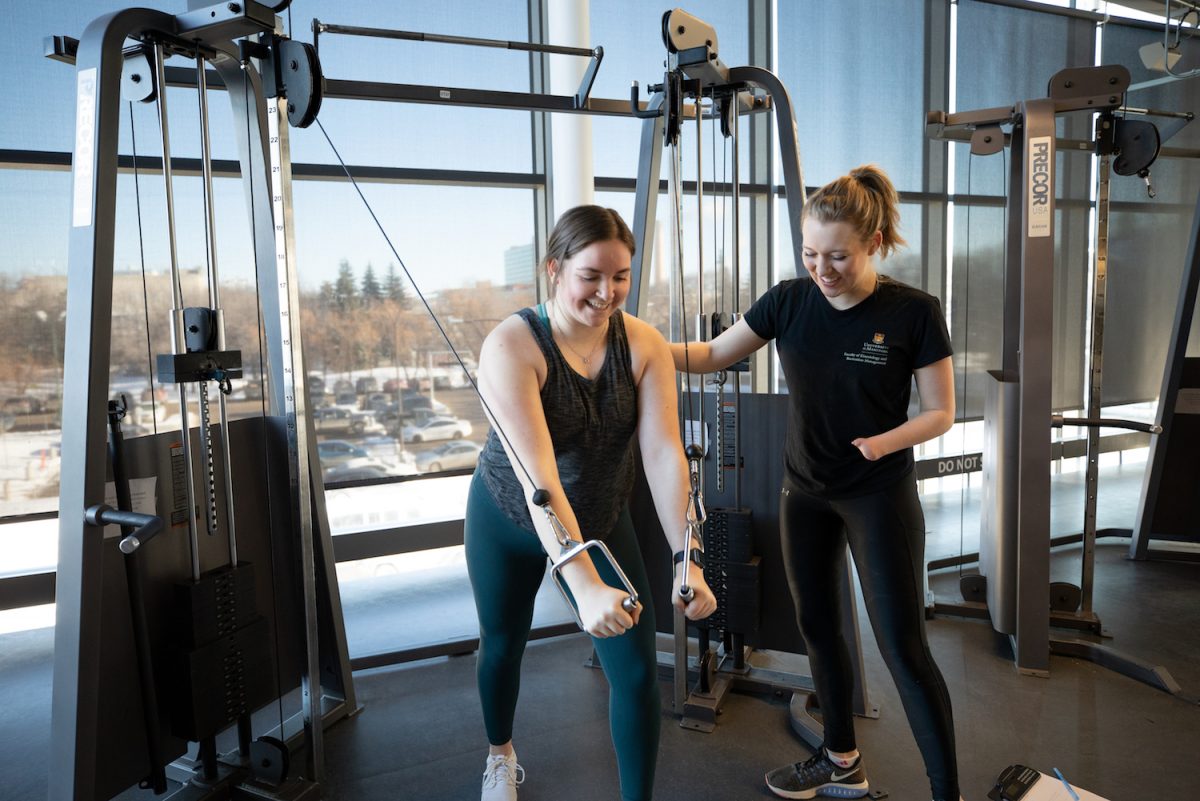 Personal training & nutrition week
Get expert help & advice at a discounted rate
September 30, 2019 —
The Recreation Services personal training and nutrition week event is back. Join us Oct. 7-11 for free sessions, great discounts, and a chance to win a free personal training or nutrition service. Here's what's in store for the week.
All-Week Discount and Prize Draw – All new and current clients will receive 15 per cent off of all personal training and nutrition purchases during the week, and will also be entered into a draw to win their choice of one three-pack of personal training sessions, or an initial consultation with a registered dietitian.
Events:
Active Learning Session – Multi-task by joining this 45 minute Active Stretch class where you'll learn all about the Power of Protein while reducing stiffness, improving mobility and increasing flexibility. It will be led by a Certified Fitness Instructor and a Registered Dietitian on Wednesday, Oct. 9 at 5 p.m. in the Active Living Centre multi-purpose studio 264. No registration required.
Fitness Floor Basics – We'll be kicking off our new applied info sessions introducing different components of the fitness floor and how to safely and effectively use equipment such as machines, free weights and other portable equipment. Here are the sessions taking place during personal training and nutrition week:
Monday, 3:30 p.m. & 7:30 p.m. – Muscle Monday: Each Monday we will focus on a different muscle and show you various exercises, modalities and methods to work that muscle effectively.
Tuesday, 7:30 p.m. – Choosing the right cardio intensity: There are many takes on what the ideal intensity is for cardio exercise. Our experts will share their tips and tricks and help you reach your desired goals for cardiovascular fitness.
Wednesday, 11:30 a.m. – Resistance Training Machines: Our certified staff will demonstrate how to safely and effectively use the resistance training machines. You will leave feeling confident in your ability to choose the right machines, make appropriate adjustments, and execute your movements.
Thursday, 3:30 p.m. and 7:30 p.m. – Stretching machines and foam rolling: Learn how to effectively use our specialty stretching machines designed to progressively increase your range of motion around the hips and lower limbs. We'll also get you started with the fundamentals of foam rolling and how you can incorporate it into your regular routine easily.
Friday, 11:30 a.m. – Choosing the right weight, sets, and reps: Exercise can be a confusing thing. How long, how hard, how often? These are all questions you may have and social media likely bombards you with conflicting messages. Let the experts share their tips and tricks with you on how to reach your desired goals for resistance training.
Follow us a social media – During the week we will be posting educational write-ups and videos on a variety of different exercises, including a demonstration of our functional movement analysis assessment.
Have questions? We'll have a table set up throughout the week in the Active Living Centre Agora with a staff person available to answer any questions you might have about our personal training and nutrition services.
This is all great, but why should I register for personal training?
Personal training helps improve the quality of your workouts and therefore improves your fitness results compared to self-directed exercise. Some of the benefits of personal training include:
Accountability
Efficiency
Personalization
Safety
Variety
Routine
Results!
Take advantage of this promotion to invest in yourself and book a session with one of our certified personal trainers. For more information on our personal training and assessment programs, please call 204-474-7976 (Fort Garry campus), 204-789-3858 (Bannatyne campus) or visit us at uofmactiveliving.ca.