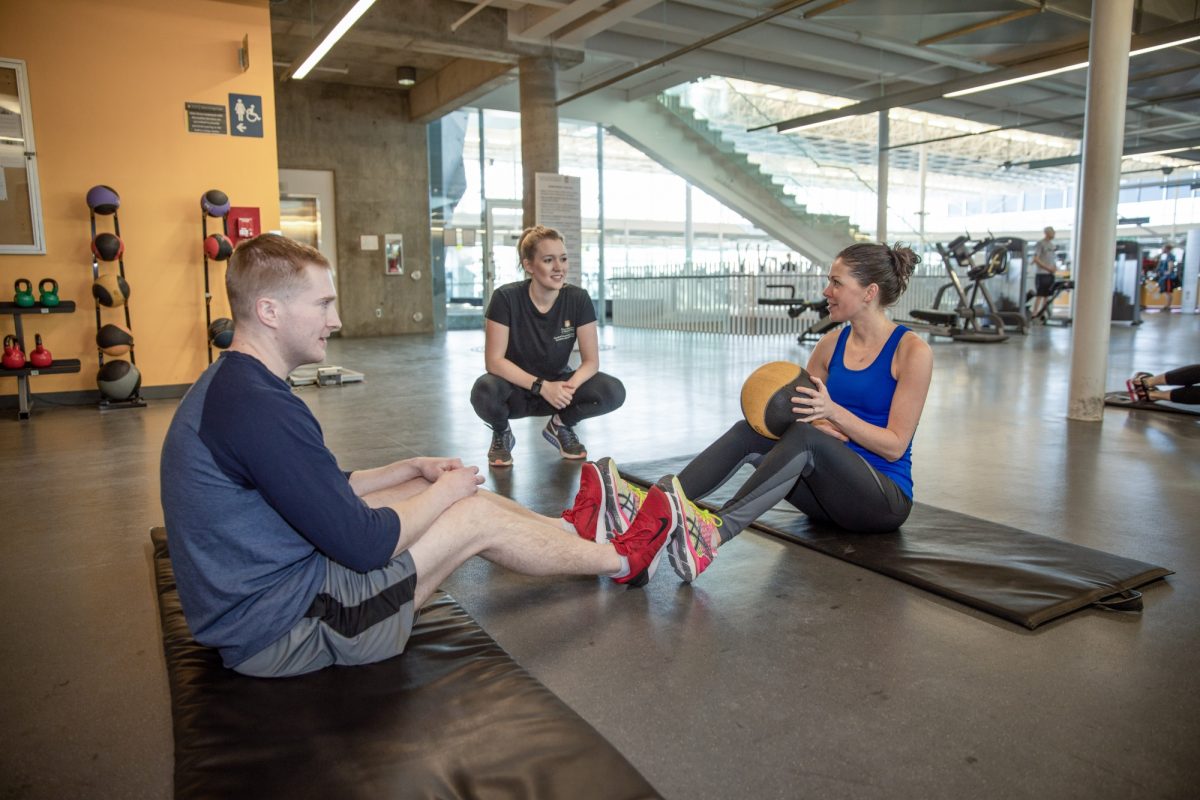 EXTENDED—Personal training & nutrition week runs until Feb. 9
February 7, 2020 —
Personal training and nutrition week is UM Recreation Services' chance to share some of their great features at an unbeatable price.
Stop by the Active Living Centre and Joe Doupe Rec Centre Feb. 3-9 for free sessions, great discounts, and a chance to win a free personal training or nutrition service. Here's what's in store for the week.
All-Week Discount and Prize Draw
All new and current clients will receive 15 per cent off of all personal training and nutrition purchases during the week, and will also be entered into a draw to win their choice of one three-pack of personal training sessions, or an initial consultation with a registered dietitian.
Hands-On Nutrition Education
Learn healthy eating skills and recipes through experiential learning arising from first-hand observation and hands-on completion of tasks. We will focus on how to stock healthier pantries, recipes using those staple ingredients and then getting hands on to make a few of those delicious recipes.
When: Thursday, Feb. 6, 6-7 p.m.
Where: 220 Active Living Centre (boardroom)
Cost: $10 Non-members / free for members *registration required

Sign Up

Fitness Floor Basics
Applied info sessions introducing different components of the fitness floor and how to safely and effectively get the most use out of everything in the ALC. Here are the sessions taking place during personal training and nutrition week.
Monday, Feb. 3, 11:45 a.m.
Cable Machines: Learn how to use one of the most versatile pieces of equipment in the gym. The Cable Machine uses cables, weight stacks and various attachments to provide you with countless exercise options for a total body workout.
Tuesday, Feb. 4, 7:30 p.m.
Plyometrics: Plyometrics can be beneficial for almost everyone if done correctly. Let the professionals teach you how to safely include it in your workouts and demonstrate examples for both upper and lower body.
Wednesday, Feb. 5, 11:45 a.m.
Circuit Training: Circuits are a great way to get a quick workout into your busy day while targeting muscular strength, endurance and cardiovascular fitness. Learn how to create your own circuits in the ALC.
Thursday, Feb. 6, 11:45 a.m.
Stability & Balance: Balance is one of the most overlooked types of fitness training, yet it is curtailed for all components of movement. Let us show you how to add components of balance training into your routine at the ALC and in everyday activities.
Friday, Feb. 7, 11:45 a.m.
Resistance Training Machines: Our certified staff will demonstrate how to safely and effectively use the resistance training machines. You'll leave feeling confident in your ability to choose the right machines, make appropriate adjustments and execute your movements.
Follow us on social media
During the week we will be posting educational write-ups and videos on a variety of different exercises, including an exercise of the day and a demonstration of our functional movement analysis assessment.
Have questions?
We'll have a table set up throughout the week in the Agora with a staff person available to answer any questions you might have about our personal training and nutrition services.
This is all great, but why should I register for personal training?
It helps improve the quality of your workouts and therefore improves your fitness results compared to self-directed exercise. Some of the include:
Accountability
Efficiency
Personalization
Safety
Variety
Routine
Results
Personal training can also help:
Anyone requiring an individualized program to meet specific needs and goals
Anyone requiring individual attention and or feedback
Those who have reached a plateau in their current training program and would like to safely and effectively enhance performance
Those struggling to become or remain physically active or have trouble finding enjoyment in physical activity
Those recovering from an injury or who need to increase strength to prevent future injury.
Take advantage of this promotion to invest in yourself and book a session with one of our certified personal trainers.