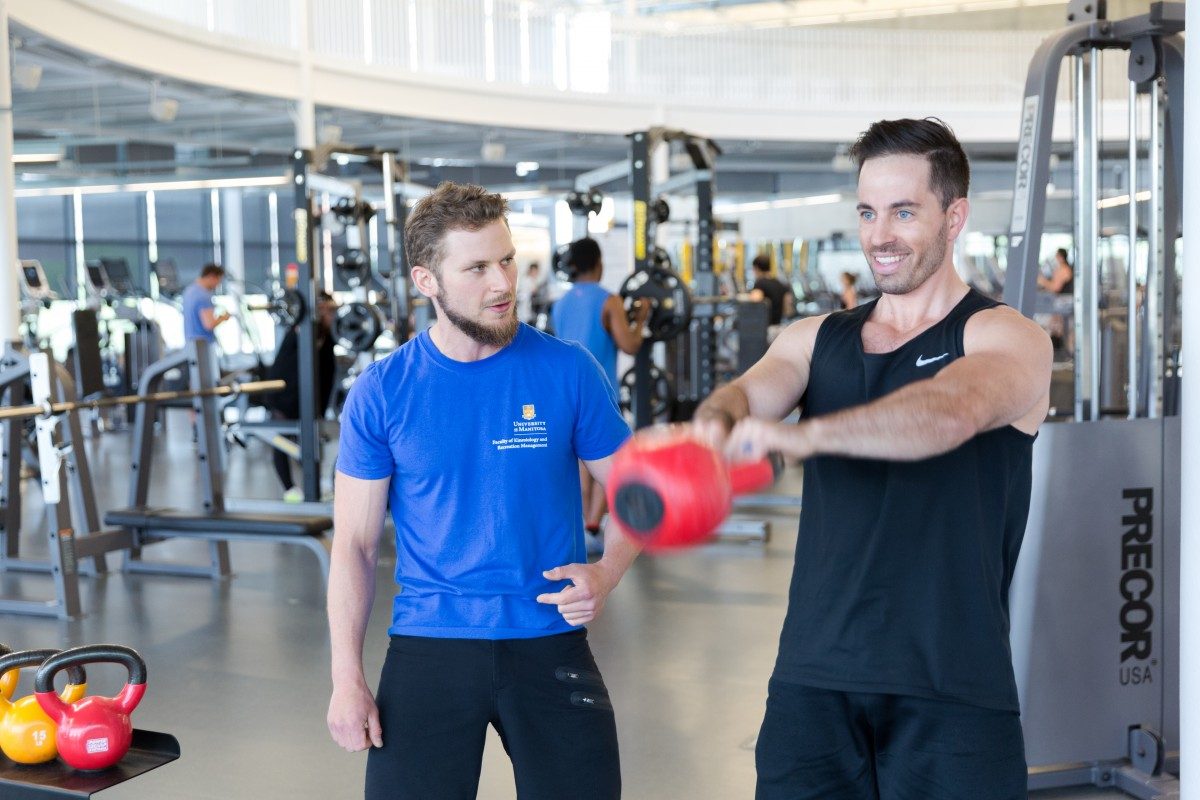 Personal training is an investment in your health
October 11, 2018 —
Just like your RRSP or mutual fund, you want return on your investments. An investment in personal training is no different.
And in the same way an investment advisor helps you navigate the tickers of the stock exchange, a CSEP certified personal trainer can help steer you to the health, fitness, and wellness results you're looking for.
Recreation Services fitness training and assessment coordinator, Adam Toffan [B.E.S.S./04, M.Sc./08], shares why an investment in personal training will pay dividends.
Maximize your training
A common reason for people not getting enough exercise is time. Sixty-four per cent of people who don't exercise enough say it's because they don't have time. People have school, jobs, families etc. Let's do some math. The average person watches two-to-three hours of TV per day. We spend 25-33 per cent of our waking hours doing non-work related activities. For less than 10 per cent of your day, you can improve your life, but now you need to maximize your time! The fact is we aren't as busy as we think. It's about priorities. That's where a professional personal trainer can help. With expertise in exercise selection and design, a trainer will make the program more effective and efficient. Many people do exercises they're familiar with without knowing the best way and time to do them. Exercise selection and order have a huge effect on training adaptation.
Stay accountable
It's easy to skip out on a workout when you're only accountable to yourself. We're less likely to skip out when someone else is counting on us. Whether that is a training partner or a personal trainer, it helps to have someone who is expecting you. Once in the gym, the trainer also keeps you accountable with regards to your effort and rest periods. A trainer will help make sure you don't cut a set short or go a little lighter or slower than you can. Having someone make sure that you're doing all the work at the proper intensity means better results!
Create a customized plan
Everyone is different. We have different goals, preferences, medical history, and experience. Even our anatomy can be slightly different, which effects how we can execute some exercises. For example, the orientation of your hip sockets can limit your squat range of motion for a given foot placement. Therefore, finding a cookie cutter workout from YouTube, for example, might not address you specifically. A personal trainer will build your program around YOU. If you have specific fitness goals, a sport you play or health concerns, everything you do will be because it helps you reach your goals and based on the most current research.
Learn proper techniques and progression
Exercises, when not done correctly, lose effectiveness and/or increase in risk. A trainer will ensure you're doing every exercise correctly. You'll use the desired muscles in the proper way and get the desired stimulus from each exercise. You also need to keep progressing, either by increasing load or by changing to a more challenging exercise. Some people get comfortable or are afraid to try new things. They doubt their ability to try something harder and completing the exercise safely. A trainer helps you select proper progressions so you can continue improving your fitness without increasing the risk of injury.
Overcome a plateau
Sometimes we get stuck in a rut. While plateaus can be normal, a trainer can help you get out break out of the slump. There are many strategies a trainer can employ to help you get back to progressing towards your goals. Sometimes it's exercise selection/modification, or it could be repetition range and rest periods.
Modify your workout to overcome injury or limitation
Whether it be from previous injury or effects of a chronic illness, sometimes we can no longer do things the conventional way or the way we used to. An educated and experienced trainer knows how to change an exercise or a workout to accommodate you. That allows you to train for your goals while working with an injury or limitation. Just because you can't do something, doesn't mean you can't do anything!
Reach your goals
Thanks to all the other benefits listed above, people who work with a personal trainer see improved results. Because personal trainers allow you to be more efficient and give the required effort to execute a purposeful exercise program, the health or sport results are significantly better than working out on your own. In an upcoming post, we'll look into the research supporting this.