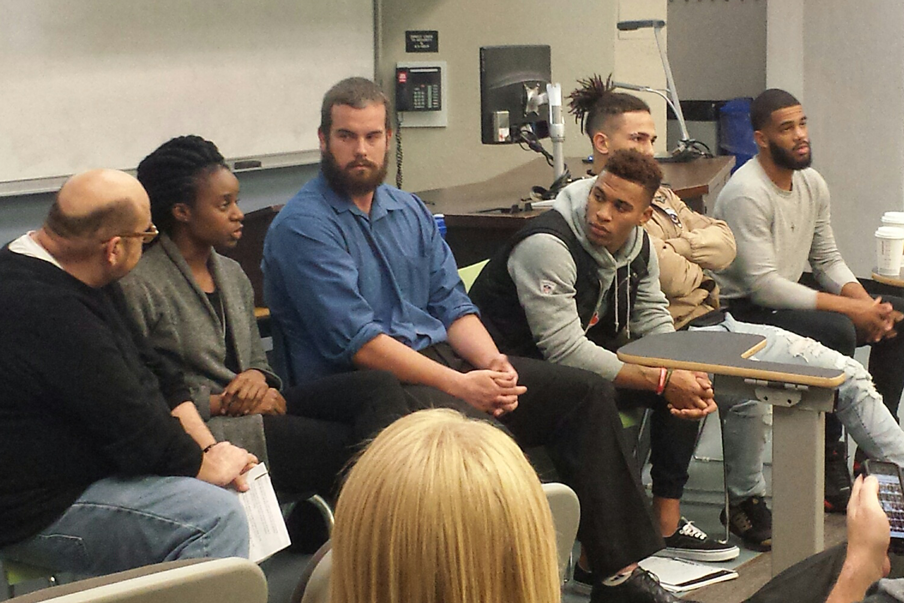 Panel tackles sports, protest and racism
October 24, 2017 —
Professional athletes take risks when they use their celebrity to share their opinions and beliefs. This didn't stop Colin Kaepernick, formerly of the NFL's San Francisco 49ers, from taking a knee and starting a national (and international) conversation.
Over 100 people attended the latest roundtable discussion in the Trumpism series, Sports, Protest and Racism, hosted by the department of history. Serenity Joo, associate professor in the department of English, film, and theatre, set the framework for the discussion with a review of the history of protest and sport, "sports have always been political, from athletes being denied the right to play due to skin colour or the major differences in salary between genders." So, when a protest arises through sport, the media, public and even politicians tend to take notice.
Through questions brought forward by moderator David S. Churchill, associate head of the department of history, panel members tackled topics like "why do athletes protest if it is so risky?" "Athletes have an opportunity to present issues and use their celebrity to bring these issues to a greater public," stated Jamel Lyles, a Bison football player. Tom Clarkson, another Bison football player added that when athletes use sports to get their message across they tend to be "demonized for using the platform to present an issue."
"Protesting is risky, uncomfortable and will never make all sides happy. That doesn't mean it shouldn't be done," says Chioma.
Is sports the place for protest or should athletes express their views in alternative ways and places? Uzoma Chioma of QTPOC Winnipeg, a former University of Winnipeg and Canadian senior women's national team basketball player says that though "people tend to not want to hear from athletes about anything other than their sport, team or sponsors," they have the opportunity to impact many people, especially young people. She adds, "protesting is risky, uncomfortable and will never make all sides happy. That doesn't mean it shouldn't be done." Justus Alleyn, of Bison basketball added, "if institutions aren't pressured, then nothing will change. This can happen one person or team at a time." Jesse Walker, of Bison football pointed out that while he is an athlete and hopes to make it his profession, "sports are a small part of my life. My responsibility to my family, my community and my happiness are greater. If that means using sports as the forum to defend an issue, then that's what I would do." The panel unanimously agreed that as young athletes, they feel empowered by the actions of professional athletes and how they are braving widespread criticism.
Lightly touched on in the discussion was the dynamics of power and the ability of politicians and the media to decentre or minimalize a protest by interpreting it incorrectly or in a way that benefits the interpreter. Trevor Phillips of Indigenous Achievement brought forward this perspective highlighting that what Donald Trump is doing through social media is not new, "historically we see protests being misconstrued and misinterpreted. Trump deflects the real issues of race, inequality and violence and instead is focusing people on the flag."
Overall, the panel participants and many in the audience agreed that having the conversation one-on-one, at the dinner table and in academic forums such as this is important as it contributes to more people thinking and talking about the original issues.
The department of history will continue their Trumpism series over the next few months.