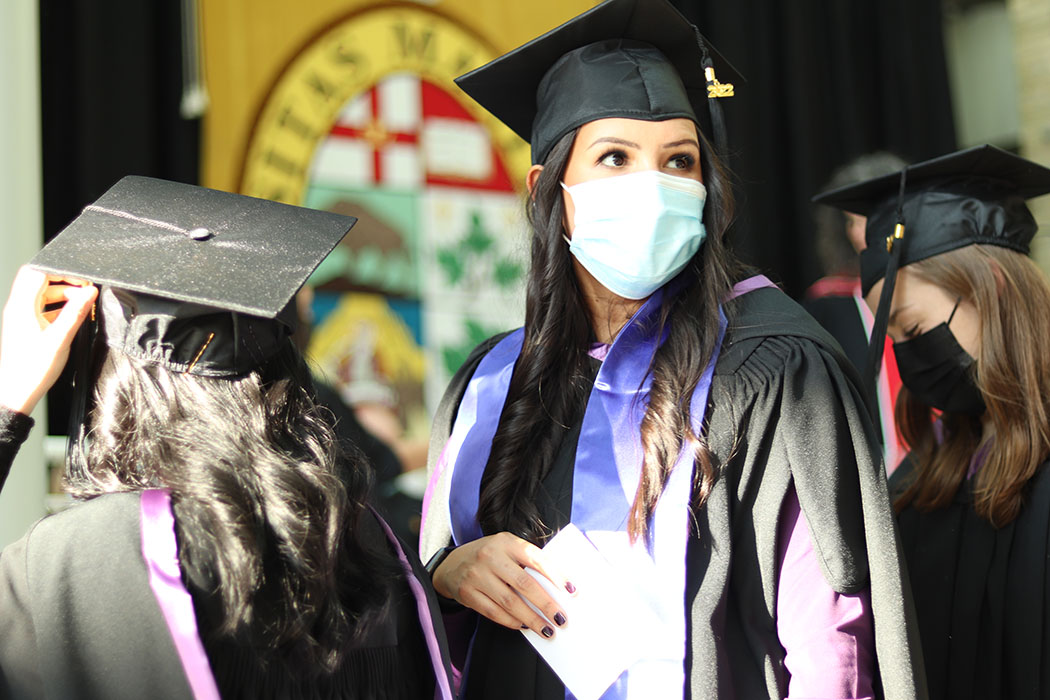 'Our professional responsibility'
Rady dean calls on CoRS and MPAS graduates to be 'agents of change'
October 31, 2022 —
Dismantling racism and reflections on learning through the COVID pandemic were common themes at the first in-person convocation since 2019 for graduates of the College of Rehabilitation Sciences and Master of Physician Assistant Studies (MPAS) program at the Max Rady College of Medicine.
In his first convocation address as vice-provost (health sciences) and dean, Rady Faculty of Health Sciences, Dr. Peter Nickerson called on the graduates to be "agents of change" by condemning all forms of discrimination and racism they will encounter in their careers.
"It is our professional responsibility and it is inherent in the oaths that we take as we enter the health professions," Nickerson said.
He also urged the group to be open to changes in the health-care system.
"Just as you were able to adapt to continue your education, the resilience you have shown these last few years will need to be ongoing," he said. "What we do and how we do it evolves constantly. This has never been more evident and made real than by the pandemic."
UM President and Vice-Chancellor Dr. Michael Benarroch and UM Chancellor Anne Mahon also spoke at the ceremony.
Mahon encouraged the graduates to celebrate, noting that 11,915 UM students graduated virtually during the height of the pandemic.
"You've all come from areas of study and discipline where you wanted to be face-to-face with your patients, and at times you weren't able to. And yet you've persevered and learned," she said. "This is truly a day for celebration."
In total, 125 Rady Faculty of Health Sciences students graduated at the ceremony, including 44 in the Master of Occupational Therapy program, 48 in the Master of Physical Therapy program, 18 in the Bachelor of Respiratory Therapy program and 15 in the MPAS program.
Charnae Betcher, MPAS graduate, said she's looking forward to seeing where she and her classmates will go as they transition from students to professionals.
"I'm excited to see the impactful difference we are able to make in our community within the health-care system," she said.
Physical therapy graduate Christina Keeper said the pandemic presented challenges to her time in the program, but she now looks forward to a career that can bridge health-care gaps for First Nations people in Manitoba.
A member of Nisichawayasihk Cree Nation, Keeper first learned about physical therapy through a Manitoba First Nations training initiative when she lived in Thompson, Man. Today, she's a physiotherapist with the Manitoba First Nations Education Resource Centre, working with school-age children.
"Now, with my master of physical therapy degree, I'm in a very good position to come to First Nations communities and be a role model for these kids. If they see me, as an Indigenous person, they'll see that they can do this too."
At the ceremony, respiratory therapy graduate Victoria Ploszay was awarded the University of Manitoba Gold Medal for highest standing in an undergraduate faculty, college or school.
Ploszay, completed the program in May and now works full-time at St. Boniface Hospital, casually at Selkirk Regional Health Centre and at UM as a teaching assistant and research assistant.
"Being a student in respiratory therapy was challenging and exhausting, but also exhilarating and rewarding," she said.
Earlier in the day, 21 awards were presented to rehabilitation sciences graduands at the college's annual convocation awards luncheon. Melissa Gunn (occupational therapy) and Jennifer Schreibmaier (physical therapy) were both multiple award winners and shared the Dean of the Rady Faculty of Health Sciences Graduate Student Achievement Prize.
"I feel grateful for the recognition of the hard work it took to get to where I am today and, of course, the financial support that it provides," said Gunn.
Dr. Reg Urbanowski, dean of the College of Rehabilitation Sciences, congratulated the award winners and all graduates for their achievements.
"With this being the first in-person awards ceremony and convocation in recent years, this event is extra special," he said.