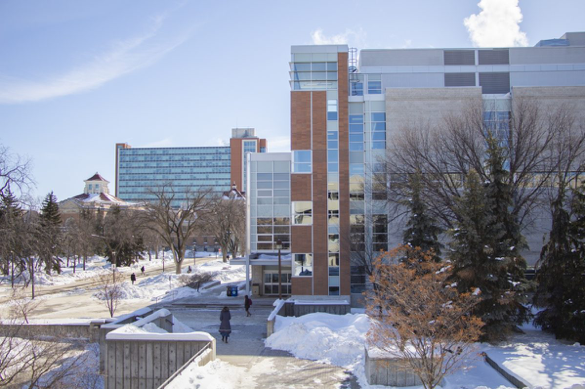 Our plan for return
The Price Faculty of Engineering looks forward to welcoming the majority of our students, faculty and staff back to campus on February 28, 2022.
February 18, 2022 —
After nearly two years operating primarily in an online environment, the Price Faculty of Engineering is excited to welcome our students, faculty and staff back to campus for in-person learning and work beginning February 28, 2022. This transition supports program quality and the student learning experience across our faculty.
We want to ensure everyone who learns, teaches or works in the Price Faculty of Engineering has a clear understanding of our return. We understand that many people in our community have questions about our plan for a safe return. We are committed to a safe return to operations and continue to make every effort to ensure the health and wellbeing of all who take part in activities within Engineering. Currently, the UM remains a fully vaccinated work and learning environment.
Information for students
Last week, students received an update on course delivery for the remainder of the Winter term. Rooms and locations for in-person classes and labs are being assigned this week. We encourage students to check Aurora to confirm how their course will be continuing, including the class location. Approximately 80 per cent of engineering courses, primarily those in 2000-level or higher, will be returning in person. The remaining 20 per cent, primarily 1000-level courses, will remain remote.
We look forward to extra and co-curricular activities in engineering such as technical societies, student design and competition teams, and other student led-initiatives resuming on campus, respecting all current campus health and safety requirements.
Common study spaces, student lounge areas and other areas for individual and group study will reopen throughout the EITC Complex. Additional "touch-down" spaces for students to study or attend a remote learning class will be identified by UM and shared with students shortly. Again, current campus health and safety requirements will be required at all times.
Information for faculty and staff
With a few exceptions, Price Faculty of Engineering faculty and staff will be back on campus starting February 28.
Many departments/units will have a phased or staggered return during the week of February 22 to support a smooth transition back to campus. Departments/units will be communicating this directly with faculty and staff to allow everyone the opportunity to prepare their teaching, learning, and personal spaces in advance of returning to campus full time.
Other information to support our return
UM's Student Counselling Centre (SCC) is there to support students' well-being. This free service offers confidential support services remotely (by telephone or secure video link) and students can learn more about what is available by calling them at 204-474-8592 or checking their website.
Everyone's health, well-being and success remain our priority. Health and safety protocols are being reviewed and updated regularly. Please ensure that you are familiar with these protocols before coming to campus and abide by them at all times.
The Price Faculty of Engineering greatly appreciate our community's support for a return to in-person activity on campus and we look forward to welcoming everyone back to campus soon. The Price Faculty of Engineering and the University of Manitoba will continue to provide regular updates on plans for a safe return to campus. Please continue to check UM Today News and faculty/institutional social media channels regularly for the most up-to-date information on our plans for a safe return.