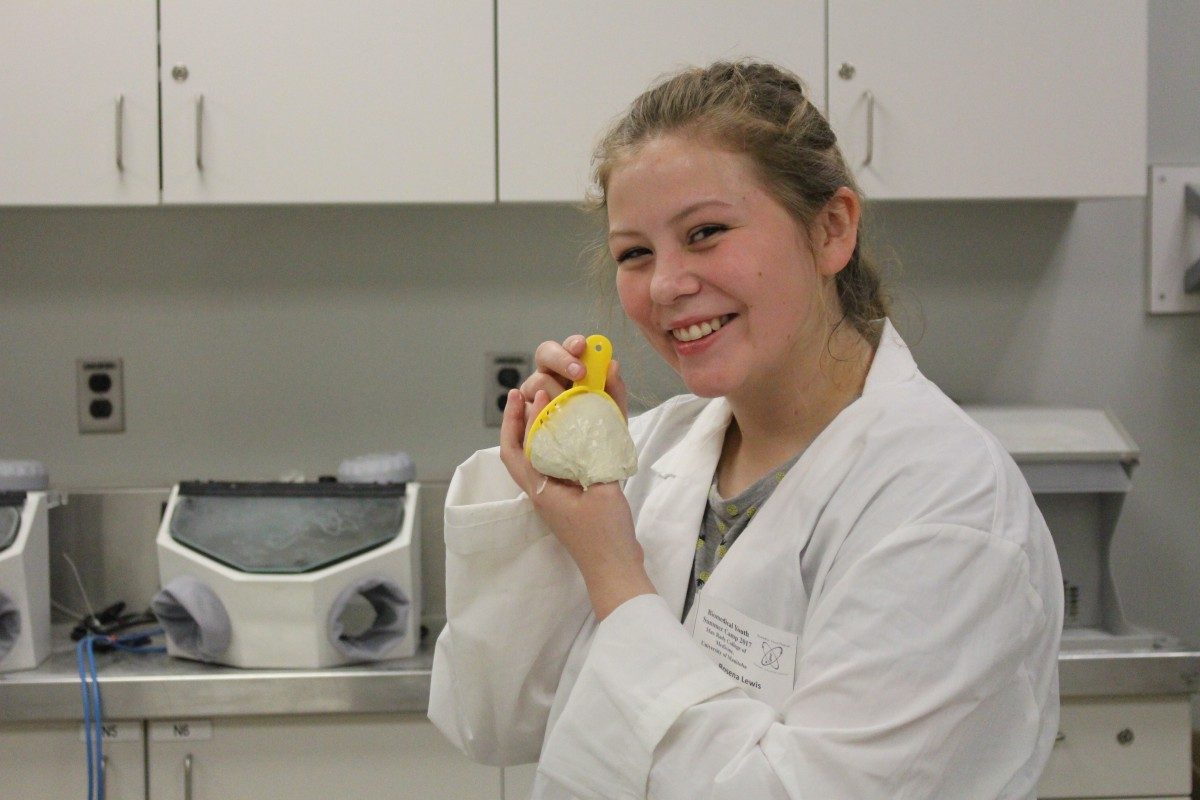 Opening doors: BYP camp fosters Indigenous students' career aspirations
July 25, 2017 —
In Grade 12, it's not unusual for high school students to be uncertain about the future.
But ask Rosena Lewis what she wants to do next and she doesn't hesitate. "I want to go to the U of M and I want to go into pharmacy."
Lewis is from a community just north of Nelson House—Nisichawayasihk Cree Nation—with a population of roughly 4,200 people. She's a good student and she's excited that her school now offers chemistry, so a career in pharmacy makes perfect sense. But it's a personal incident that really made her set her sights on a career in health care.
"My granny has high blood pressure," remembers Lewis. "She didn't have any more pills and she forgot to go to the nursing station. It's hard for her because she doesn't drive." Even if she could drive, the Frist Nation where they live has no pharmacy anyway. "We have to order our prescriptions from all over the place," she points out. "It can take weeks sometimes."
Seeing her grandmother in distress made her realize how something simple like a blood pressure pill could affect someone's life. And she decided then and there that she wanted to help connect communities with the medications they need.
Lewis is one of 120 students who took part in the Rady Faculty of Health Sciences' annual Biomedical Youth Program (BYP) Summer Camp. From July 17 – 21, 2017, students from Grades 5 to 12 descended on the University of Manitoba Bannatyne Campus to explored activities in the health sciences, from filling teeth and compounding sunscreen to learning how to intubate a manikin and perform an ultrasound.
Some students, like Lewis, already have a clear picture of where they're going. Others, like Elyssa Flett from Saint Theresa Point, are still exploring. "I love to be active, I love to do physical things," said Flett. She's strong both as a student and as an athlete, playing both basketball and volleyball. "I want to help other kids be active," she says. So for her, that might mean pursuing kinesiology, but she's keeping her options open.
"We're very pleased to have this group of students from northern Manitoba join us this year," said BYP Director James Gilchrist, professor of oral biology in the College of Dentistry, Rady Faculty of Health Sciences. Though most of the campers are from Winnipeg, 15 students attended the camp through the Health Careers Access Program (HCAP) – a University of Manitoba program exclusive to Indigenous (Métis, Status, Non-Status, Inuit) residents of Manitoba with a strong interest in becoming a health professional.
Students in the HCAP are recommended by teachers and guidance counsellors for their academic excellence—all they need is a little exposure to a university setting to really crystalize their ideas about where they see themselves after high school.
"Some already know what type of career they're interested in," said Gilchrist. "But others may not know the wide range of science-related options that are open to them." The camp helps introduce students to both health care and the university itself. "For many, that really creates a level of comfort and familiarity that wasn't there before, especially if they're the first in their family to pursue post-secondary education."
Lewis really wasn't sure what to expect from the camp when she boarded the bus for an eight-hour ride to Winnipeg. "I felt scared at first," she admits. Her nerves disappeared quickly, though. "I'm also really excited. If you live in an isolated community, it's a door – a big awesome door to where you can get in life."