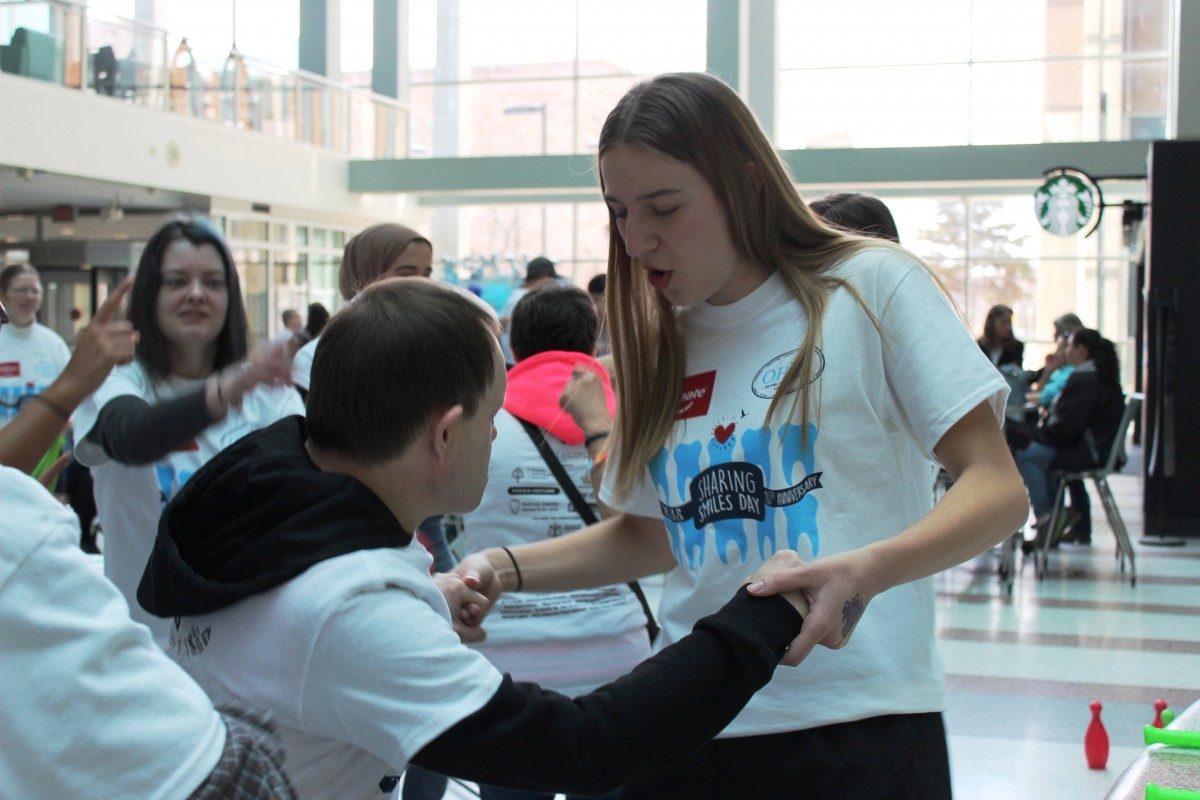 'Open your hearts to patients who are different from you'
April 20, 2018 —
From trading moves on the dance floor to mingling over manicures, there was a wealth of positive interaction between adults with special needs and U of M students at the fifth annual Sharing Smiles Day.
More than 100 guests – adults with disabilities and their care providers – socialized with 150 student volunteers from the College of Dentistry and School of Dental Hygiene at the event on Saturday, April 14.
The party in the Brodie Centre Atrium on the Bannatyne campus featured a pizza lunch and activities such as karaoke, games, crafts, manicures and visiting with therapy dogs.
"I love being around people," said Bill, an exuberant guest. "I liked blowing bubbles and bowling."
Another guest, Bobbi, summed up the party's appeal: "Making friends."
The annual get-together is organized by the Winnipeg chapter of Oral Health, Total Health, a national non-profit organization. The chapter is led by students from the College of Dentistry in the Rady Faculty of Health Sciences.
A glamorous Tooth Fairy and oral-hygiene puppets were on hand to encourage brushing and flossing. Every guest received an oral-care gift bag.
The party is both fun and educational, said Yasmin Elzayat, a second-year dentistry student and one of the event's organizers.
"The special-needs population is underserved in terms of their oral health," Elzayat said. "Sharing Smiles Day helps the students become more familiar and more comfortable interacting with people with special needs, and vice versa.
"We can become better health-care providers by making sure we're inclusive of everybody in our practice."
Dr. Julie Pfeffer, an assistant professor in the College of Dentistry who treats adults with special needs at Health Sciences Centre, called on the future dentists and hygienists to welcome all kinds of patients.
"When you graduate, I want you to open your hearts to treating patients who are different from you," Pfeffer said.
Dr. Cory Sul, a U of M alumnus and president of the Manitoba Dental Association, said the MDA's position is that all dental practices should be prepared to accommodate people with special needs.
"Every Manitoban should be able to find a dental home," he said at the event. "People with special needs should be able to see every dentist here in Manitoba."
Duyen Tran, a third-year dental hygiene student, said Sharing Smiles Day builds trust between the students and guests.
"I get a sense of community; of being able to connect," Tran said. "We learn about things like this in the classroom, but being in person is completely different. It's a lot more fulfilling."
"Everybody is having so much fun," said first-year dental student Nicole Bailey. "I think the whole idea is if we can see the ability in disability, we won't shy away from accepting these types of patients. People with special needs need care, just like any of us."