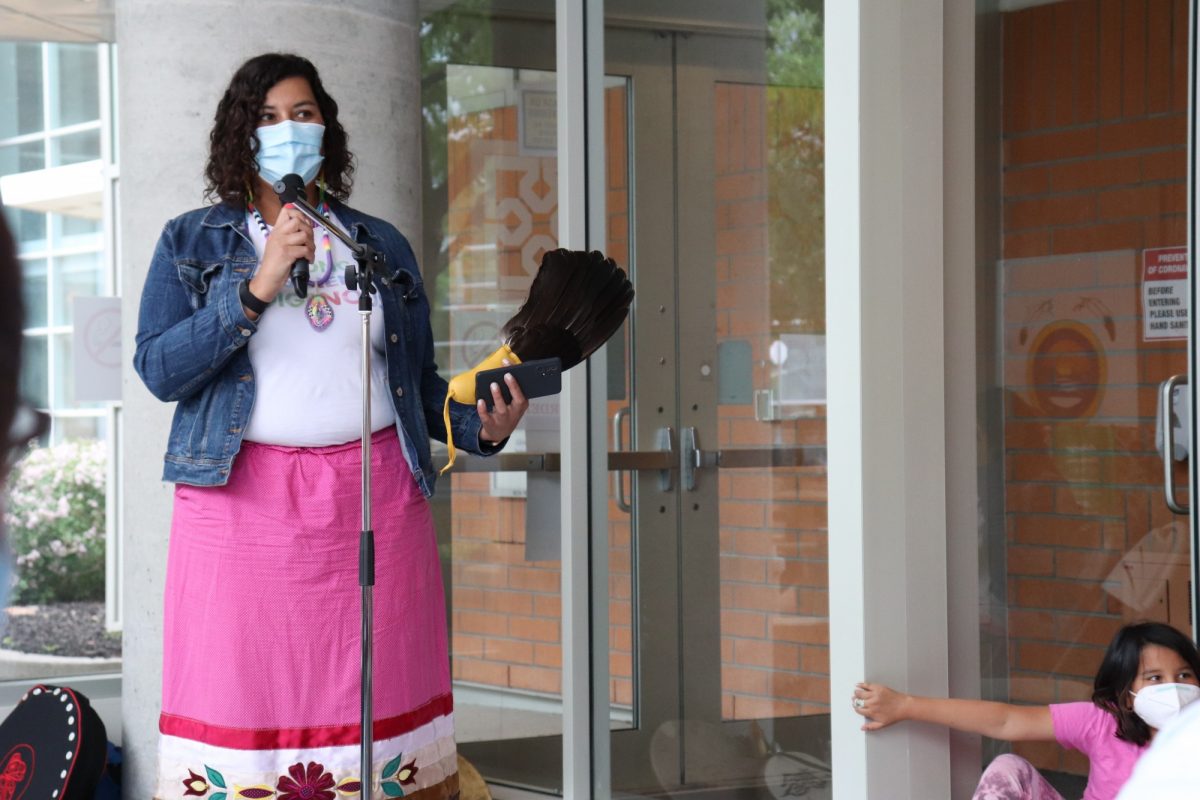 Ongomiizwin hosts National Indigenous Peoples Day celebrations
June 23, 2022 —
The morning of the summer solstice, the John Buhler Research Centre atrium filled with the soft smell of smudge and the sounds of drumming and singing as UM's faculty, staff and students gathered around in a circle to mark National Indigenous Peoples Day (NIPD). Ceremonies were moved indoors from Mashkiki Gitigaan – Medicine Garden due to inclement weather.
Elder-in-residence at Ongomiizwin Margaret Lavallee opened the ceremony with a prayer. She spoke of the Seven Sacred Teachings, her experience attending a residential school and of leaving a legacy for our children and grandchildren.
"We have a beautiful purpose today. We are here to celebrate," she began. "I ask for all of us to have the teaching of love. None of us would be here without love. Love for children of the past and of today and tomorrow. That's who we want to leave a good legacy for."
While speaking of her time in residential school, she emphasized how important her family was to her while she was growing up in Sagkeeng First Nation.
She ended her speech with the phrase "all my relations," a reminder that all things in creation, people, the land, the water and air, are connected to and depend on one another.
Dr. Mandy Buss and Dr. Lisa Monkman, joined by Buss's young son, played hand drums and sang an honour song.
Dr. Catherine Cook, Vice-President (Indigenous) at UM spoke on how National Indigenous Peoples Day has changed over the years.
"When we first started having a National Ingenious Peoples Day, people always asked what it was about and that gets tiring. I'm so proud of my colleagues and myself to stand here as Indigenous women and how far we have come," she said.
The ceremony also included remarks by Melanie MacKinnon, head, Ongomiizwin and summer solstice and Elder teachings by Wanda Joy Murdock.
Dr. Marcia Anderson, vice-dean of Indigenous health, social justice and anti-racism, recognized many accomplishments of Indigenous faculty members, and noted that four Indigenous women were the recipients the previous day of UM 2021-2022 Indigenous Awards of Excellence: Dr. Mandy Buss, Elder Margaret Lavallee, Dr. Melanie Morris and Melody Muswaggon.
Lavallee was also honoured during NIPD for her many contributions of sharing Indigenous culture and knowledge, improving health services for Indigenous communities and mentoring young people. Dr. Brian Postl, dean, Rady Faculty of Health Sciences, announced that the second floor Chown boardroom will be renamed the Dr. Margaret Lavallee Boardroom in her honour.
The celebration concluded with a feast in the Brodie Atrium and performances by Maureen Ayaruak, throat singer Zeann Manernaluk, poet Tasha Spillet-Sumner, and music from Jade Turner and Kennie Henderson.