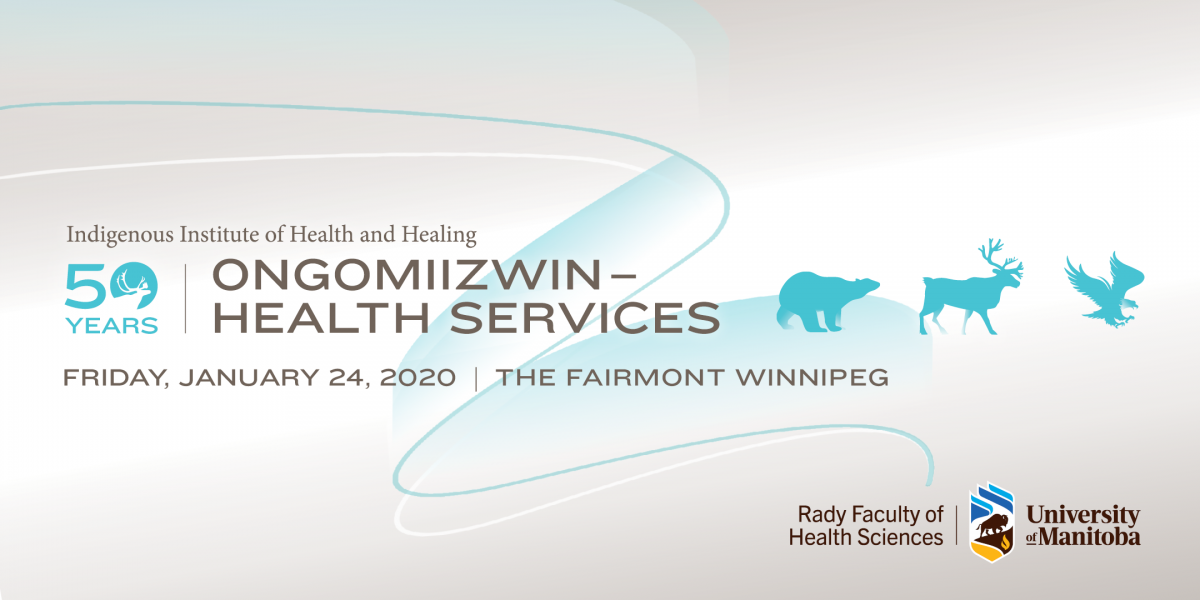 Ongomiizwin – Health Services to celebrate 50-year milestone
Gala and symposium will highlight accomplishments, look to future
January 20, 2020 —
Ongomiizwin, the Indigenous Institute of Health and Healing in the Rady Faculty of Health Sciences, will celebrate the 50th anniversary of its health services unit with a gala dinner and symposium on Jan. 23-24, 2020.
In 1969, the University of Manitoba started an outreach program to provide medical services and improve health outcomes in a few isolated communities in northern Manitoba and what is now Nunavut.
Over the ensuing decades, as the program expanded and was named the J. A. Hildes Northern Medical Unit (NMU), the university emerged as an international leader in Indigenous and circumpolar health care.
In 2017, the NMU joined with U of M units responsible for Indigenous health education and Indigenous health research to form Ongomiizwin.
The NMU, now renamed Ongomiizwin – Health Services (OHS), has evolved into an interprofessional agency that serves 30 communities in Manitoba and Nunavut, providing services ranging from family practice and medical specialties to rehabilitation therapy. The unit works collaboratively with First Nations, Métis and Inuit communities.
Dr. J.A. (Jack) Hildes, the physician who founded the NMU, is remembered as an early advocate for the empowerment of Indigenous people and the education of Indigenous health-care providers.
The gala on Jan. 24 at Fairmont Winnipeg will recognize the U of M's 50-year partnership with communities and government in the project, the shared commitment to providing high-quality health care to Indigenous communities, and a future of community health-care self-determination.
"We will take the opportunity on the 50th anniversary of Ongomiizwin – Health Services to honour the many Elders, health professionals, staff and partners who have worked together to enrich the health and well-being of First Nations, Métis and Inuit communities in northern Manitoba and Nunavut," said Dr. Catherine Cook, vice-dean, Indigenous health of the Rady Faculty.
"During these celebrations, we'll reflect on the past and look to a future where all First Nations, Métis and Inuit Peoples will have full and equitable access to quality and continuous health services and improved health outcomes."
Ovide Mercredi, a U of M alumnus, lawyer, Indigenous rights advocate and former national chief of the Assembly of First Nations, will give the keynote address at the gala. Attendees will include U of M faculty, staff and students, representatives of Indigenous organizations, practising and retired OHS physicians, health professionals, partners, alumni and community members.
Ongomiizwin – Research's seventh annual Indigenous Health Symposium, Jan. 23-24 on the Bannatyne campus, will bring together Elders, community members, current and prospective researchers, health professionals and partners who are committed to improving health outcomes in Indigenous communities.
Participants will present research findings and share ideas about Indigenous health research. This year's theme, "Past, Present, Future: Telling Our Stories," explores the importance of centring the Indigenous voice in health research and the critical role that language plays in disrupting colonial narratives.
Ongomiizwin – Health Services has established a 50th anniversary legacy fund to support an Indigenous health workforce. This fund will support and expand opportunities for Indigenous people to enter careers in the health sciences.
Tickets for the gala dinner can be purchased here. There is an option to purchase a ticket for donation, making it possible for a community partner or student to attend the gala.
Register for the Indigenous Health Research Symposium here.
More information on the 50th anniversary is available here.