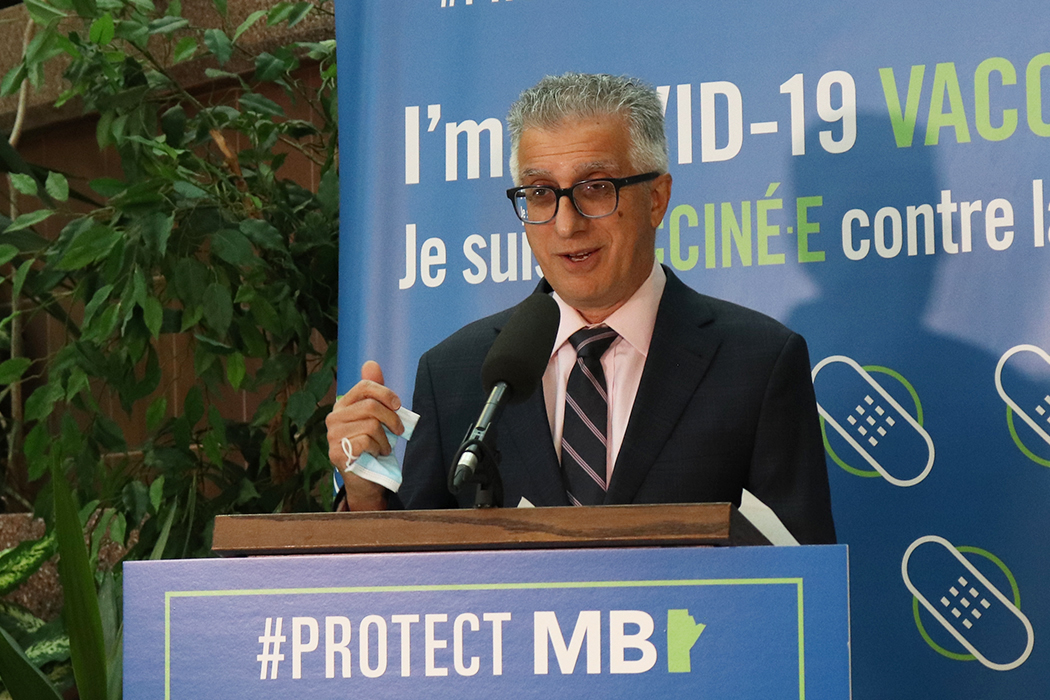 One year since Manitoba's first COVID-19 vaccine given on Bannatyne campus
December 17, 2021 —
More than 2.2 million doses of COVID-19 vaccines have been given to Manitobans over the past year, and it all started on the University of Manitoba's Bannatyne campus.
In December 2020, UM helped the Manitoba government set up the province's first COVID-19 immunization clinic on the university's health sciences campus. The university provided the province with clinic space, freezers to store vaccine doses and logistical help.
At a news conference held in the Brodie Centre atrium on Dec. 16 to commemorate one year since the province administered the first vaccine, UM President and Vice-Chancellor Dr. Michael Benarroch said it was an easy decision to provide support because it was what Manitoba needed.
"It has been our honour to be a part of this, and we see this as our responsibility as a university," Benarroch said.
On Dec. 16, 2020, Dr. Brian Sharkey became one of the first Manitobans to receive a COVID-19 vaccination in the Clinical and Procedural Skills Lab in the Basic Medical Sciences Building.
Sharkey, a family physician, recalled at the news conference that receiving the vaccine allowed him to go back to caring for patients on hospital wards, in assisted living facilities and in their homes.
"I just want to do my job, and the vaccine let me do that," he said.
Lori Ann Laramee, a public health nurse who is clinical lead of the Manitoba Vaccine Implementation Task Force, gave Sharkey his shot. She said that day represented many things for her – it was a day of happiness and sadness, of celebration and admiration.
"Dr. Sharkey, it was a privilege to start this journey with you and I hope your subsequent needles were as good as your first one with me," she said.
Manitoba Health and Seniors Care Minister Audrey Gordon told media that Sharkey and Laramee made history by leading the way for Manitobans.
"I want to thank every Manitoban who has rolled up their sleeve and received their vaccines, including their booster doses," Gordon said.
Between Dec. 16 and 31, 2020, more than 3,400 Pfizer doses were given to health-care workers at the clinic on the Bannatyne campus. Today, 84 per cent of Manitobans have at least one dose of the COVID-19 vaccine, 78 per cent have two doses and 11 per cent have three.
At the news conference, Dr. Joss Reimer, medical lead of the Manitoba Vaccine Implementation Task Force, said that it is important to mark vaccination campaign milestones, even amid difficult challenges.
"A year ago, when Dr. Sharkey received his vaccine and Lori Ann Laramee delivered that dose, I'm sure that none of us could have predicted the journey that was about to begin," Reimer said. "You are both deserving of honour for demonstrating your personal and professional leadership. I thank you for it."
Reimer presented both Sharkey and Laramee with a letter from Lt.-Gov. Janice Filmon thanking them for their service to Manitobans.