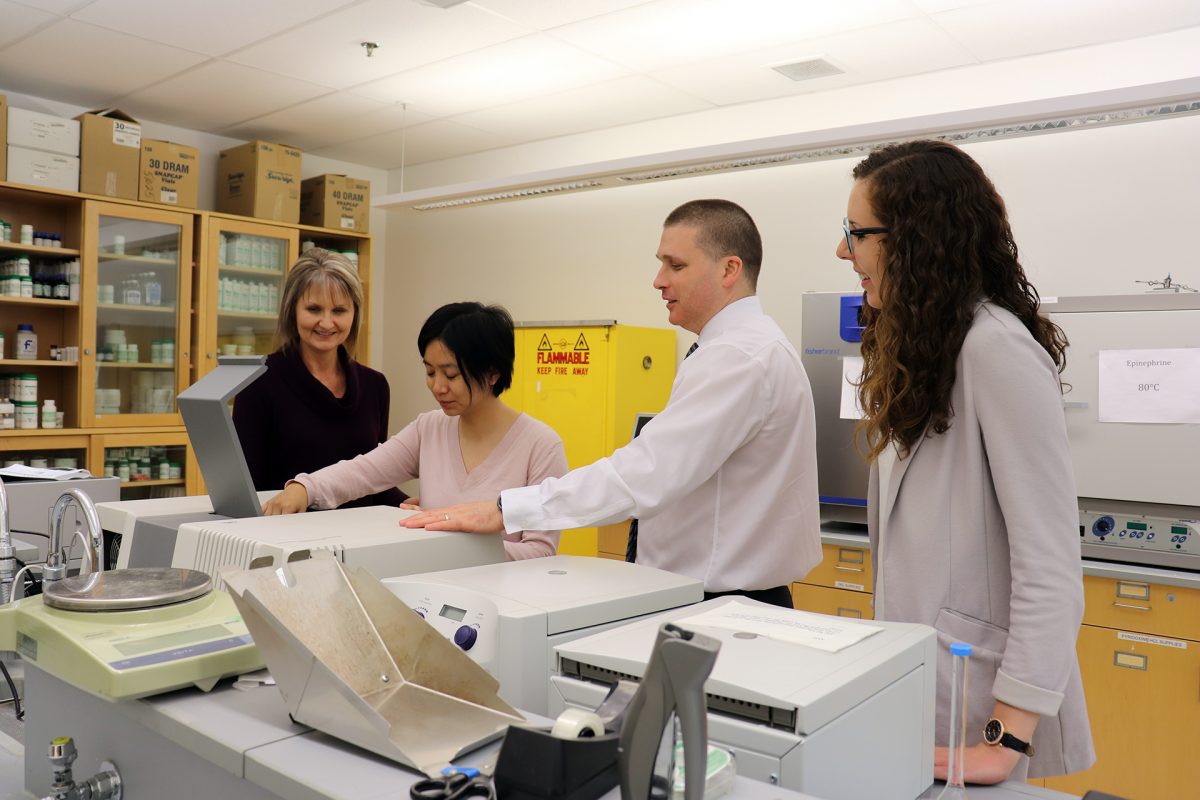 Pharmacy researcher: One dose does not fit all dialysis patients
October 31, 2019 —
A new interdisciplinary study looking at therapies prescribed to dialysis patients could have a far-reaching impact on day-to-day protocols.
Dr. Sheryl Zelenitsky, professor and researcher in the College of Pharmacy at the Rady Faculty of Health Sciences, recently received an Allied Health Research Grant from the Kidney Foundation of Canada for $100,000 to develop dosing recommendations for antibiotics in hemodialysis patients.
Zelenitsky's study aims to optimize the dosing of the antibiotics cefazolin, ceftazidime, and ciprofloxacin that are commonly used in the treatment of serious, often life-threatening infections in hemodialysis patients. The multi-disciplinary study will see her working collaboratively with nephrologists, renal nurses, and pharmacists at St. Boniface Hospital, where she has a cross appointment.
Zelenitsky's area of research is in antibiotics and infectious diseases and her specialty is on optimizing therapies for high-risk patients. She teaches antibiotics and infectious disease in the College of Pharmacy undergraduate and graduate programs.
"My idea for this project goes back a couple years when I looked into the data for dialysis patients and realized how little there was on how we should be using these drugs," she says, "It surprised me at how little there was supporting clinicians in choosing the right doses of these important antibiotics."
Zelenitsky completed a one-year audit at the St-Boniface Hospital's hemodialysis unit and looked at the type of antibiotics that were prescribed.
"I reviewed the literature and these antibiotics were essentially being dosed without any data, so they're really best guesses. And in dialysis patients, antibiotics are often dosed by protocol, so everyone gets the same dose," she says.
The "one-dose-fits-all" approach means patients get the same dose regardless of age, gender, body weight, or dialysis factors. Zelenitsky also found a lack of consistency in dosing guidelines from location to location.
In Zelenitsky's study, blood samples will be collected from 60 hemodialysis patients in St. Boniface Hospital who are receiving therapy for suspected or confirmed infections. The samples will be taken to the Apotex Centre's pharmaceutical analysis laboratory (PAL) where Zelenitsky's co-investigator associate professor and PAL director Dr. Ted Lakowski will measure the antibiotic concentrations. Pharmacokinetic and population modeling will be used to analyze the data and translate it into practical dosing guidelines for patients.
According to the WHO, antibiotic resistance is one of the most serious threats to global human health, and dialysis patients are among the most vulnerable. They tend to be more prone to infections because of their underlying renal dysfunction and accompanying health issues such as diabetes. They are also at higher risk of resistant infections and more likely to fail therapy. A further complication is that dialysis patients handle drugs differently because of their renal disease.
Zelenitsky hopes that the study will help to establish protocols that will effectively treat dialysis patients in a way that doesn't promote more antimicrobial resistance.
"The goal is to develop evidence-based dosing guidelines for these very important antibiotics, so we know that we're achieving effective levels in dialysis patients. If what we're using now is not optimal, we'll recommend what should be done based on our study."