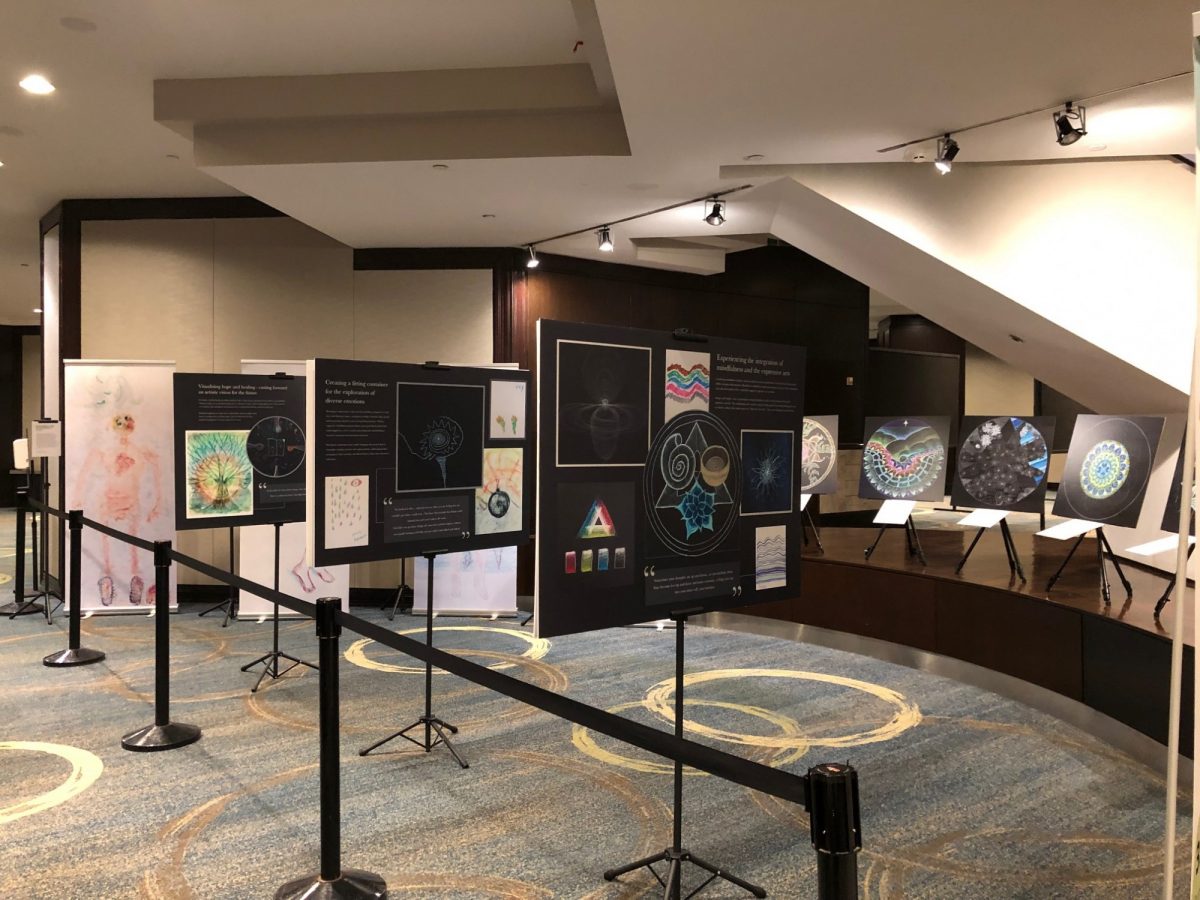 On-campus exhibit explores healing through art
January 6, 2023 —
A pop-up exhibit on the Fort Garry campus will display artworks by 32 cancer patients who participated in a novel therapy group at CancerCare Manitoba.
The free exhibit will be on view Jan. 16 and 17 from 9 a.m. to 3 p.m. in the atrium of the Helen Glass Centre for Nursing, home of the College of Nursing, Rady Faculty of Health Sciences.
It will also be displayed at CancerCare Manitoba, second floor, on Jan. 19 from 10 a.m. to 4 p.m. and Jan. 20 from 9 a.m. to 3 p.m.
Titled I'm Still Here: Healing through Art after Cancer, the exhibit shows how cancer patients processed their journey through the disease as part of a therapy group that combined mindfulness practices with expressive art. The group was created as part of a study in 2019.
The study was led by Dr. Kendra Rieger, adjunct professor of nursing at UM and associate professor of nursing at Trinity Western University in Langley, B.C., along with UM nursing faculty members Dr. Tom Hack and Dr. Christina West and Miriam Duff, a psychosocial oncology clinician at CancerCare Manitoba.
In addition to works by 32 participants, the exhibit features quotes from the artists and a 15-minute audio guide that can be played on a smartphone.
"The audio guide includes narration interspersed with participant quotes read by actors, so it becomes an immersive experience as people are seeing the art and hearing from the participants in their own words," says Rieger.
There was a diverse age range among participants, Rieger says, with the majority being white females, 65 per cent of whom were diagnosed with breast cancer. Four participants identified as male.
"Our findings revealed how mindfulness enabled participants to let go of their ruminations and calm their minds so they could fully engage in expressive arts activities," the professor says.
"Combining mindfulness practices and art-making within a group context became a powerful way of discovering and processing hidden thoughts and emotions."
The initial project was funded by the Manitoba Medical Service Foundation and The Winnipeg Foundation. The Manitoba Centre for Nursing Health Research at UM is the main funder of the exhibit. Rieger is also supported by a research chair funded by a Health Research B.C. Scholar Award.
"One of our main purposes was to find out from cancer patients, in their own words, the benefits they derived from participating in the mindfulness-based arts therapy program," says Hack.
"They told us how they were able to use art to process and reprocess their cancer experience. By processing it, they were better able to move through and beyond the experience.
"It was very moving for the participants. They became tearful as they shared what their artwork meant to them and what the group experience meant to them. We found that quite profound."
The exhibit has been shown at an international conference on psycho-oncology in Toronto and at Trinity Western University.
Additional research team members included Patrick Faucher, lead of strategic and creative services and knowledge translation at the George and Fay Yee Centre for Healthcare Innovation, Alysha Creighton, an artist at Trinity Western University, Dr. Mandy Archibald, assistant professor at the College of Nursing, and Amie Zaborniak, a PhD student in nursing.