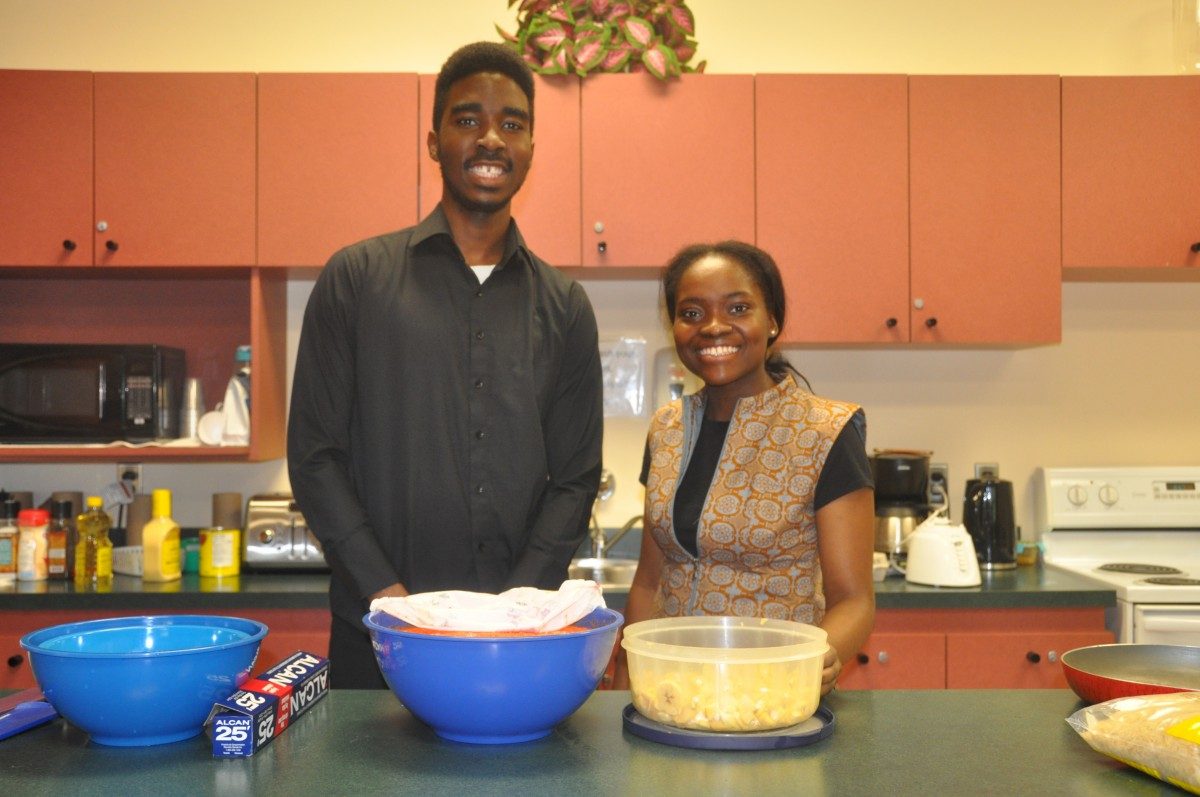 Nursing students bring a taste of Nigeria to U of M
July 4, 2017 —
Preparing and sharing food is always a great way to bring people together.
Bio Irabor and Sochi Nweze, both students in the College of Nursing, Rady Faculty of Health Sciences, recently decided to share the cooking skills they've learned in their native Nigeria with faculty, students and staff. Best of all, the proceeds from the cooking class will go toward the college's annual participation in UMSU's Adopt-A-Hamper program to ensure students in the nursing program (that have registered to receive a hamper) and their families have a wonderful Christmas.
For Irabor, a third-year student, cooking is something she picked up naturally at home.
"Growing up in Nigeria you're always in the kitchen with your grandma and your mom so cooking is second nature," she says.
Nweze, a second-year student who came to Canada in 2015, came by his cooking skills a little later in life.
"I was coming to Canada alone and my mom said I had to learn to cook," he says. "I knew how to do the basics but it wasn't until I was 17 that I got prepped to come to Canada."
The two students prepared a Nigerian chicken stew with rice, fried plantains and coleslaw with a boiled egg stew served as a vegetarian option for about 20 nursing staff, faculty and students in the Helen Glass Centre lunch room.
Asked about her hopes for the cooking class Irabor, who came to Canada four years ago, says she saw it as a chance for people from different backgrounds to get to know each other better.
"I hope there will be community and cultural integration because food is a big part of every culture so just being able to create a welcoming environment as well as just giving back and enjoying good food," she says.
Giving back is a theme that both Irabor and Nweze want to pursue in their future careers as nursing professionals.
"Canada has been an awesome home for me and I've been able to settle in very well," says Irabor. "I'm definitely going to be staying in Canada. I'm very much inclined towards the international refugee and immigrant community. As an international student you're aware of the cultural changes going on."
Nweze says he would like to work in intensive care.
"I always wanted to help people and nursing is one of the opportunities we as international students get to be involved in here," he says. "I'm looking at ICU right now because I think I have what it takes. You can focus on one patient and I think I'm comfortable doing that."
Supporting the student Christmas hamper is also a way to pay it forward to the country they now call home.
"In the whole light of Canada 150, we just wanted to give back," Irabor says.