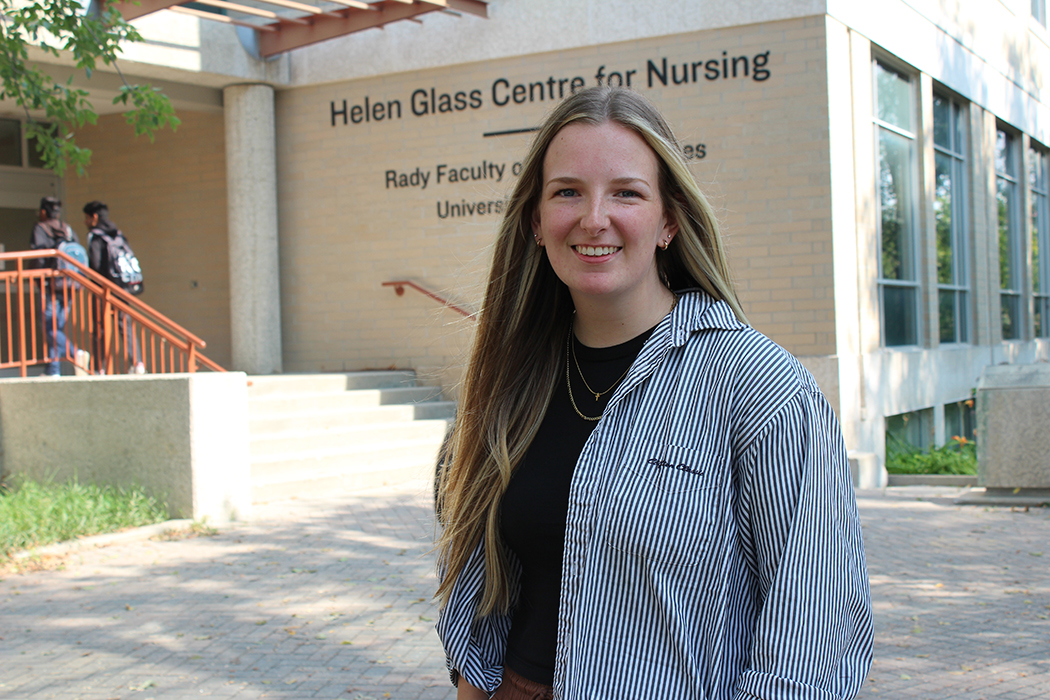 Nursing student researcher sees positive changes in long-term care
September 12, 2023 —
When third-year nursing student Kali Froese visited Scandinavia with her father in 2018, she had a first-hand experience that fueled her interest in health research.
During the trip, her father had an unexpected illness and had to go to a university hospital in Oslo, Norway. Froese said she was impressed with the care he received and with seeing how health care worked in that part of the world.
"They have ways of doing things and ways of caring that are just different than we have here, specifically in the way the hospitals are run and how they treat their patients medically," she said. "It made me think about how we can learn from different ways of approaching health care around the world and how we can integrate it here."
Froese, 23, just spent her second summer in a row as a research assistant at the Manitoba Centre for Nursing and Health Research at the College of Nursing. This year she was hired directly by Dr. Genevieve Thompson to work on a project that aims to improve communication between residents in long-term care homes, their families and health-care professionals.
The project is part of Strengthening a Palliative Approach in Long-term Care, a national research initiative led by Dr. Sharon Kaasalainen at McMaster University and a team of researchers in Ontario, Quebec, Manitoba, Saskatchewan and Alberta.
"End-of-life can be a very sensitive topic for residents and their families, but the truth is that if we don't talk about it, there can be some very negative experiences at the time of dying," Froese said.
"The purpose of this study is to get everybody on the same page, so the process of end-of-life is more comfortable and positive. For many, it has actually been a very beautiful experience."
She has already seen positive change. Since the program began in 2022, some facilities have adopted new protocols around spiritual and cultural practices when a resident passes away.
Families typically want to know how care will adapt as end-of-life approaches, but they may not feel they have a place to voice these questions, Froese said.
"This study is about creating a dedicated space where these conversations can happen ahead of time, so that long-term care residents receive the quality of care they want and deserve when that time comes," she said.
"It's been very encouraging to see people engaging in these difficult conversations. We've had so much positive feedback from families saying they didn't know how or when to bring these things up. It's all about creating a safe space to have those conversations."
Froese was one of two nursing students that worked as a summer research assistant on the project. Her role included interviewing residents and families, as well as facilitating conferences.
Thompson said it's important to involve nursing students in research projects so they can learn the process and see the direct relevance of research to their future practice.
"This project provided an exceptional opportunity for hands-on experience and allowed the students to interact with staff, family members and residents, gaining valuable skills and knowledge," she said.
Froese said the highlight of the project was making meaningful connections with the residents.
"I get to hear stories from their lives, like learning to drive a motorcycle, falling in love, growing up in Germany during the war. There have definitely been lots of laughs and some happy tears," she said. "It has been such a beautiful experience, on top of being a great way to learn more about how nursing research works."