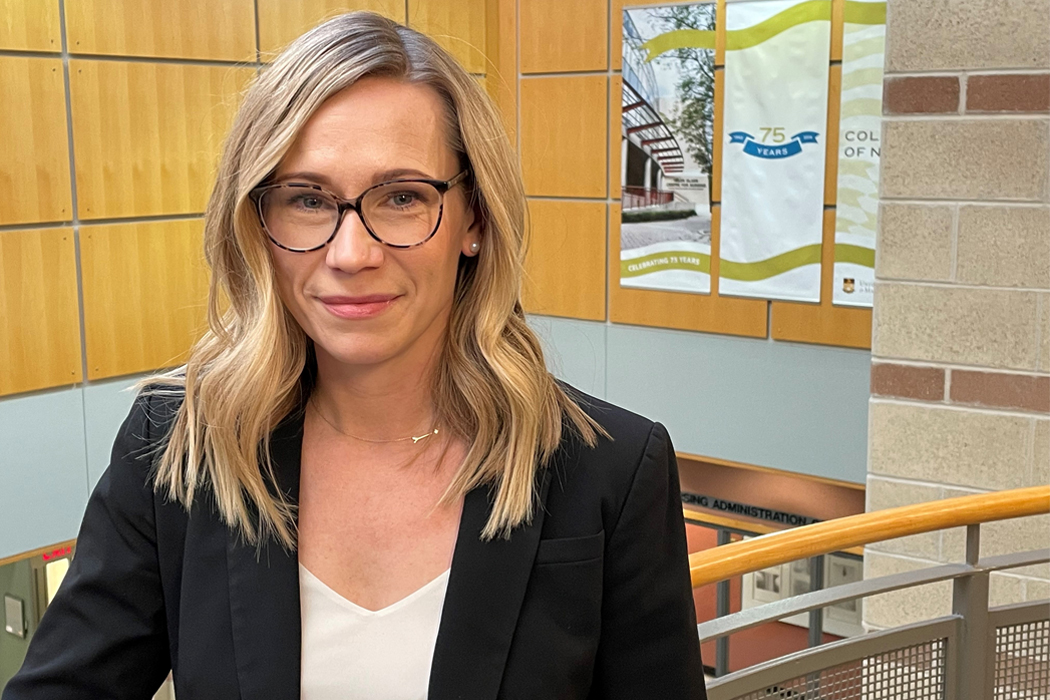 Nursing prof aims to improve care for marginalized cancer patients
January 31, 2023 —
Dr. Tara Horrill, assistant professor at the College of Nursing, Rady Faculty of Health Sciences, was first drawn to research about a decade ago, while working as an oncology nurse at CancerCare Manitoba.
There she saw first-hand the health inequities that people who are marginalized face when living with cancer.
"I saw people being diagnosed with advanced cancers that are easily detectable through screening and are generally amenable to curative treatment. We should not be seeing people at such late stages of their cancer journey," she said.
Born and raised in Morden, Man., Horrill received her bachelor's degree in nursing from UM in 2005. In 2014, she returned to the university to pursue a master's degree, and then fast tracked into the College of Nursing's PhD program. In 2021, she was awarded a postdoctoral fellowship funded by Michael Smith Health Research BC at the University of British Columbia, with a cross appointment at BC Cancer.
Horrill joined the College of Nursing faculty in September 2022.
"I'm looking forward to establishing collaborative relationships with other researchers at the College of Nursing and, eventually with others involved in the delivery of oncology care in Manitoba," she said.
Horrill's research is focused on equity-oriented health care, with a particular focus on systems-level changes to improve care for highly marginalized people living with cancer.
"People who experience significant health and social inequities are dying of preventable or treatable cancers because they cannot access the care and treatment they need," she said.
"In a previous study, I found there is an increasing focus on health equity as a priority, but few meaningful actions are being taken, and these are often lacking a coordinated systems-level approach."
Horrill is currently leading a multi-disciplinary team of researchers and health-care providers from the University of British Columbia, University of Victoria and BC Cancer, studying how to improve care for people who are highly marginalized and living with cancer.
Horrill said the eventual goal is to integrate different approaches to equity-oriented care that incorporate culturally safe and anti-racist care, harm reduction philosophies and trauma and violence-informed care.
"The study is really about understanding the context of cancer care and what is needed to support equity-oriented care at the organizational level, to lay the foundation for future work," she said.
She is also working on two studies that examine barriers to accessing cancer treatment for people experiencing social inequities such as homelessness, substance use stigma and extreme poverty.
"We found the lack of stable and safe housing has a major impact on peoples' access to cancer services," Horrill said. "More importantly, the current design and delivery of cancer services does not meet the needs or accommodate the circumstances of highly marginalized people, and often results in unacceptable pain, suffering and even premature death."