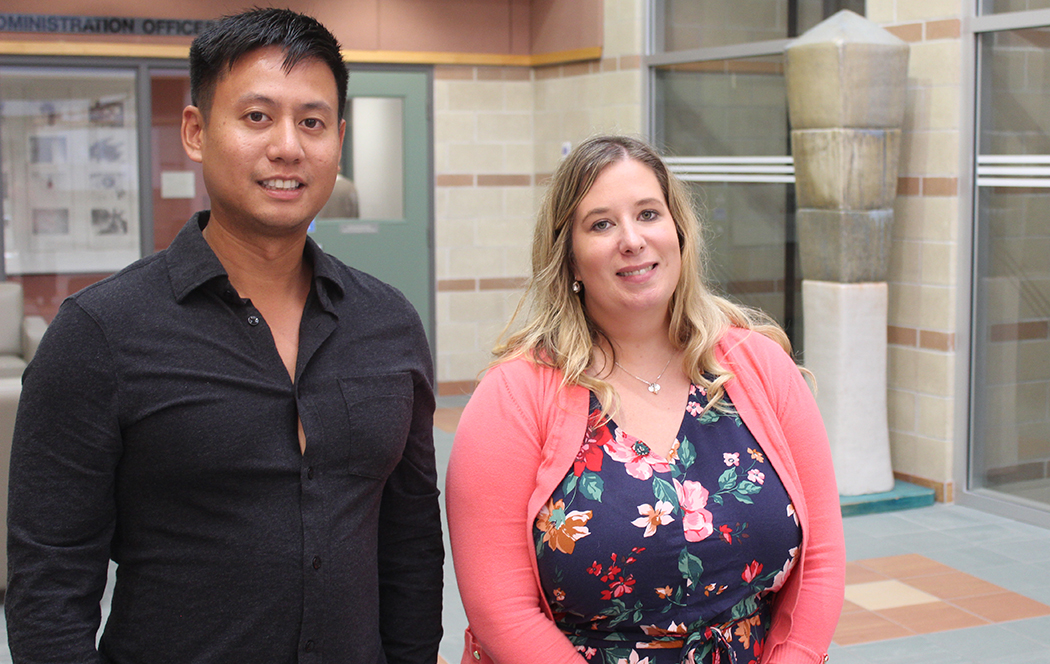 Nursing PhD program celebrates 10 years
October 26, 2023 —
The College of Nursing's PhD program entered its 10th year this term with a cohort of seven students. The program has graduated 14 students since its inception, including six who are currently faculty members in the the college.
Four students in this year's cohort have received a $72,000 University of Manitoba Graduate Fellowship (UMGF) award over the next four years.
Eunice Assem-Erhaze is a mother of five who grew up in Ghana and has a bachelor's degree in nursing and perioperative nursing training from Ireland.
Assem-Erhaze will be focusing her PhD on learning disabilities in nursing. The work is inspired by her best friend, who was diagnosed with dyslexia while in nursing school.
"During her education, she received several supports and accommodations which helped her to be successful in her education. But right after graduation, all these supports and accommodation ceased. Learning Disability does not simply fade away after graduation. It is a lifelong difference."
She said there is little research on learning disabilities among nurses in clinical practice, and that graduates rarely disclose their disability because of the fear of stigmatization.
"I believe nursing is the noblest discipline, and I would like to see everyone, including those with a disability, feel welcome and be successful," she said.
Raymond Chhun is a nurse from Vancouver who has worked in internal medicine since 2016. His PhD will be focused on resilience in nursing and how new technology, such as artificial intelligence, can be applied to growing student resilience.
He began studying resilience during the COVID pandemic and received funding from the University of British Columbia while pursuing his master's there.
"The idea of resilience in nursing was big news at the time. I was already interested in the topic of resilience in nursing, so it was like being in the right place at the right time."
Chhun also teaches clinical nursing at Vancouver Community College and is a clinical education facilitator for UM, working out of St. Boniface Hospital.
"I'll be going back and forth to teach rotations in the two provinces. It will be a busy four-to-six years," he said.
Katelyn Smallwood-MacDonald began her nursing career in 2010 after earning a bachelor's degree from the University of Prince Edward Island. She has since worked in maternity care and joined the UPEI faculty in 2017, where she is now an assistant professor.
Her PhD will be focused on providing students with opportunities to participate in family-centred care through simulation.
"I have a really strong interest in simulation," she said. "I'm excited to be working with Dr. Nicole Harder as my research advisor. She has a very robust program of research on simulation. I'm hoping to mesh my passions for maternity/child nursing and simulation together."
Lindsey Smith has worked in various health care settings since beginning her nursing career in Prince Edward Island in 2010, including critical care, hemodialysis, home care and cardiac and pulmonary rehabilitation.
She is currently an assistant professor at the University of Prince Edward Island, and her PhD will be focused on nursing education.
"Current dynamics in health care are challenging and at times it is not an easy system for new graduates to enter. I hope my research will have a positive impact on nursing education through maximizing experiences and building self-efficacy in the hopes of enhancing practice readiness," she said.
Donna Martin, associate dean of graduate studies, said the college's nurse researchers are nationally and internationally recognized.
"Their expertise is drawing people from across Canada to the University of Manitoba to complete their doctoral studies in nursing," she said. "With the majority of graduates joining us as colleagues in educating future nurses and advanced practice nurses in clinical practice, education, and administration, I am so hopeful for the future of quality health care in Manitoba."