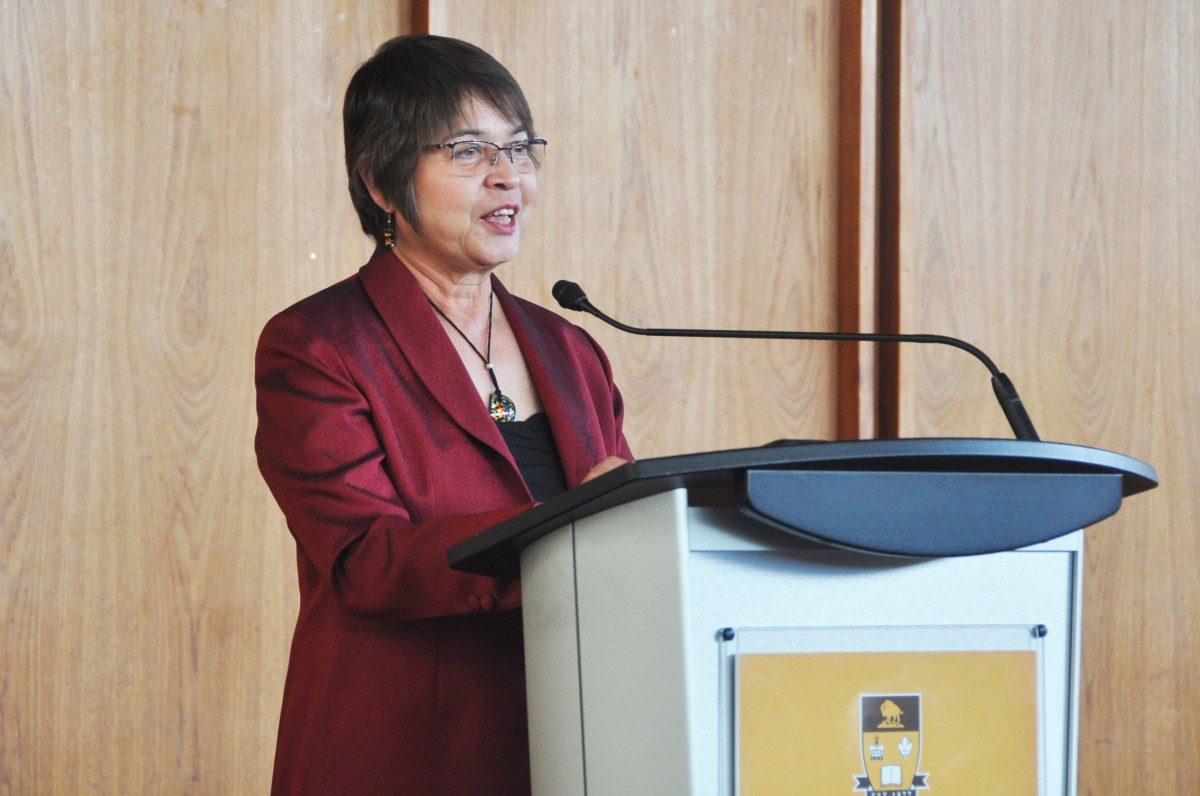 College of Nursing Dean looks back on our cold climate, Canadian culture & curriculum renewal
November 10, 2017 —
Coming from Australia to Winnipeg, Dr. Bev O'Connell had to make some adjustments.
"I'm from Perth and it was my first time living in a cold country," she says. "I've been here for six winters so I've experienced what it's like to live in a country where it snows. The snow is picturesque and cozy but the wind chill is harsh and I admire the Canadian resilience.
"It has been a great experience living and working in Winnipeg. I enjoyed playing lawn bowls, pickle ball and even managed a few rounds of curling and hurrying hard and slipping over."
O'Connell had the opportunity to explore other areas of Canada as well. "I experienced the Canadian varied landscape as I managed to travel across from the Rockies to the Maritimes each with its unique beauty. I loved the friends I made and your beautiful country."
As dean of the College of Nursing for the past five years, O'Connell presided over a period of tremendous change and growth in the college and the establishment of the Rady Faculty of Health Sciences. Now, as she steps down from her role as dean to return to her native Australia – and a much warmer winter – she takes time to reflect on her tenure.
"One of the major highlights of my term was working with faculty from the college to gain senate approval and implement a revised Bachelor of Nursing curriculum that is concept-based," she says. "It was really a first in Canada."
As part of the new curriculum, the College of Nursing also changed its clinical model.
"We've moved 25 per cent of our clinical time into the simulation lab so we can guarantee that students will be exposed to certain important learning experiences," she says. The College of Nursing's clinical model has become the envy of other learning institutions across the country.
"When people come from out-of-province to do program reviews they've remarked that our clinical model is unique and told us our model is outstanding," O'Connell says.
O'Connell also worked with the Province of Manitoba and McMaster University to launch a partnership with the McMaster University Midwifery Education Program. Manitoba students enrolled in the program take online McMaster courses, some didactic courses at the U of M and complete their clinical placements in Manitoba. U of M also hosts the online courses delivered by McMaster and supports the students' learning across the curriculum.
"This homegrown solution bodes well for meeting the midwifery needs of women and families around the province," she notes.
As well, O'Connell was at the helm when the 10 provincial/territorial RN regulators chose the US National Council of State Boards of Nursing (NCSBN) as the provider of the Canadian RN entry-to-practice exam, starting in 2015. The new entry-to-practice exam in Canada, called the NCLEX-RN, replaced the old paper-written Canadian Registered Nurses Exam.
U of M nursing students achieved an impressive 89 per cent pass rate on their national licensing exams (completed in 2017.) Under O'Connell's leadership, the College of Nursing was proactive and introduced exam preparation tools including launching a website dedicated to NCLEX-RN information as well as running a mock exam for graduating students.
"Overall, I've really enjoyed working with everybody here and having the experience of working with the best leadership team. I've learned so much about the Canadian culture and about the friendly and generous spirited people," she recounts.
After five years, O'Connell hopes the College of Nursing is in a better place than when she started. "The establishment of the Faculty of Health Sciences was a notable achievement as it paved the way for all health disciplines to study and work together in an interprofessional collaborative way and it provides opportunities for collaborative research and a better understanding of each other's role in practice.
"I hope we're better positioned with all the changes that we made," she says. "The issue of being student-centred is important because students know that the leadership team and the dean believe that their education is important so that is a drawing card to bring students into the programs."
A recent visit from a graduate would indicate that the evolution of the college has made a positive impact.
"I had a student who just graduated and wanted to talk to me before I left and she told me how she really enjoyed her time here and that it's evident that we're very student-focused and that it provided her with a good learning experience," she said. "That's what it's all about."