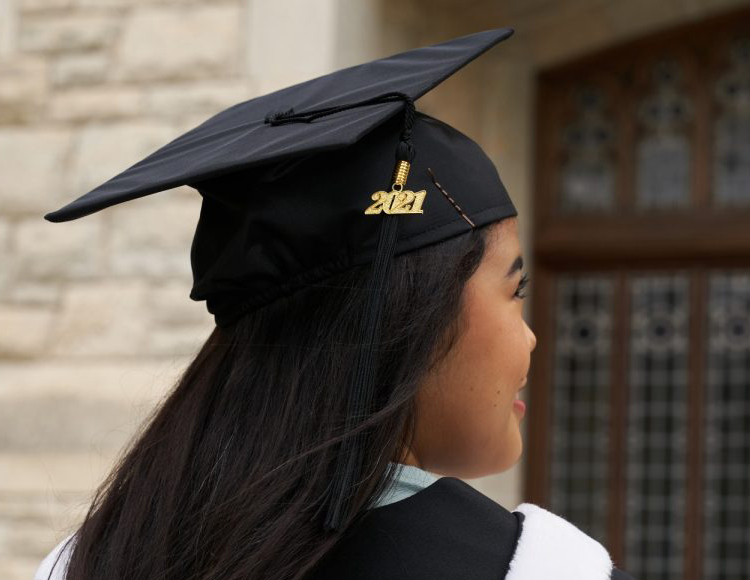 Newest Manitoba health-care professionals set to graduate
June 15, 2021 —
Manitoba's newest health professionals will graduate this afternoon at a virtual Convocation ceremony.
The 387 graduates represent four colleges of the University of Manitoba's Rady Faculty of Health Sciences: the Max Rady College of Medicine, Dr. Gerald Niznick College of Dentistry (including the School of Dental Hygiene), College of Nursing and College of Pharmacy, as well as the Faculty of Graduate Studies.
"I want to commend the efforts of the students that make up the Class of 2021," said Dr. Brian Postl, dean of the Rady Faculty of Health Sciences and vice-provost (health sciences). "Not only did they work hard to complete their degrees, they did it under unprecedented circumstances during a global pandemic. This took dedication and determination. They will no doubt use this experience to inform their careers in health care."
The Max Rady College of Medicine Class of 2021 includes 98 graduates. Of these, 72 will complete their residencies in Manitoba. The class includes eight students of self-declared Indigenous ancestry and eight French-speaking students who are graduating in the college's bilingual stream. Thirty-six of the graduating class are from rural Manitoba or have rural attributes.
The College of Nursing Class of 2021 includes 94 bachelor of nursing graduates, who will officially be welcomed to the profession in a virtual pinning ceremony prior to convocation. The college also has six graduates from its master of nursing and PhD programs.
The College of Pharmacy has 45 students in the Class of 2021. The class includes two students of self-declared Indigenous ancestry.
The Dr. Gerald Niznick College of Dentistry has 33 graduates in the Class of 2021, and 25 from the School of Dental Hygiene.
The Class of 2021 also includes 21 students from the Interdisciplinary Health Program's bachelor of health sciences program and eight from its bachelor of health studies program.
The following graduates of the Class of 2021 are available to speak with media:
Max Rady College of Medicine student Brooke Cochrane, 26, grew up in Winnipeg and is originally from Fisher River Cree Nation. She wanted to become a physician because she saw many health disparities faced by her family and community. She will do her residency in rural family medicine here in Manitoba. Cochrane is looking forward to working in Fisher River in the future and taking on leadership positions within Indigenous health.
Max Rady College of Medicine student Henry Li, 23, was born and raised in Winnipeg. His brother was a few years ahead of him in medical school and his father was a physician in China. Li wanted to become a physician so he could contribute to society through clinical activities, research, teaching and leadership. He served as president of the Canadian Federation of Medical Students this year. Li will do his residency in emergency medicine at the University of Alberta.
Max Rady College of Medicine student Amy Sahai, 27, grew up in Winnipeg. Working with underserved communities was central to why she pursued medicine. She developed a strong interest in global health while doing her undergrad in international development studies. She served as the global health liaison for the Manitoba Medical Students' Association. Sahai will do her residency in family medicine in Chilliwack, B.C. She hopes to engage in global health research as a supplement to her medical training.
International Dentist Dental Program student Dr. Dennis Chijioke Nenanya, 42, grew up in Nigeria and has a dentistry degree from the University of Lagos. While ensuring that his dental studies weren't affected, he and his wife, who is enrolled in a master's program, cared for and supported the schoolwork of their three kids (aged four, six and 11) during the pandemic. Dentistry is Nenanya's passion, and he hopes to own his own dental clinic in the future.
School of Dental Hygiene student Courtney Wallis, 24, is from Brandon, Man., and always knew she wanted to work in health care. She loves the ability to work closely with clients to improve their oral health. She was the student representative for her class for the Manitoba Dental Hygienists Association. Wallis will be moving to London, Ont., to begin her dental hygiene career.
Pharmacy student Megha Kaushal, 23, was born in Ludhiana, India and moved to Winnipeg with her family when she was nine years old. She is currently completing her internship in the pediatrics department at Health Sciences Centre, where she will continue to work full-time. Kaushal was very active with the Canadian Association of Pharmacy Students and Interns (CAPSI) through her time in the program, which provided some of her favourite moments over the last four years.
Josie Bolianatz, 31, is graduating with a master's degree in nursing. She previously worked as a registered nurse in Regina and is interested in nursing academics. For her thesis, she looked at what it means to learn the nursing profession in a concept-based curriculum.
Bachelor of nursing student Hannah Payumo, 24, was born in the Philippines and moved to Canada in 2001. During her time at UM, she was active on the Nursing Students' Association council and is co-valedictorian at the nursing students' pinning ceremony. She's also been a research assistant in the Manitoba Centre for Nursing and Health Research (MCNHR) since 2018. She recently accepted a position as a registered nurse at St. Boniface Hospital in cardiac surgery, where she completed her senior practicum. After gaining some experience as an RN she hopes to return to the university to pursue graduate studies.