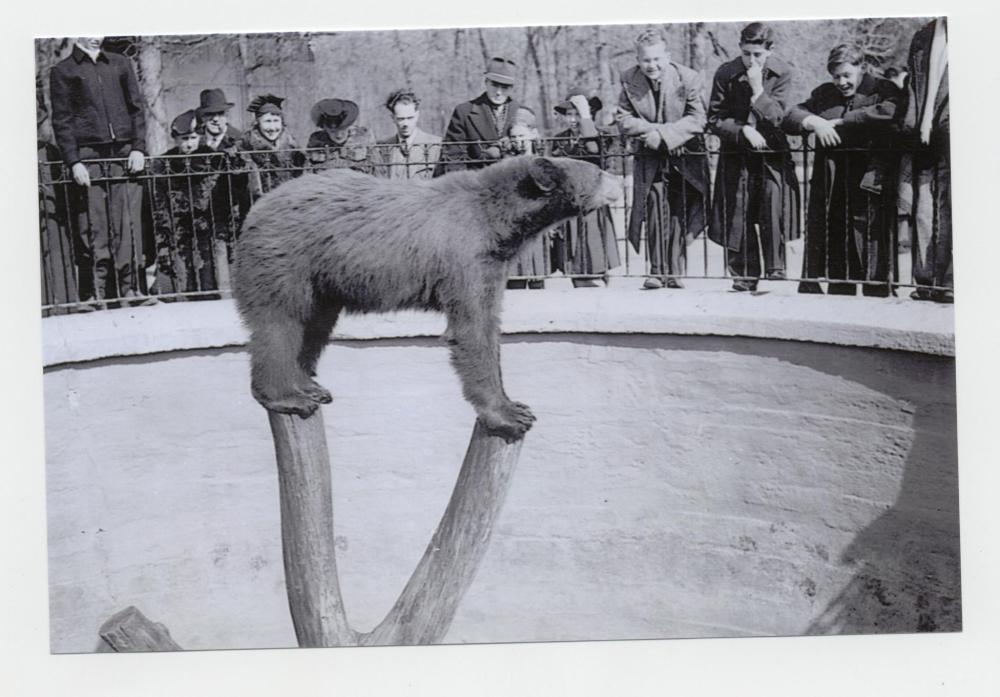 New zoos are more than 'collections of animals'
July 4, 2014 —
University of Manitoba geographer Mary Benbow is on the interpretative team for the Journey to Churchill exhibit that has just opened at the Assiniboine Park Zoo. She and several of her colleagues in the Clayton H. Riddell Faculty of Environment, Earth, and Resources have played a key role in the signage for the International Polar Bear Conservation Centre.
"No longer simply collections of animals, zoos are raising standards for care," Benbow says. "Assiniboine Park Zoo, for example, uses techniques like hiding food to satisfy an animal's natural desire to forage or create positive reinforcement to get bears to cooperate with workers in a less intrusive way. The Zoo is also incorporating more signage to get people thinking about the big issues in the world."
How we perceive animals has changed as well. An expert in zoo maps, Benbow analyzes how illustrations of animals on these visitor handouts have evolved over years. Benbow hopes that visitors' concerns for the welfare of individual animals in the zoo could translate to broader concerns for the well-being of Arctic ecosystems. The goal of her research is to provide zoos with practical information about how their visitors engage with the exhibits so they can do a better job of educating the public.
"It's really to give zoos more information of how they can interact with their visitors to give people more relevant information to some of those serious decisions that they have to make about things like climate change," Benbow says. "I think a lot of people are still bewildered about the issue of climate change."
–Chris Rutkowski
[rev_slider oldzoonewzoo]
A brief history of Assiniboine Park Zoo
1904: City of Winnipeg, Parks Board purchased a number of native animals, deer, bison, and elk. In 1908, the Bear enclosure was built and followed in 1916 with another enclosure.
1909: The zoo had 116 different animals of 19 different species.
1939: The zoo's first polar bear, a wild orphaned cub, arrived. His name was Carmicheal. In 1940, Carmicheal recieved a partner – a female named Clementine.
1956: The Zoological Society of Manitoba formed.
1957: The Society helped raise and develop the beloved children's petting zoo "Aunt Sally's Farm."
1959: The Assiniboine Park Zoo became the official name of the facility.
1964: The gibbon/monkey house was completed.
1967: The bear enclosure was renovated. Arrival of Dennis and Debby, two orphaned polar bear cubs. Dennis lived at the zoo for 8 years until he left for the Calgary Zoo while Debby lived 42 years (the world's oldest polar bear), until her death in 2008.
1968: Construction began on the Tropical House.
1983: The Zoological Society of Manitoba was revived.
2001: An alliance with the University of Manitoba Summer Mini U Camps initiates Mini U Zoo a sellout in the first season, where campers spend one week at the University and one week at the Zoo. Summer Zoo Camp reaches capacity for most weeks of the summer. First full colour zoo map, produced by Sherlock Publishing.
2008: Establishment of Assiniboine Park Conservancy (APC).
2009: In June, the Assiniboine Park Conservancy unveils a comprehensive $200 million redevelopment plan for Assiniboine Park & Zoo that will be completed over 10 years in three distinct phases.
January 31, 2012: The Assiniboine Park Conservancy opens the International Polar Bear Conservation Centre (IPBCC). As a key component of the 10-acre Journey to Churchill exhibit currently under construction, the IPBCC will be a centre of global influence in the field of polar bear research and conservation.
February 14, 2013: Hudson the polar bear makes his debut at the IPBCC. The 16-month old bear was born and raised at the Toronto Zoo and quickly becomes the Zoo's star attraction.
October to November, 2013: Three polar bears from Churchill Manitoba – two orphaned female cubs (Kaska and Aurora) and a three-year-old male (Storm) – are transferred to the IPBCC. Along with Hudson, they will move into Journey to Churchill when it opens.
July 3, 2014: Journey to Churchill opens.