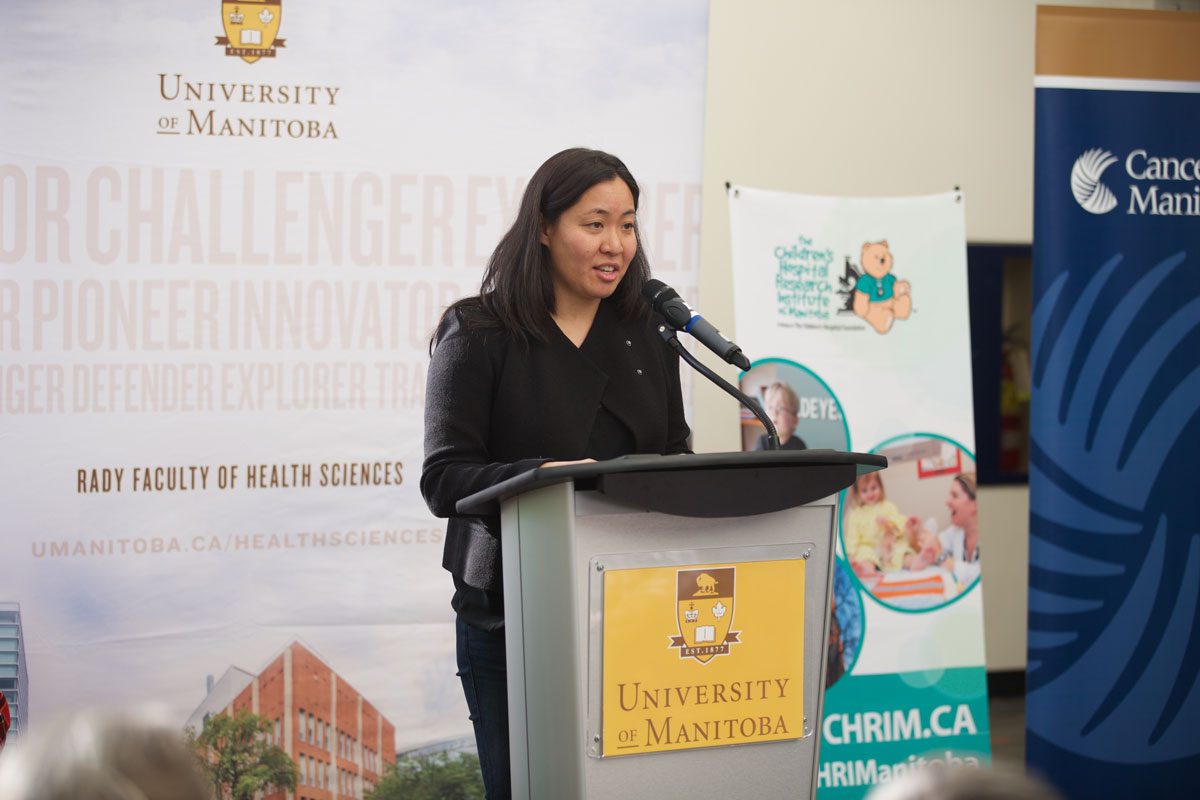 New test may improve transplant outcomes
January 12, 2017 —
A new clinical trial led by researchers at the University of Manitoba could change the current standard of care for monitoring kidney transplant patients and potentially increase the longevity of successful kidney transplants.
Principal investigator Dr. Julie Ho says many Canadians don't realize that kidney disease is a silent killer.
"It's actually really sad.… When patients tell their families they have kidney disease, it doesn't have the same implication as if they were to say 'I have cancer.' But the mortality rate with kidney disease is actually just as bad as with many cancers, although there is less public awareness about it," says Ho, an associate professor of internal medicine and immunology in the Max Rady College of Medicine.
Doctors currently monitor the function of transplanted kidneys, but a transplant recipient has to lose a lot of renal function before routine tests pick it up. As Ho puts it, a patient can have organ rejection and significantly damage his or her new kidney before routine tests detect that there is anything wrong.
"The problem right now is we're not picking up all the rejections," she says. "There are some types of rejections where the serum creatinine (a blood test to gauge kidney function) never changes, but we actually find it on biopsy. So we know they have rejection that our routine tests didn't detect."
A new method of testing is set to hit the trial stage in a year. Ho and a team of researchers have been working on a protein found in urine that detects rejection before routine clinical tests, as part of a previous grant funded by the Canadian Institutes of Health Research (CIHR). This has laid the groundwork for a multi-centre, randomized controlled clinical trial for which Ho's team has received a new five-year CIHR project grant of $2.6M.
"We noticed that the CXCL10 protein rises in people who have rejection, before we actually are able to detect rejection with our current standard of care monitoring. This protein reflects early inflammation or rejection in the kidney transplant," the researcher explains.
In the clinical trial, urine testing for the protein will be done throughout the first year after transplant surgery.
When a patient undergoes a transplant, his or her life expectancy is much higher than it would be on continuing dialysis, says Ho. "If your kidneys fail, the option of choice is usually transplant, if the patient is suitable or qualified … simply because they'll live longer, feel better and have a better quality of life, compared to being on dialysis."
Ho also points to economic implications. Dialysis treatment can cost anywhere from $60,000 to $100,000 per patient, per year. "It is one of the most expensive health-care modalities out there, but it keeps people alive. When you have a kidney transplant, the first year is an equivalent expense, but beyond that, there is a massive cost saving – in the tens of thousands of dollars per patient for every year that a transplant is functioning," she says.
"The overarching goal of the trial is to see if we can detect rejection earlier, and treat rejection to improve transplant outcomes."
Patient recruitment for the clinical trial is expected to launch in a year. The trial will take place through the Transplant Manitoba Adult Kidney Program at Health Sciences Centre, where Ho is a transplant physician. All new adult transplant patients from Manitoba will be considered, subject to study criteria.
Ho says it will take five years to engage with patients, complete the study, analyze the data and get the results published.
"In five years, if we have a trial that shows monitoring with this protein detects rejection earlier, our goal is to implement it into routine clinical practice."