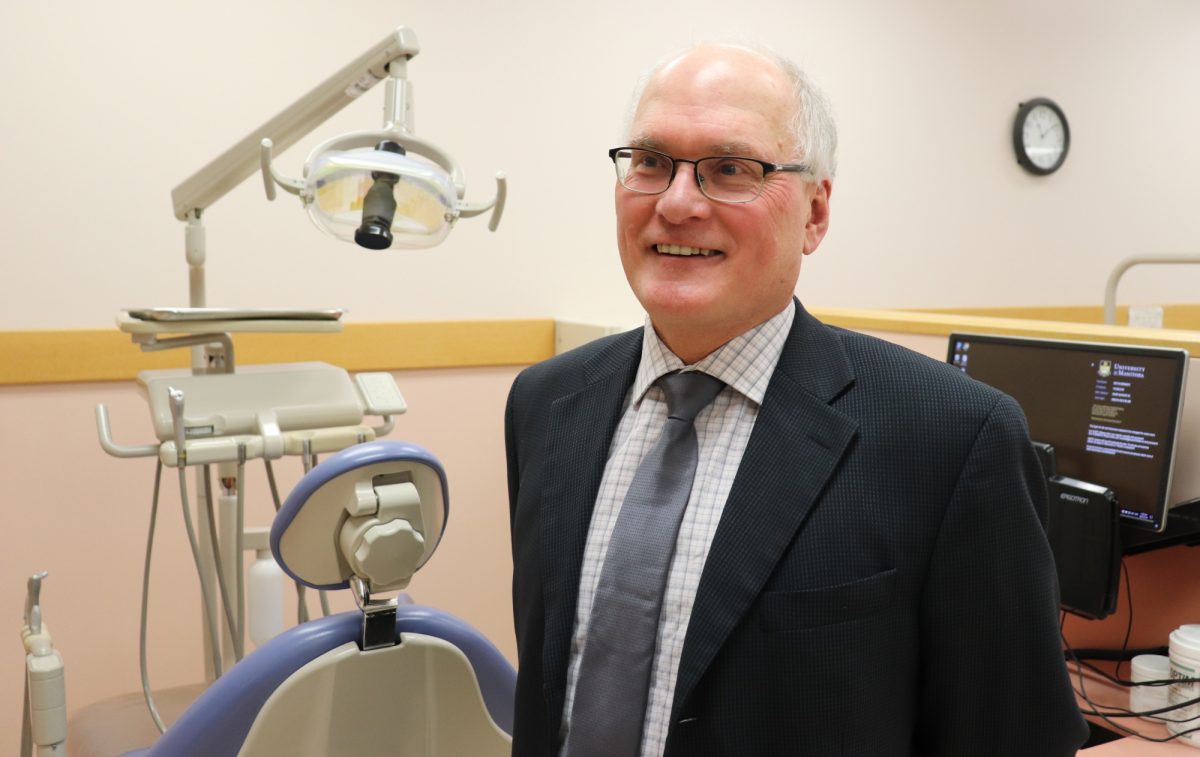 New role for longtime dentistry professor
Dr. Gerald Niznick College of Dentistry appoints Dr. John Perry associate dean, academic
January 28, 2020 —
Dr. John Perry stood in a hallway in the Dentistry Building where graduating class photos line the walls. He motioned with his hand to show that every student pictured since 1985 he had taught.
"The vast majority of dentists and dental hygienists in Manitoba know me as being one of their instructors," the associate professor and division head of oral pathology said.
Perry has taught full time at the Dr. Gerald Niznick College of Dentistry for 35 years. He holds an abundance of institutional knowledge and has an excellent sense of the college's history, having served under all seven of the college's deans. He said his experience will help him in his newly appointed position as the college's associate dean, academic.
"What I hope to bring to this position is the sense that there are rules and regulations that we follow, but the main thing is we're here to support the students and make them successful," he said. "My role is to ensure that they have the best educational experience."
Perry took on the role because it will be a challenge. He said it will be exciting because there is new leadership and he'll work with dean Dr. Anastasia Kelekis-Cholakis to make the college the best dental school possible.
Perry's graduation photo is also in the Dentistry Building hallway. He received his dental degree from the U of M in 1976. After four years in private practice, Perry went on to Emory University in Atlanta, GA, where he earned a certificate in oral pathology in 1982. He then returned to the U of M, where he began teaching part-time and received his master of science in 1986.
What Perry prizes about the college is its size. It is small enough – with 35 dental students and 26 dental hygiene students graduating each year – that the professors get to know the students and the learners get to know the faculty, he said.
"This helps in our goal to make the students confident and competent by the time they graduate," Perry said. "We're small enough that we can give that unique experience to the students."
While Perry has focused on teaching in the classroom and the clinic, he has found time for research. His areas of interest are admission selection tools and clinical case studies. He recently co-authored a position paper on the admission processes for dentistry programs in Canada, commissioned by the Canadian Dental Association and the Association of Canadian Faculties of Dentistry, which now serves as a basis for several national research projects on admission selection tools.
Throughout his academic career, Perry has also been involved in private practice. This has allowed him to build up cases to use for teaching. Perry not only lectures to university students, he has given more than 55 talks on oral pathology at the local, national and international levels.
"I just enjoy dispensing information," he said. "I'm an educator and I enjoy being in the classroom and clinic with students. I can now apply these experiences to my new role as associate dean, academic."