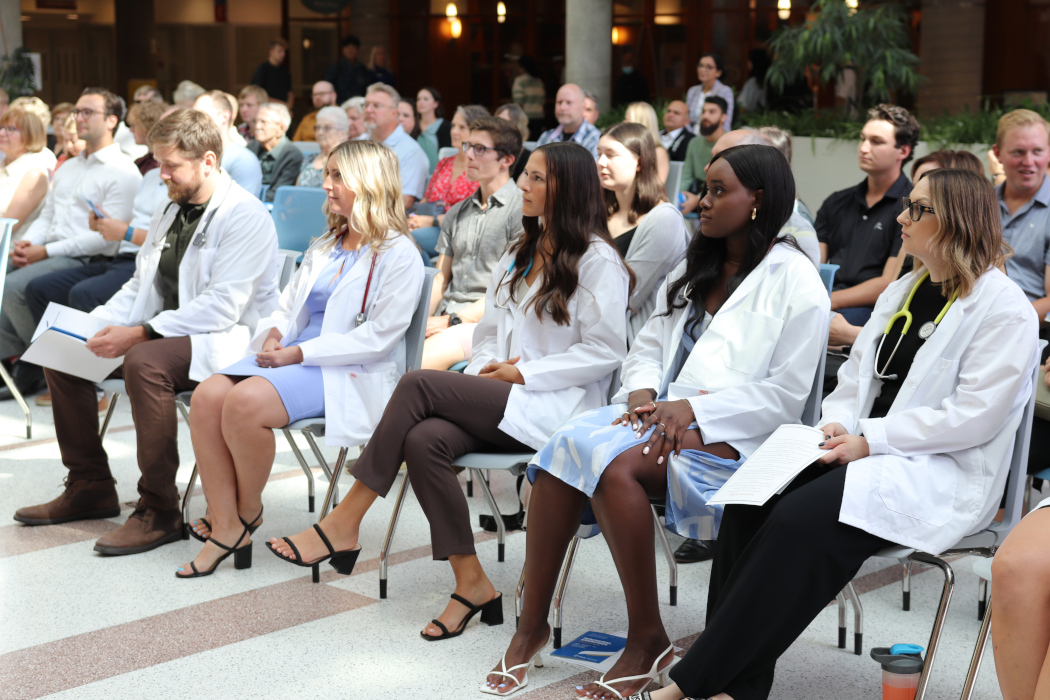 New MPAS students aim to make positive impact
September 7, 2023 —
Angel Sen was about to tear up when she received her stethoscope during the Master of Physician Assistant Studies' (MPAS) Inaugural Exercises.
"I think this stethoscope is such a big symbol of medicine and the connection you have with patients, hearing their heartbeat and just hearing what's going on with them," Sen said. "It was very special finally getting it."
Sen and the 14 other new MPAS students were presented with stethoscopes as part of the Inaugural Exercises on Sept. 1 in Brodie Centre atrium on the Bannatyne campus.
Heading into the MPAS program, members of the Class of 2025 already have plenty of health-care experience. There are nurses, researchers and a diagnostic medical sonographer. They also have a wealth of volunteer experience – which includes work in ERs, ICUs and at CancerCare Manitoba.
First-year MPAS student Nikaela Hewat has worked as a nurse for the past eight years and she said it has provided her with an excellent foundation in medicine. She said it felt a bit surreal when she recited the Physician's Pledge because it's a big moment entering the MPAS program.
"I'm just excited to start this journey," Hewat said.
Sen said that one of the main reasons she wanted to become a physician assistant (PA) was to have a positive impact on her community.
"Going to hospitals myself – if I have a family member sick or I'm volunteering there – I saw the impact good health care can have on the life of a patient and their family," Sen said. "As a physician assistant, I think I will be able to have that kind of impact. So, I really wanted to go into this profession."
The students were welcomed into the program at the Inaugural Exercises by PA Rebecca Mueller, interim program director and academic coordinator for MPAS.
"I want to emphasize that the journey you are about to embark upon is not an easy one, but it is a noble one," Mueller told the MPAS students at the event. "You have chosen a profession that will allow you to touch lives and heal wounds and make a meaningful impact."
Dr. Peter Nickerson, vice-provost (heath sciences), and dean of the Rady Faculty of Health Sciences and the Max Rady College of Medicine, addressed the audience and told the students that they are joining an exceptional program that trains outstanding physician assistants.
"I know this because many other provinces are trying to open programs like ours and they're calling Rebecca [Mueller] constantly to find out how we're doing it because they want to emulate that which we have, so you are in a fantastic program and I'm so happy we have you here," Nickerson said.
As well as the Stethoscope Ceremony and the Physician's Pledge, Elder Margaret Lavallee gave a blessing, and speakers included Dr. Anna Ziomek, registrar for the College of Physicians and Surgeons of Manitoba, Dr. Ian Whetter, medical director for Ongomiizwin – Health Services, and PA Kali Braun, Manitoba Director, Canadian Association of Physician Assistants.