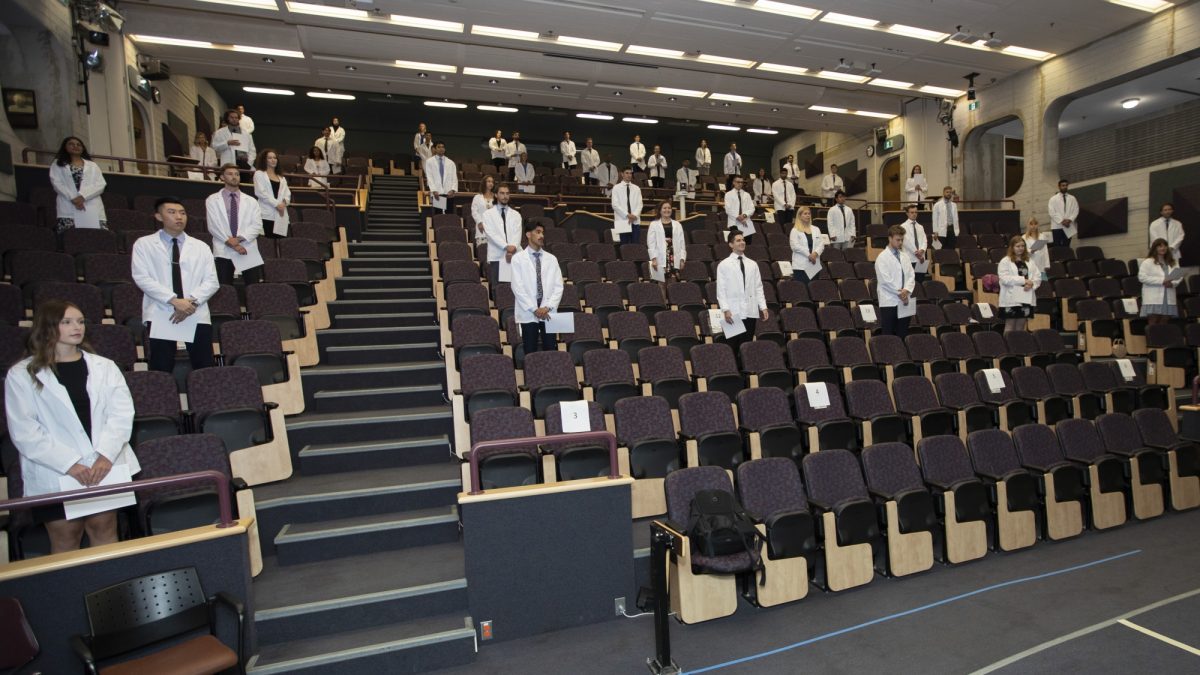 New medical students receive first white coats in adjusted ceremony
August 18, 2020 —
First-year medical students from a cross-section of ethnic, cultural and socio-economic backgrounds are beginning their journey to becoming doctors after reciting the Physician's Pledge at this year's Inaugural Day Exercises and White Coat Ceremony on Wednesday, Aug. 19 at the University of Manitoba's Bannatyne campus.
The 110 members of the Class of 2024 cloaked themselves in their first white coats – rather than the usual cloaking by a dean or special guest – as part of differently organized Inaugural Exercises at the Max Rady College of Medicine in the Rady Faculty of Health Sciences.
In order to practice safety protocols and physical distancing during the COVID-19 pandemic, the students were split into two groups and took part in separate ceremonies while maintaining social distance. Special guests will give virtual greetings and family and friends were able to watch a livestream of the Inaugural Exercises from home at bit.ly/UMmedinaugural2020. The ceremony for students with the last names from A-J began at 9:00 a.m., and the ceremony for students with the last names from K-Z started at 11:30 a.m.
"These students are entering the medical profession amid a pandemic," said Dr. Brian Postl, dean of the Max Rady College of Medicine and dean of the Rady Faculty of Health Sciences. "When they receive their white coats and recite the Physician's Pledge, they are joining the community of doctors around the world who are working tirelessly to treat COVID-19 patients and protect the population from the disease. For these students, it's their first step towards making a difference as a health-care professional."
This year's class of 51 women, 58 men and one identifying as another gender, includes 12 students of self-declared Indigenous ancestry. Forty students have rural attributes, meaning they have rural roots, rural work experience or rural volunteer or leadership experience. Eight students are enrolled in the bilingual stream. The future physicians range in age from 20 to 37.
The class's ethnic and socio-economic diversity reflects the Max Rady College of Medicine's inclusive admissions policy. To remove barriers to participation and more accurately reflect Manitoba's population, the college advantages qualified candidates from traditionally under-represented socio-economic and socio-cultural backgrounds.
Meet a few of the first-year students
Hunter Goodon is a Métis student from Brandon. When he was two-and-a-half-years old he was diagnosed with leukemia. He went through more than three years of chemotherapy in Winnipeg. The experience, and the physicians he had at CancerCare Manitoba, motivated him to want to become a doctor. He has always been interested in specializing in oncology or pediatric oncology.
Mariel Talabis grew up in a lower-income neighbourhood in Winnipeg with her mother, who immigrated to Canada from the Philippines, and her father, who was a refugee from South Sudan. During her undergrad she began to think about how people from a similar background and community as her are underrepresented in medicine. Talabis wants to become a physician who advocates for underserved populations. She is interested in the fields of pediatrics, and obstetrics and gynecology.
Nicole Barrett is a 32-year-old bilingual student who decided to become a doctor at the age of 12. She is challenged by a lifelong neurodevelopmental disability and is equally challenged by society's perception of what one can achieve with a disability and effective accommodation. Barrett was determined to get into medical school and applied each year for the last nine years. She would like her career path to lead her to northern and rural communities, and she wants to work in the fields of neurology and psychiatry.
Suman Memon and Filza Zohair have been best friends for 10 years and they will both be entering medical school this year. They spent their undergrad taking the same courses and pushed each other to excel. Working to get into medical school strengthened their friendship, which will continue to flourish over the next four years.
Memon is motivated to become a physician because she wants to help as many people as her parents have. Her mother and father are doctors who built a hospital together in Pakistan and its profits go to charity. They instilled the values of kindness and empathy in her, and that drew her to wanting to pursue medicine. She wants to enter either pediatrics, dermatology or obstetrics and gynecology.
Zohair was born in Karachi, Pakistan, and immigrated to Canada when she was three years old. Watching her mother apply for residency as an international medical graduate inspired Zohair to follow in her mom's footsteps. She is interested in entering the field of obstetrics and gynecology, because she said in Pakistani culture, the topics of sex and pregnancy are taboo to talk about and as a female Pakistani doctor, she wants to help bridge this gap for women in Canada.
Alan Klass Memorial Address
Dr. Tito Daodu, a pediatric surgery fellow at the University of Calgary, will give the Alan Klass Memorial Address during Inaugural Exercises. She is passionate about global health and social justice. Dr. Daodu is actively involved in global and public health research with a focus on improved access and outcome. She was a surgery resident at the University of Calgary from 2013 to 2018 and graduated from the Max Rady College of Medicine in 2013. She was a recipient of the University of Manitoba Young Alumni of Distinction Award (2015) and the Nahlah Ayed Prize for Student Leadership and Global Citizenship (2012).