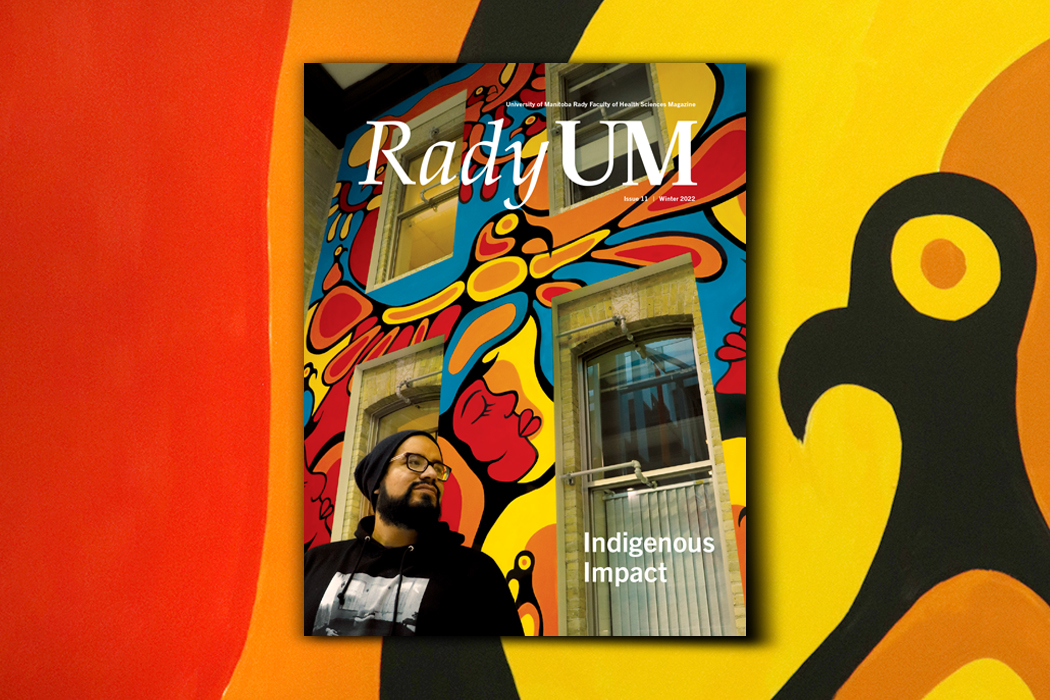 New issue of RadyUM magazine highlights Indigenous impact
February 17, 2023 —
The vibrant mural painted by Indigenous artist Blake Angeconeb on a towering wall in the Brodie Centre is featured on the cover of the latest issue of RadyUM magazine.
The cover story highlights recent initiatives to support Indigenous inclusion, equity and advancement across the Rady Faculty. These include partnerships with Indigenous communities, efforts to increase the enrolment of Indigenous learners in Rady programs, and recognition of Indigenous achievement in research, education, health services and student leadership.
The twice-yearly magazine, published in print and online, covers the latest news and student, faculty and alumni accomplishments from the five colleges of the Rady Faculty of Health Sciences: the Dr. Gerald Niznick College of Dentistry, Max Rady College of Medicine, College of Nursing, College of Pharmacy and College of Rehabilitation Sciences.
Rady researchers profiled in the Winter 2022 issue include Canada Research Chair Dr. Kristine Cowley, a neurophysiologist who studies exercise capacity in people with spinal cord injury; Dr. Christine Leong, an associate professor of pharmacy who uses health databases to reveal patterns in prescriptions; and Dr. Em Pijl, an assistant professor of nursing whose research focuses on harm reduction for people experiencing problematic substance use.
Rady alumni showcased in this issue include Winnipeg dentist Dr. Carla Cohn, whose practice is devoted to children's treatment under general anesthetic; pathology professor Dr. Yvonne Myal, whose lab investigates proteins involved in breast cancer; and Elizabeth Stoesz, a rehabilitation counsellor whose occupational therapy degree prepared her well for working with youth clients.
Other features include a Q and A with Dr. Peter Nickerson, the new dean of the Rady Faculty; a look at a pilot study of non-invasive brain stimulation paired with cognitive behavioural therapy; and a report on the new "smart suite" at Health Sciences Centre, a model apartment equipped with assistive living technologies, developed by the College of Rehabilitation Sciences.
Explore the Awards and Honours earned by faculty members and stay current on recent happenings in the Rady Faculty by checking out the Notable News section.
Read the latest issue of RadyUM now.