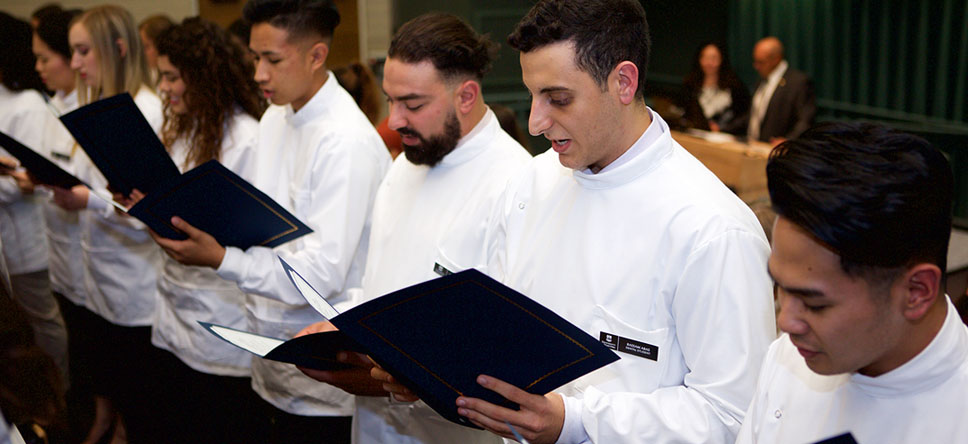 White coat symbolizes new goals for goalie
September 13, 2018 —
Elie Abdul-Khalek's career dream was to protect the net as a professional hockey goaltender.
Instead, he'll be safeguarding patients' oral health as a U of M-trained dentist.
It's a radically different arena, but one that the Edmonton-raised student stepped into with pride and determination on Sept. 6 at the Opening Assembly for the Dr. Gerald Niznick College of Dentistry and the School of Dental Hygiene.
"It was an honour and a privilege. It was extremely rewarding," Abdul-Khalek, 30, said about the ceremony in which each student in the 29-member Dentistry Class of 2022 was "cloaked" in a white coat, symbolizing entry into the profession.
Abdul-Khalek's parents, immigrants from Lebanon, made sacrifices to pay for his elite hockey training from the age of seven, he said. He played on junior and AAA teams, with hopes of playing professionally.
"Unfortunately, I blew out a ligament in my right knee and had to have surgery," he said. "Then in my rehab, I hurt my hip. I ended up having reconstructive hip surgery. I was deemed damaged goods."
By the age of 22, he had to grieve the end of his pro-sports dream, refocus on academics and start to envision an alternate future. His own dentist greatly encouraged him, he said. The outgoing student arrived at dental school with two bachelor's degrees in science, one earned in Alberta and the other at the U of M.
Abdul-Khalek, who is also a hockey coach, said he's certain that many skills he has learned from the game – such as how to manage the different personalities on a team – are transferable to dentistry.
His biggest life lesson from having to relinquish his goalie ambitions? "It teaches you to appreciate everything you've got. Anything can change at any time, so make sure you always put your best foot forward."
Abdul-Khalek wasn't the only one making reference to hockey at the Opening Assembly. Mayor Brian Bowman, who brought greetings from the City of Winnipeg, was struck by the sea of white coats.
"There's a Winnipeg Whiteout street party joke in here somewhere," Bowman told the crowd.
Student Gurbrinder Sandhu, 21, didn't realize until he met his dental hygiene classmates for the first time that he's the only man in the 26-member Class of 2020. But the lack of gender balance doesn't faze him.
"More guys should go into dental hygiene," he said. "It's always nice having diversity."
Sandhu immigrated to Canada from India at age 13. The Grant Park High School grad said he applied to the program because he was so inspired by his own hygienist here in Winnipeg.
"Just seeing how hygienists work, what they do and how they interact, I wanted to be a hygienist," he said.
Sandhu is proud to have been selected for the competitive program. "It feels amazing," he said about receiving his white coat and reciting the Community Code, an oath to practise ethically.
Mary Bertone, director of the School of Dental Hygiene, told the audience that Manitoba has more male dental hygienists than any other province, so Sandhu will be in good company.