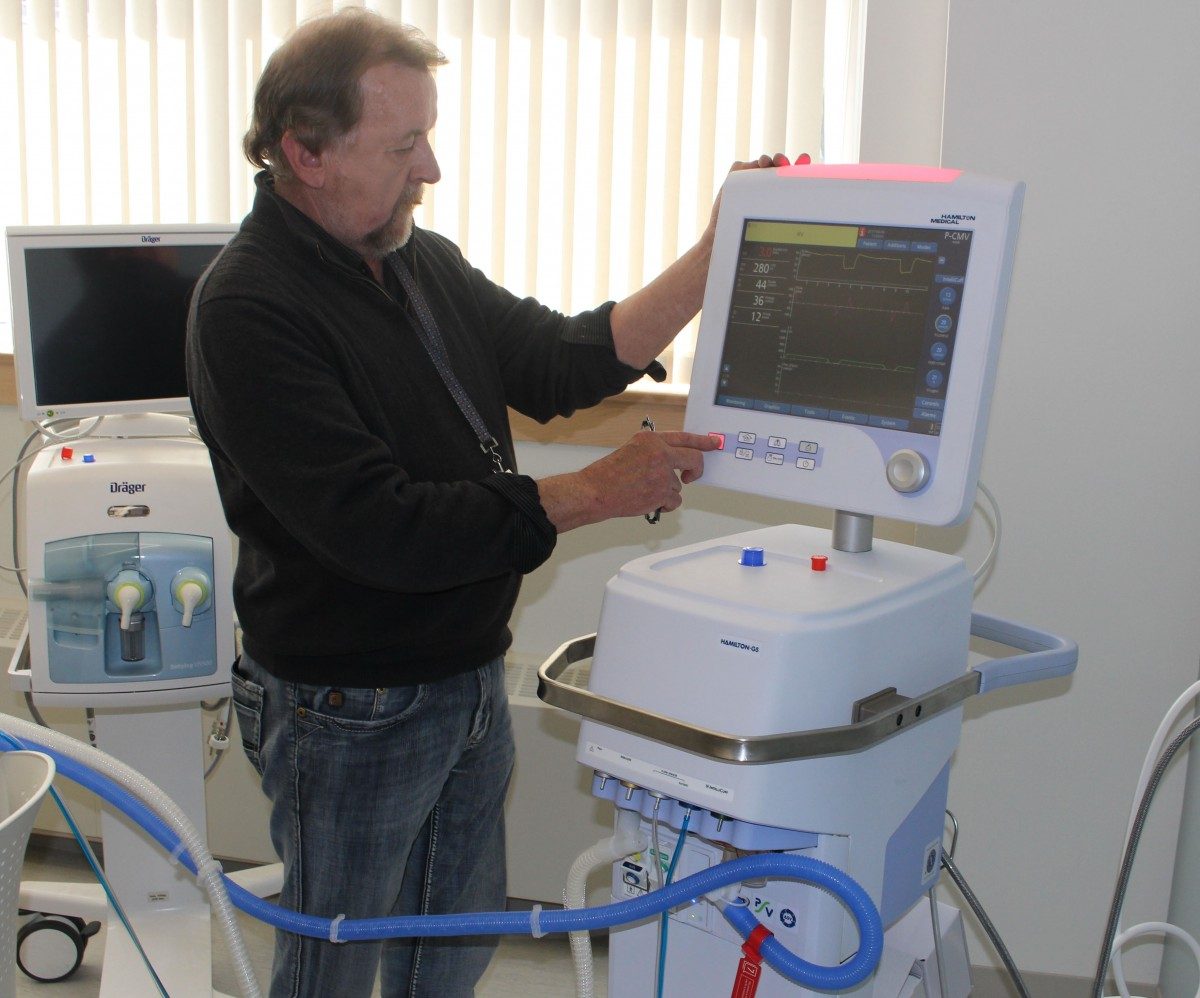 New equipment puts Respiratory Therapy department on the leading edge
October 2, 2017 —
A combination of generosity and good luck have helped land two new pieces of cutting edge lab equipment for the Respiratory Therapy department in the College of Rehabilitation Sciences, Rady Faculty of Health Sciences.
Winnipeg-based BOMImed has recently donated a state-of-the-art ventilator – the Hamilton G5 – to the department. The year old unit was originally used as a demo used in BOMImed's lab as a teaching tool
According to Ken Chambers, Acting Head, Respiratory Therapy, the new addition of this ventilator will further strengthen the department's position as a leader in respiratory therapy education.
"With our forever changing modalities of treatment in the intensive care unit, this ventilator is the next generation that is being used in two Winnipeg hospitals so when our students actually go out into the clinical area they see first-hand the newer technology they were taught on," he said.
The new ventilator has several unique features including the capability to monitor all age groups from neonatal to pediatrics to adults and will be used in three core courses for respiratory therapy students.
The department received a second ventilator as a result of a piece of good fortune, according to Chambers.
"At the national conference in Halifax, a medical company had a particular ventilator unit offered up in a draw," he said. "The only way you could enter is if you were an instructor or prof in a program and were attending the conference and lo and behold U of M entered and came up the grand prize winner, so it was a double whammy within a couple of months of each other."
For Reg Urbanowski, Dean, College of Rehabilitation Sciences, the addition of this new equipment is a validation of the important work taking place in the department and the college.
"'It brings us to the leading edge in terms of technology for our students and it's a good indication of the strength of our program when industry supports us," he said. "As Canada's only university based respiratory therapy program this is an indication of the sort of support that we get from industry."