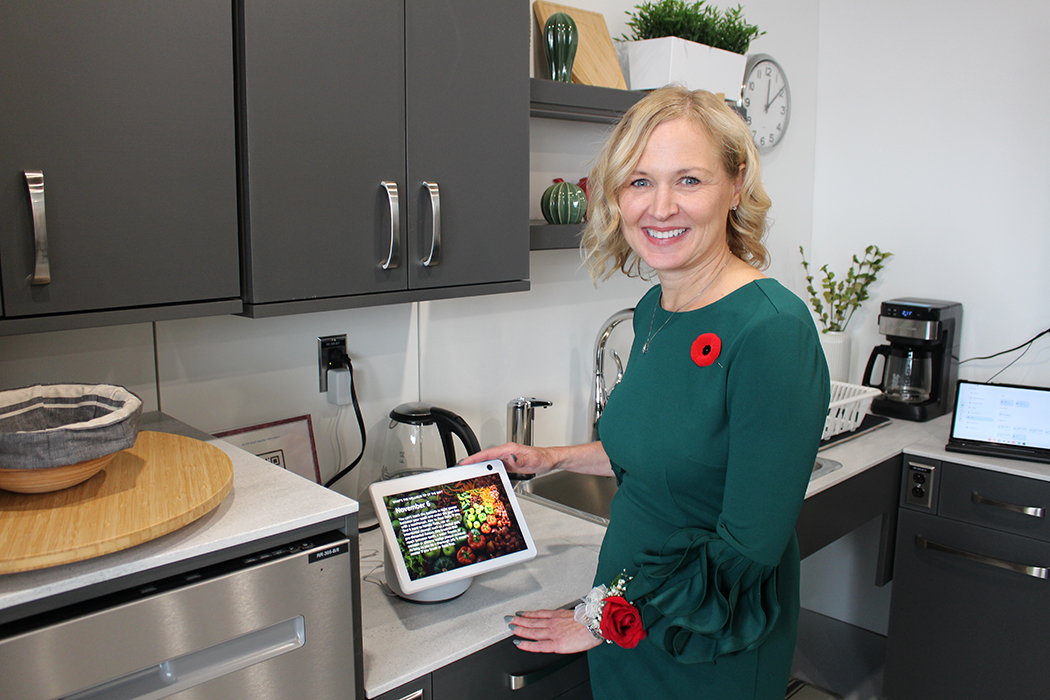 New endowed chair funded by HSC Foundation, UM focused on technology-assisted living
November 7, 2023 —
Dr. Jacquie Ripat, professor of occupational therapy at the College of Rehabilitation Sciences and vice-dean (academic affairs), Rady Faculty of Health Sciences, was announced Nov. 6 as the new endowed chair in technology for assisted living, which is aimed at creating research opportunities and testing new innovations in the growing field of technology-assisted living.
The research chair brings together HSC Foundation donors' contribution of $1.5 million and University of Manitoba donors' contribution of $1.5 million to support leadership, scholarship and mentorship in the emerging field.
Technology-assisted living uses computer technology, artificial intelligence and other digital tools to increase quality of life. Current efforts are focused on aiding those who are recovering from surgery, suffering from chronic illness, living with disabilities and wishing to remain living independently.
The chair has a five-year term and is the first endowed chair to be based in the College of Rehabilitation Sciences.
Ripat said she believes technology can serve as a powerful catalyst for inclusion, empowerment and participation for people at all stages of life.
"This work is fueled by the understanding that the barriers faced by people are not insurmountable when we harness the potential of cutting-edge technology," she said.
At the announcement, she pointed to two examples of "living lab" projects currently underway at UM.
One is an outdoor space currently at Fort Garry campus, where technologies that address the mobility challenges people face during the winter can be assessed and developed.
The other is the "smart suite" housed at HSC's rehabilitation hospital. At the high-tech 850 sq. ft. model apartment, patients can get fitted with leading-edge technology and explore which assisted-technology solutions work best for them. The unit is also used for both teaching and research at the college.
"I believe we are just on the cusp of the technological revolution," Ripat said. "In the coming years, we can expect to witness the widespread adoption of self-driving cars, increased use of social robots, augmented and virtual reality to address social isolation, and the integration of sensors into homes and even clothing to provide monitoring and support."
At the announcement, Dr. Peter Nickerson, vice-provost (health sciences) and dean, Rady Faculty of Health Sciences, said these research advancements and emerging technologies will remove barriers to independent living for those living with health concerns.
"We are healthiest and happiest when we can be in the comfort of our homes, rather than living in institutional care. This is now becoming a reality for many more people than ever before," Nickerson said.
Jonathon Lyon, president and CEO of HSC Foundation, said research and development in the field of technology for assisted living is urgent and will be a key to unlocking further improvements in diagnosis, medicines and treatments for patients.
"The technology assisted living program is a shining example of what can be accomplished in virtual care, partnership, philanthropy and a commitment to innovation," he said.
Dr. Reg Urbanowski, dean of the College of Rehabilitation Sciences, called the establishment of the chair a "step forward" for the college.
"I think this is the beginning of many more commitments we will have as we continue to develop our research program in rehabilitation sciences," he said. "Technology-assisted living research will enable people with activity limitations or participation restrictions to stay meaningfully engaged in their home and community environment."