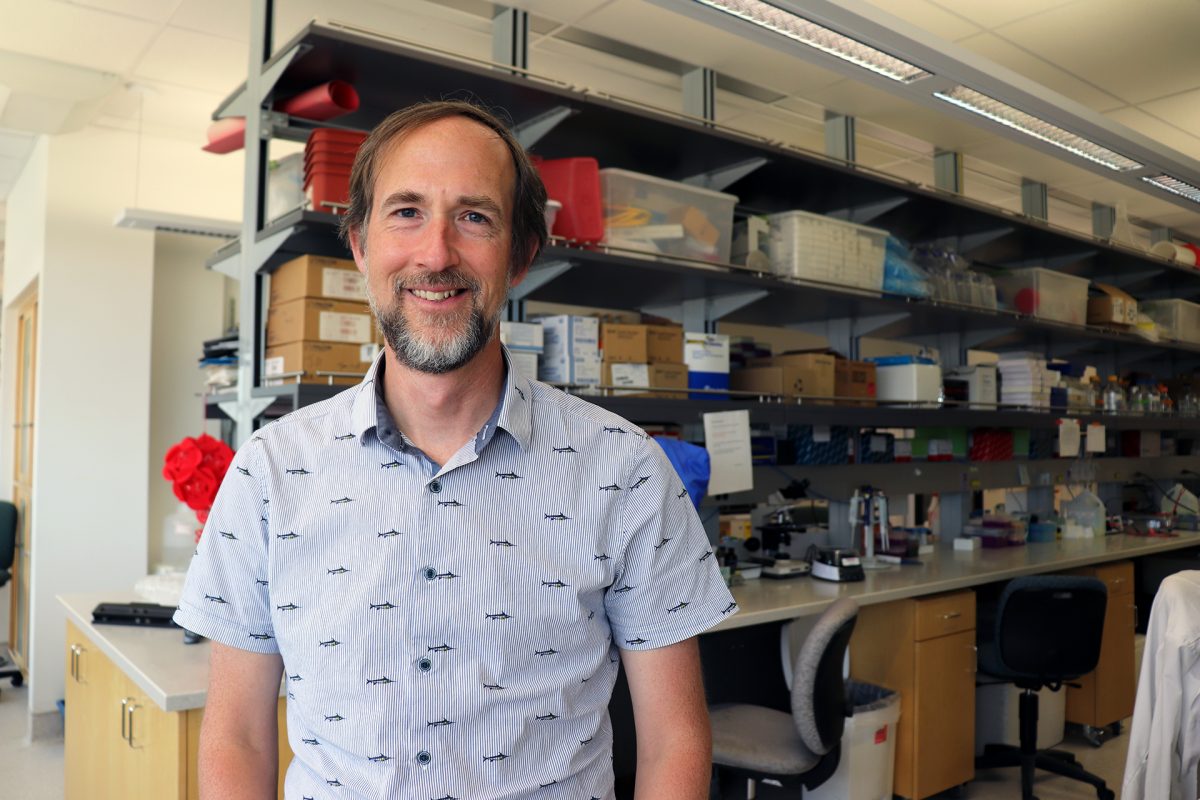 New Dept Head: Immunology pushes boundaries, demands creativity
July 3, 2019 —
Dr. Aaron Marshall, professor and new department head of immunology in the Max Rady College of Medicine, Rady Faculty of Health Sciences wants to expand the view that immunologists are primarily researchers toiling away in labs. When choosing a theme for the department's 50th anniversary celebrations Sept. 26-27, 2019, Dr. Kent HayGlass, a former head, suggested "translating creativity into better health" and Marshall says it stuck right away.
"Discovery and creativity is really what we do. Some term this 'basic research' but I don't like the connotations of that word, because there's nothing basic about it," says Marshall. "Immunology is about pushing the boundaries, making connections and testing your ideas."
Marshall, who established his research program at the University in Manitoba in 2000, originally hails from Saskatoon. He completed his B.Sc. in Microbiology at the University of Saskatchewan, earned his PhD at the University of Toronto, where his interest in B cells (a type of white blood cell) was sparked, and completed his postdoctoral fellowship at the University of Washington. He served as a Canada Research Chair in Molecular Immunology from 2006-2016.
Marshall's research niche is B cells and signal transduction, studying how cells transmit information from the outside to the inside of the cell. It is via this signaling network that B cells decide how to respond to potential threats.
After the discovery, the next step is to think "how would this be useful?" His work has contributed to successful new therapeutics in B cell leukemia, which he says is gratifying, and also underscores the importance of immunology as part of the bigger picture in health research.
"A lot of therapeutics and cures originate from discoveries about the fundamentals of how cells work, and only later are linked to disease."
The department of immunology at the University of Manitoba is known around the country for the strength of its research programs – and doing things in innovative ways. With top-notch facilities and equipment, modern techniques and excellent student mentorship, the department has a competitive edge that Marshall wants to build upon over the next five years of his term. His goal is for the department to emerge as the clear national leader in immunology research.
He also hopes to foster interdisciplinary relationships with research groups that share overlapping interests, where immunologists can provide their expertise as it relates to diseases like cancer and chronic inflammatory diseases such as arthritis, asthma and allergies.
"I think we bring new insights when we're involved in this kind of inter-professional research. That is something I will be promoting – to build connections between our faculty and research teams across the Rady Faculty of Health Sciences."
He will look to the solid connections the department has already established with Infectious Disease researchers as a template, saying that a major thrust of research in the department continues to be in parasitic diseases, HIV and viral infections.
Marshall says the 50th anniversary celebrations will be a showcase of this unique brand of excellence. All of the invited speakers are alumni who found success in different areas including industry, government and academia. Attendees will learn not just about the science, but also the people. Marshall describes it as an appropriate way to illustrate the impact of the high quality training the alumni received, the research they're doing and what they've accomplished.
"On a 50-year time scale, there are many examples of how creativity has translated into better health. It's easier to see that over 50 years because research takes a long time to unfold to its full potential. Some ideas have been out there for decades, but translating that knowledge to develop treatments is a whole other challenge."
During the celebrations, there will be a presentation on the history of the department, which will delve into its interesting origin story, and Marshall will outline the department's vision for the next 50 years.
One thing for certain is that Marshall will embrace the concept of non-linear thinking.
"You can't discover anything without being creative. If you're just following a preexisting template, how will you ever find anything new?"