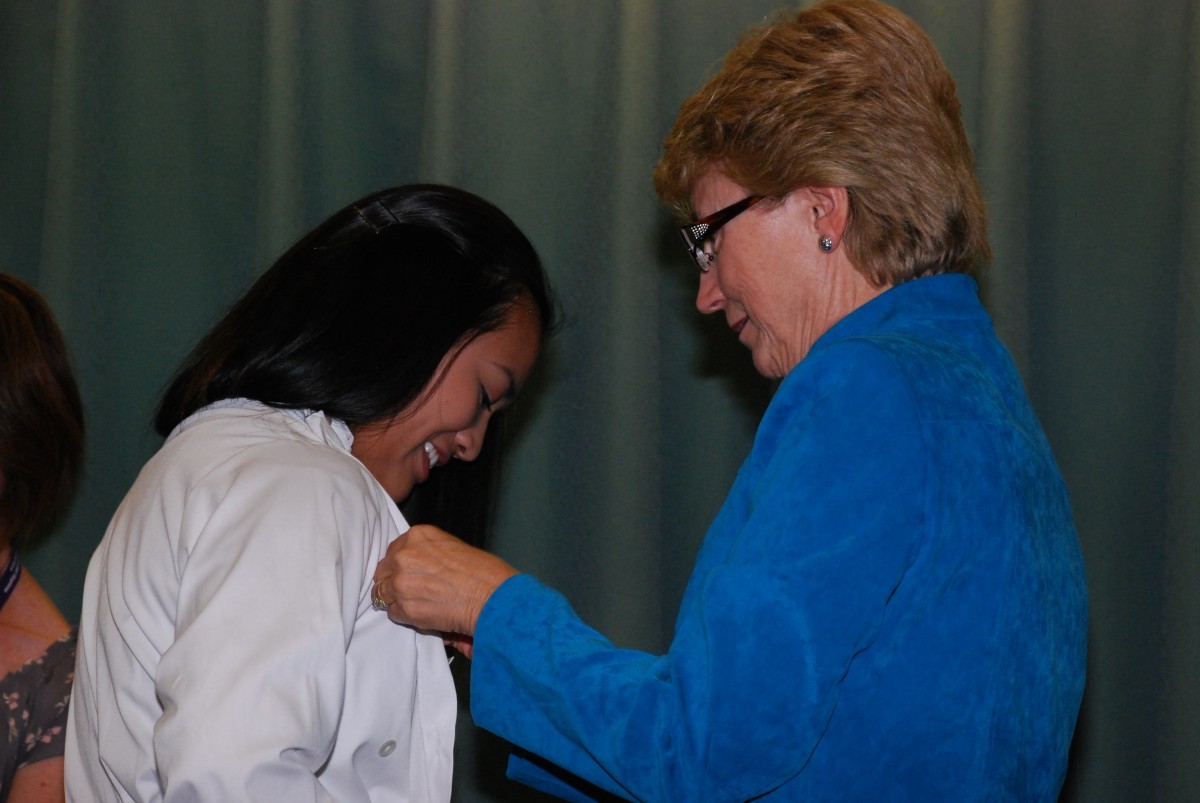 New dentistry students to receive training that mimics real practice
September 8, 2016 —
This year's incoming classes of future dentists and dental hygienists will get hands-on training through an innovative education model that closely resembles real-world general dentistry practice.
Thirty-six dentistry students and 26 dental hygiene students will don their inaugural white coats at the College of Dentistry's Opening Assembly on Thursday, Sept. 8 on the University of Manitoba's Bannatyne Campus.
The students' clinical training will follow the General Practice Comprehensive Care Clinic model, which treats each patient's whole spectrum of dental needs simultaneously. This marks a shift from the traditional college approach of bringing in patients with particular dental concerns for discipline-specific clinics.
"This educational model more closely mirrors the clinical experience of a private practice," said Dr. Anthony Iacopino, dean of the College of Dentistry, Rady Faculty of Health Sciences. "The students we welcome this week will graduate in four years with a strong general-practice experience. They will learn about treating the whole patient, not just one particular issue at a time."
The new training approach was originally introduced three years ago and will be strengthened this year, incorporating the dental hygiene program and providing more comprehensive care clinic sessions. Students will receive more hours of clinical training than in the past, and the university will be able to serve more patients.
The new crop of students will also benefit from nearly $1.5 million in recent technological advancements and renovations at the College of Dentistry.
Who: College of Dentistry Class of 2020, International Dental Degree Program Class of 2018,
and School of Dental Hygiene Class of 2018

What: Opening Assembly, including White Coat Ceremony

When: Thursday, September 8, 2016, 6 to 7 p.m. Reception to follow.

Where: Frederic Gaspard Theatre, Basic Medical Sciences Building
University of Manitoba Bannatyne Campus
---
Student interview candidates for media
Three students with an unusual shared story are available for media interviews. Ketan Bansal (age 20), Manisha Bansal (21) and Monty Bansal (23) are a Winnipeg brother, sister and cousin who all managed to beat out hundreds of applicants to win places in the Dentistry Class of 2020. Already dubbed "Dr. Bansal Number 1, 2 and 3" by their classmates, they study together and plan to go into practice together.