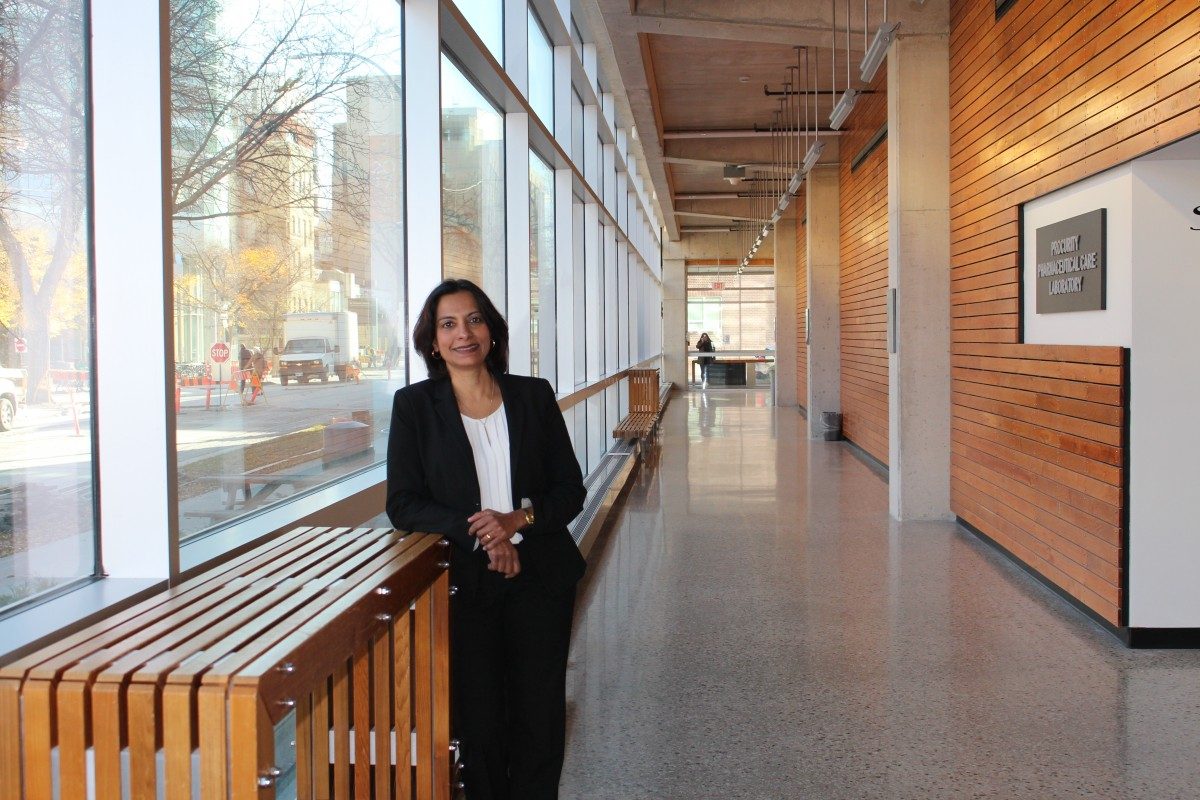 New Dean of Pharmacy: Patients are Partners in their own Health Care
November 7, 2017 —
Dr. Lalitha Raman-Wilms grew up in India, but when it comes to pharmacy, it's fair to say she's really a citizen of the world.
The new dean of the College of Pharmacy has given presentations and invited lectures in South Africa, Singapore, New Zealand, Italy, the United States and Canada. She also spent time volunteering for the Canadian Medicine Aid Programme in India.
"I've sought out opportunities to work internationally throughout my career," said Raman-Wilms, B.Sc. (Pharm.), ACPR, Pharm.D., FCSHP. "It's given me a global perspective on health. And certainly, it's allowed me to appreciate more what we have here in Canada."
In addition to her work abroad, the University of Toronto grad has made a deep commitment to serving communities across Canada, seeking out diverse populations in Hamilton, Halifax, Thunder Bay and Toronto, with particular experience serving geriatric and Indigenous clients. "My experience with patients has taught me a lot," she said. "Can we communicate better? What type of information with respect to their medications would be most useful for them?"
It's strengthened her conviction that patients are partners in their own health care, something she also helps facilitate through her book, 'Guide to Drugs in Canada', a reference source for consumers. "As pharmacists, we should be empowering our patients," she says.
Raman-Wilms started in her new role at the U of M in August, attracted by the university's strategic plan and its priorities around community engagement and Indigenous achievement. "That really tells me a lot about the University of Manitoba," she said.
As someone who values collaboration, she says there is also a tremendous appeal to the structure of the Rady Faculty of Health Sciences. "The professional disciplines are integrated. We are each focused on certain aspects of healthcare, but together, our goal is really the same: better healthcare for Manitobans," she said. "Being in that kind of environment, it makes it easier to think about how can we collaboratively partner together."
Her most recent post was with the Leslie Dan Faculty of Pharmacy, University of Toronto, where she was associate dean of education and professional programs. Her achievements include developing and implementing the PharmD curriculum at the U of T, which will serve her well at the U of M as the new curriculum comes into play starting next year.
In her current role, she's set the bar high: aiming for a college-wide culture of excellence and innovation from the newest student to the most senior faculty member. "We need to be creative, to think of new ways of doing things," she said. "And we need to create an environment where our students, faculty and staff can thrive."
In addition to her work as dean, Raman-Wilms is also a researcher. One of her primary interests is how to help patients reduce or stop a medication safely, which is known as 'de-prescribing'. "When a patient is prescribed a medication, we also need to think about when they're going to stop that medication and how that will happen," she said. She has been part of an interdisciplinary health-care research team that has developed evidence-based guidelines and innovative tools that have proven effective for de-prescribing in a clinical setting.
Her interest in helping patients to receive optimal care doesn't stop there. Raman-Wilms is currently working on a research proposal on de-prescribing and enhancing the pharmacist's role. "The work will continue here," she said. "I wanted to bring that work to Manitoba as well!"