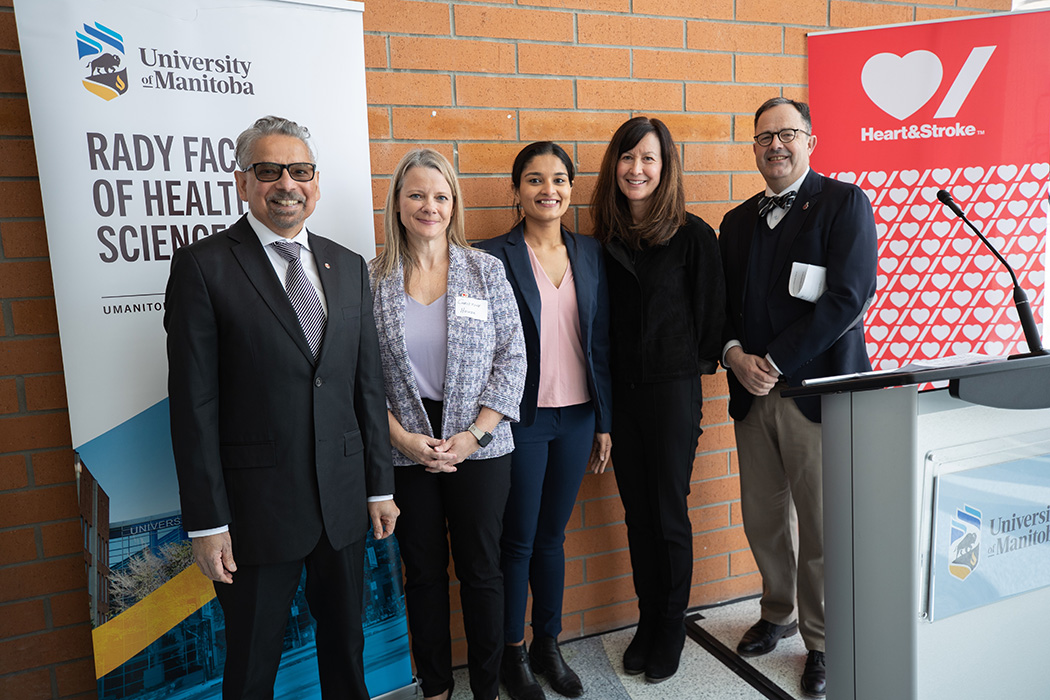 New chair funded by Heart & Stroke, Research Manitoba and UM to advance stroke research
April 13, 2023 —
Heart & Stroke, Research Manitoba and the University of Manitoba have partnered to fund a new UM research chair in neurological stroke.
Dr. Nishita Singh, an accomplished neurologist and clinical researcher who comes to UM from the University of Calgary, has been appointed to the new position, called the Heart & Stroke & Research Manitoba Chair in Clinical Stroke Research.
"I'm very excited and very thrilled to be here," said Singh, following the announcement that took place April 6 on UM's Bannatyne campus. "We want Manitoba to be leading stroke research."
The chair, which has a five-year term, is based in the department of internal medicine at the Max Rady College of Medicine in the Rady Faculty of Health Sciences. It is the first chair in clinical stroke research to be established in Manitoba. Singh will hold the rank of assistant professor.
Singh's primary interest is in carotid artery disease, which encompasses multiple disease states, such as narrowing or tear in the wall of the artery, which leads to a decrease in blood supply to the brain causing a stroke in not only the older population, but also the young.
For the province to become a leader in stroke research, Singh plans to collaborate with centers across Canada and around the world for her study on carotid disease states.
"I'm going to start by doing some qualitative and quantitative research, which involves patient focus groups and surveys," Singh said. "We will also be initiating a large registry database to collect data from across Canada to understand the prevalence and the burden of carotid diseases in each province using pragmatic linkages."
In the next year, Singh plans to start designing a clinical study based on her findings from the patient focus groups and surveys to compare treatment strategies in different carotid disease states, which will help determine optimal treatment plans for these disease conditions.
"We're hoping to be able to finally answer some questions to know the best treatment options to achieve the greatest outcomes," Singh said. "This new position will help me accomplish this goal."
Strong partnership
This marks the first time Heart & Stroke (a charity dedicated to healthy lives free of heart disease and stroke), Research Manitoba (the provincial agency that supports health research) and UM have jointly created a research chair.
Heart & Stroke contributed $500,000, Research Manitoba $300,000 and UM $200,000 to the chair's total funding of $1 million ($200,000 per year for five years).
"Over the past few years, we've made great progress in the stroke system in our province. And this new Chair is another big step in the continuing progress," said Christine Houde, Heart & Stroke director of health systems and policy in Manitoba. "It's been a long road to get here and we've had to navigate roadblocks like Covid along the way."
Karen Dunlop, CEO, Research Manitoba, said that the funding committed towards this initiative is invaluable as it will support the work of the new chair over the coming months and years.
"We believe that Manitoba has the talent and capacity to be a leader, not just in the country, but in the world," Dunlop said. "And we think this is a step forward towards that vision."
Dr. Mario Pinto, vice-president (research and international) at UM, said the collaboration is an investment to improve treatment for stroke, which is the leading cause of disability and the third leading cause of death in Manitoba today.
"Clinicians and other researchers working in the field of stroke research and care will look toward the new Heart & Stroke & Research Manitoba Chair in Clinical Stroke Research to assist in the integration of best practices in stroke care provincially, nationally and internationally," Pinto said.
Dr. Peter Nickerson, vice-provost (health sciences), dean, Max Rady College of Medicine, and dean, Rady Faculty of Health Sciences, welcomed Dr. Singh to the University of Manitoba, where she is joining a strong and collaborative research community of 23 Canada Research Chairs and 16 endowed research chairs within the Rady Faculty.
"We look forward to your innovative leadership in taking clinical stroke research and care to the next level in Manitoba," Nickerson said. "Your expertise is sure to have a positive impact."