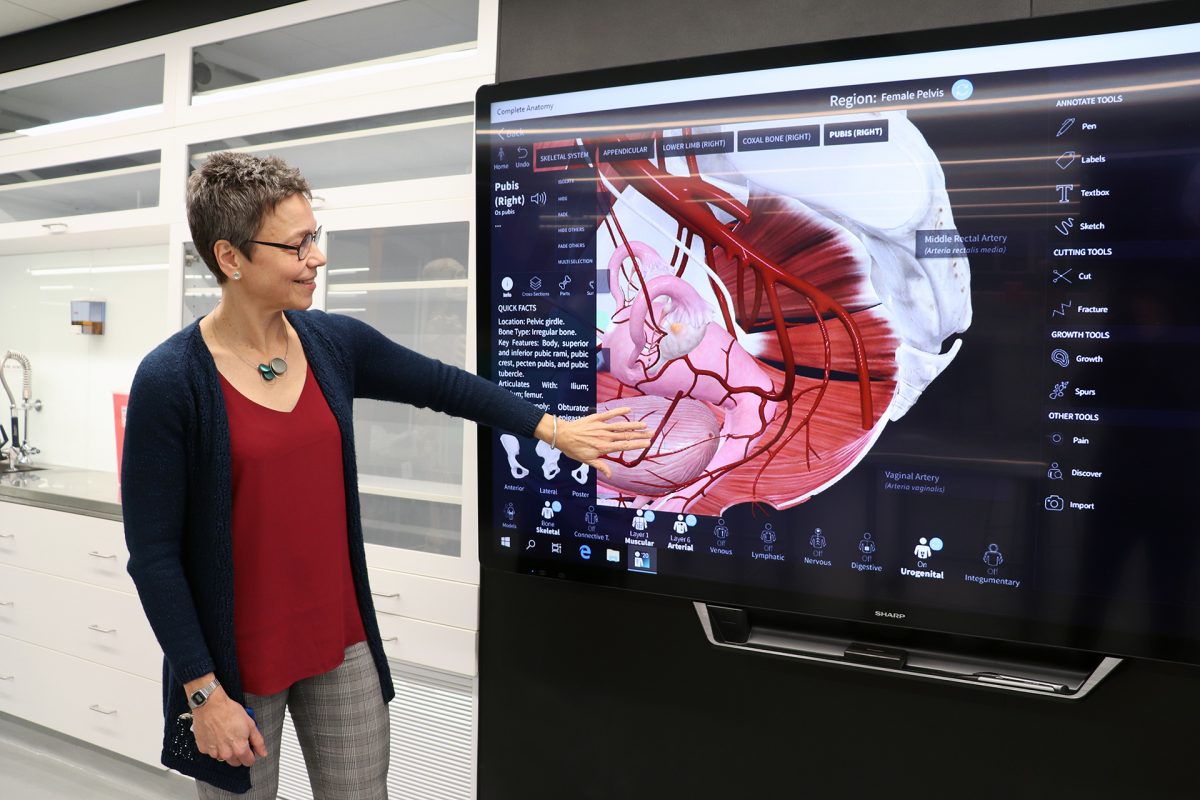 New anatomy head seeks to expand research, teaching through collaboration
February 27, 2020 —
Dr. Sabine Hombach-Klonisch, in her new role as head of human anatomy and cell science, sees herself as an initiator and facilitator as the department enters a new phase of increased interdisciplinary collaboration in both innovative research and creative teaching.
After 15 years of steadily building up its research and teaching branches, the department currently has 16 core faculty members.
"The demands on research and teaching of our faculty members change constantly and it is a daily challenge to remain competitive," says Hombach-Klonisch. "My vision is to promote innovation in research, foster collaborations and provide excellence and novelty in teaching to the community we serve."
Hombach-Klonisch, who stepped in to her new position at the beginning of January, is the first woman to head the department. She joined the University of Manitoba in 2004, teaching anatomy and running her research program on late stage brain and breast cancer.
The department has research strength in four areas: cancer, neurosciences, cardiovascular and applied musculoskeletal research. Researchers study cell-to-cell communication and how structure-function relations on the cellular and molecular level affect tissue development, function and regeneration. Their nationally-funded research programs were recently strengthened by the recruitment of a Tier 2 Canada Research Chair in Cell Stress and Inflammation.
"We are continuing to build on our strong nationally-funded interdisciplinary biomedical science programs and further expanding collaborative research teams," says Hombach-Klonisch.
Going forward, she is hoping to increase effective networking among scientists within the department and beyond.
"Our department is unique because we frequently teach together with cross-appointed clinical colleagues," says Hombach-Klonisch. "This helps to network with clinical colleagues in surgery, internal medicine, radiology, pathology and oral biology and build bridges between teaching and research activities."
On the education front, Hombach-Klonisch says the future of anatomy teaching includes tailored teaching strategies for the programs in the different colleges at the Rady Faculty of Health Sciences, including medicine, dentistry, nursing, rehabilitation sciences and pharmacy.
"Our faculty teaches a diverse student body in the health professions from undergraduate to the graduate and postgraduate level," she says.
Hombach-Klonisch sees an opportunity for the department to introduce anatomy and histology to undergraduate education in the Rady Faculty's new Bachelor of Health Sciences program, to prepare these students to enter a graduate or health professional program.
Since 2010, Hombach-Klonisch has served as the section head for gross anatomy with responsibilities for the cadaver-based teaching programs in the department, a strength of the department for many years. The recent renovations and opening of the $4.3-million Dr. George Yee Laboratory of Anatomical Sciences provides a cutting-edge laboratory that is an inviting and creative space for trainees at the beginner and advanced levels of anatomy learning.
"The Dr. George Yee Laboratory of Anatomical Sciences offers the best possible education for our health professionals with its clinical learning space and state-of-the-art equipment. It encourages productive, innovative and interactive collaborations in health education," she says, adding the department is poised to build on its strengths of vibrant teaching methods and internationally-recognized published researchers in their respective fields.
"I am excited about the opportunity to work with the dedicated and highly motivated team of faculty, trainees and staff at the anatomy department."