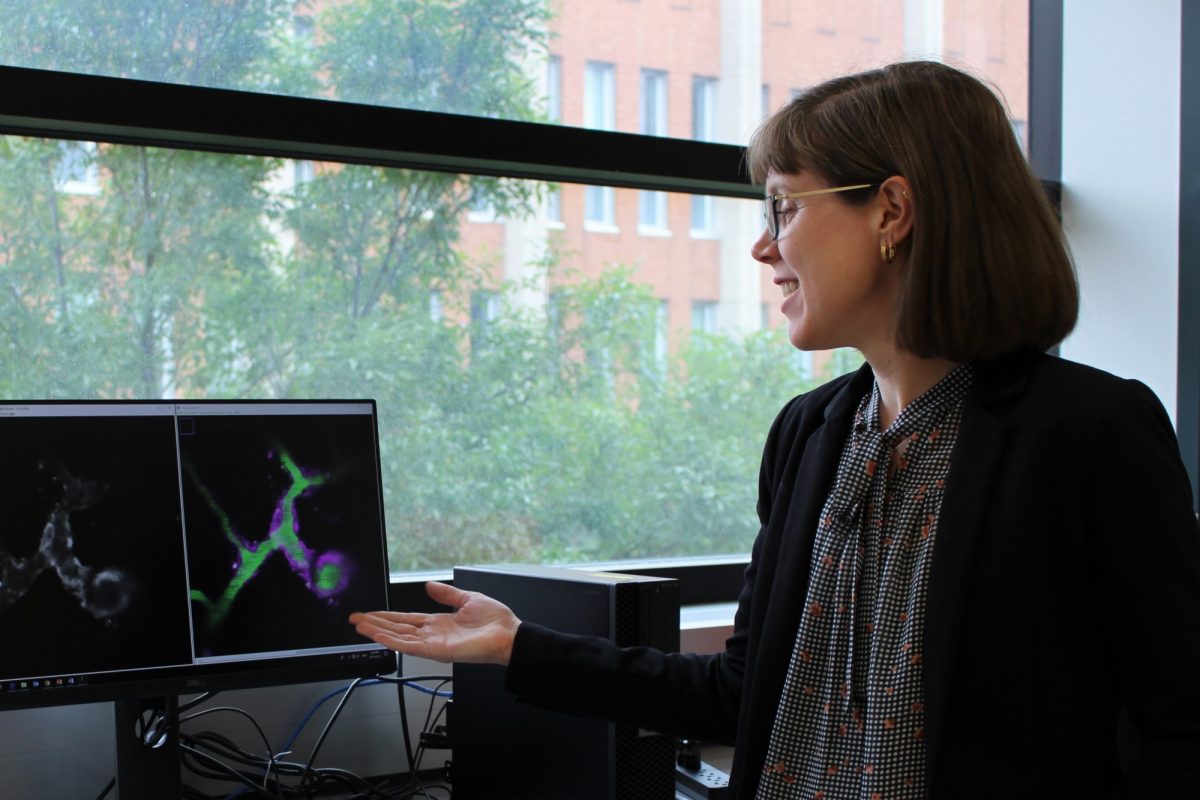 Neuroscientist thrives in faculty role as researcher, teacher, mentor
August 10, 2022 —
As a child, Dr. Jillian Stobart dreamed of being a teacher. Now she helps shape the minds of future researchers and pharmacists while advancing the field of neuroscience.
Stobart was born in Saskatchewan and grew up in several small communities across the Prairies. She completed an honours bachelor's degree in biochemistry through the UM co-op program in 2006.
"The co-op program was a great way to explore different research areas," she remembers.
After a co-op term studying with Dr. Christopher Anderson, director of UM's neuroscience research program, Stobart was hooked on investigating the circuitry of the brain. Rather than pursuing a master's, she went directly into earning her PhD in the department of pharmacology and therapeutics in the Max Rady College of Medicine.
After completing her doctorate in 2012, Stobart went on to a postdoctoral fellowship in Switzerland. In 2018, she joined the UM College of Pharmacy as an assistant professor.
In this role, she contributes to research, teaching and service. She leads a lab that investigates the role of brain cells called astrocytes and pericytes in brain health and disease, with the goal of identifying new treatments for neurological disorders such as Alzheimer's disease.
"My research is taking advantage of some novel and exciting microscope techniques and new animal models," she told UM Today in 2020 after receiving an Early Career Investigator Award from the Canadian Institutes of Health Research.
Stobart also received a 2020 Terry G. Falconer Memorial Rh Institute Foundation Emerging Researcher Award. "Training future scientists is an important part of my research program, so I look forward to growing the number of undergraduate and graduate students in my lab and building a collaborative team," she told UM Today.
In addition to planning and supervising experiments, writing grant applications, publishing papers and mentoring grad students, Stobart co-ordinates a first-year pharmacy course, delivers lectures and serves on university committees and panels.
She says the competencies she developed during graduate studies that prepared her for her current job include organizational skills (setting goals, breaking down goals into steps), communication skills (giving oral and poster presentations, writing), and collaborating effectively.
Her PhD thesis work and involvement in science outreach activities via the Manitoba Neuroscience Network were instrumental in building these skills, she says.
As a postdoctoral fellow in Switzerland, she had the opportunity to be involved in research management at a higher level, permitting her to master competencies such as budget management, ethical compliance and navigating administrative structures.
Having the mindset of a lifelong learner, Stobart is continually working on skills that help her contribute more effectively to research and higher education.
"For instance, I'm now trying to improve my management skills in order to be a more effective leader to my research team," she says.
Her advice to current graduate students who are weighing career paths is to pick the direction that is most interesting to them.
"In the end, it comes down to being excited about your work. That will help with motivation, no matter what direction you choose.