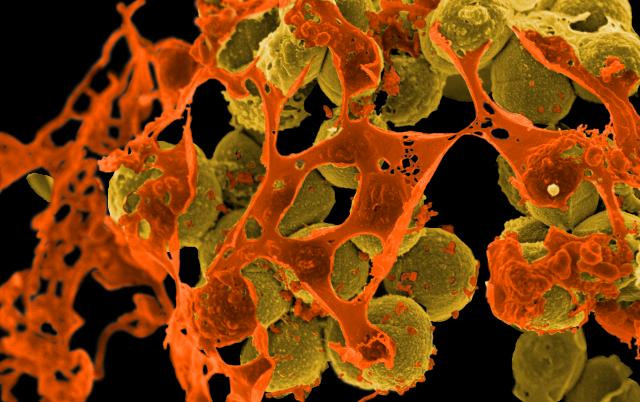 National roundtable takes steps to fight infectious disease
July 21, 2016 —
On June 16-17, 2016, over 50 "Champions of Change" – experts, key influencers and stakeholders in the fields of antimicrobial stewardship and resistance – gathered in Toronto, Ontario, for a roundtable discussion to initiate the development of a Canadian multi-sectoral Antimicrobial Stewardship (AMS) Action Plan. The National Collaborating Centre for Infectious Diseases (NCCID, is based in the Rady Faculty of Health Sciences) co-hosted the event in partnership with HealthCareCAN.
According to Margaret Haworth-Brockman, Senior Program Manager for NCCID, rapid emergence of resistant microbes worldwide provides an impetus for decisive and collaborative action.
"Antimicrobial resistance is eroding the effectiveness of drug treatments and our ability to prevent and control the spread of infectious diseases," she says. "This is a public health issue because harms from resistant pathogens – and ultimately from the overuse and misuse of antimicrobials – are not limited to any one infected individual.  Resistance passes from one micro-organism to another and from person to person; pathways for the spread of resistance also involve food and companion animals and waste material in water and soil."
The definition of antimicrobial stewardship used at this meeting was "an organizational or healthcare system-wide approach to promoting and monitoring judicious use of antimicrobials to preserve their future effectiveness" (National Institute for Health and Care Excellence, 2015).
The AMS Roundtable was guided by a number of assumptions, including:
Canadian efforts need to align with global AMS efforts as well as the four pillars of stewardship, surveillance, infection prevention and control, and innovation defined by the Government of Canada's Federal Framework for Action;
The primary focus was on human health, recognizing that this is only part of a broader action plan that includes animal health and the environment, which is required to ensure appropriate antimicrobial stewardship; and,
Improved human health prescribing requires strategies and actions that cut across hospital, long-term care and community-based settings, and are supported by dedicated human and other resources.
Working together over a day and a half, and benefitting from the experience and expertise present, senior executives and infectious diseases specialists drafted more than twenty concrete steps that can be taken to develop, implement and monitor antimicrobial stewardship programs in communities and in hospitals in Canada.
"What the many stakeholders saw as essential was to develop concrete and actionable steps," Haworth-Brockman explains. "To gain a sense of consensus on basic priorities, to begin to identify specific commitments, to learn what funds and timelines are feasible, and what policy levers are available to advance Canada beyond planning to enacting change."
NCCID will be working with HealthCare CAN, the Public Health Agency of Canada and the Roundtable participants to complete the draft Action Plan. It will be circulated widely for comments and additions, in preparation for governmental meetings in the spring of 2017. In the meantime, NCCID will also be working to ensure that public health stakeholders have the information and connections to experts they need to set up and continue with stewardship programs in Canada.