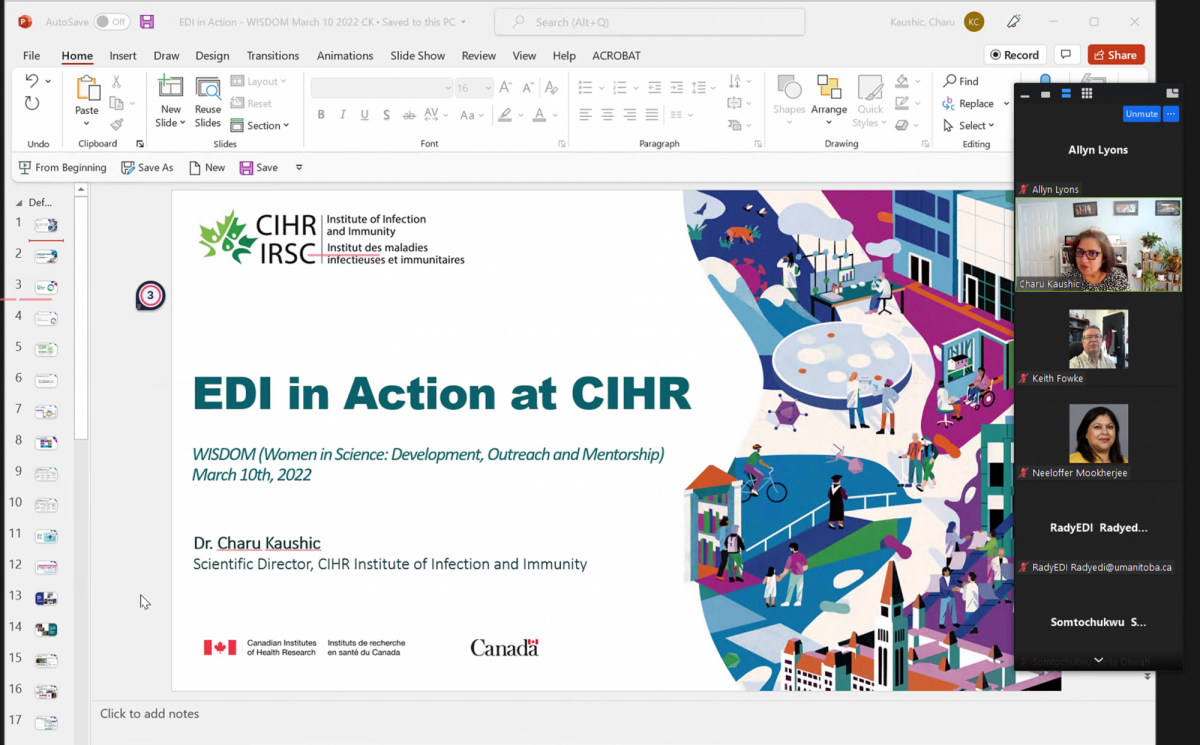 National research funder taking steps toward equity, speaker says
April 8, 2022 —
Canada's federal funding agency for health research is taking action to achieve equity, diversity and inclusion (EDI) in how it distributes funding, a leader at the agency said in a recent UM presentation.
The agency, the Canadian Institutes of Health Research (CIHR), is made up of 13 institutes. Dr. Charu Kaushic, scientific director of the CIHR Institute of Infection and Immunity, spoke via Zoom in March.
Her talk was part of a monthly seminar series on EDI topics presented by Women in Science: Development, Outreach and Mentoring (WISDOM), a Manitoba organization supported by the UM Rady Faculty of Health Sciences. The group aims to address the underrepresentation of women in science.
Kaushic, an immunologist and professor of medicine at Ontario's McMaster University, spoke about the challenges of her early career. "If you are a woman or a racialized woman, you experience another level of hurdles…. You are judged differently as a leader," she said.
Kaushic is passionate about encouraging young women in science, technology, engineering and mathematics (STEM) fields, and about increasing the inclusion of women and other underrepresented groups in leadership. Her own research centres on women's reproductive health.
Recognizing the importance of equitable access to research funding and equitable participation in all aspects of the research system, the CIHR and the other two federal research funding agencies created a tri-agency EDI action plan, Kaushic said.
The plan includes steps to mitigate unconscious bias in the adjudication of funding applications. Bias has traditionally led to inequities in competition success rates, with women scientists tending to receive fewer grants and less money. Recently, Kaushic noted, there has been improvement in women's success rates.
Increasing the number of diverse qualified applicants is another goal at the CIHR. Using a leadership award for vaccine research as an example, Kaushic explained how the agency identified barriers that might affect who applied for the funding, including the impact of COVID-19, non-traditional career paths and women/racialized scientists being hesitant to view themselves as leaders.
The agency addressed these barriers, she said, by extending deadlines in light of COVID-19, increasing eligibility flexibility by accepting experience beyond traditional academic routes and creating transparent messaging over multiple channels. Through these steps, the agency increased the applications submitted by women and those who self-identify as a visible minority.
Kaushic went on to discuss intersectionality. Racialized people, those in the 2SLGBTQ+ community, those with disabilities and women all face barriers when beginning their careers in STEM, she said. However, these factors multiply when a person belongs to more than one of these groups.
For example, many new scientists struggle with increased workloads and the pressure to publish, but these problems are further compounded for women who are also facing unconscious bias, a lack of leadership opportunities and gender stereotypes. Racialized women in science experience sexism and racism on top of their workload.
Kaushic also addressed the misconception that affirmative action mandates lead to poorer results.
"This program targets underrepresented groups without compromising excellence," she said. "There has never been any data that shows a decrease in quality when groups are more diverse."
The WISDOM EDI series offers free online seminars open to everyone. If you're interested in attending, visit wisdommb.wordpress.com to register.