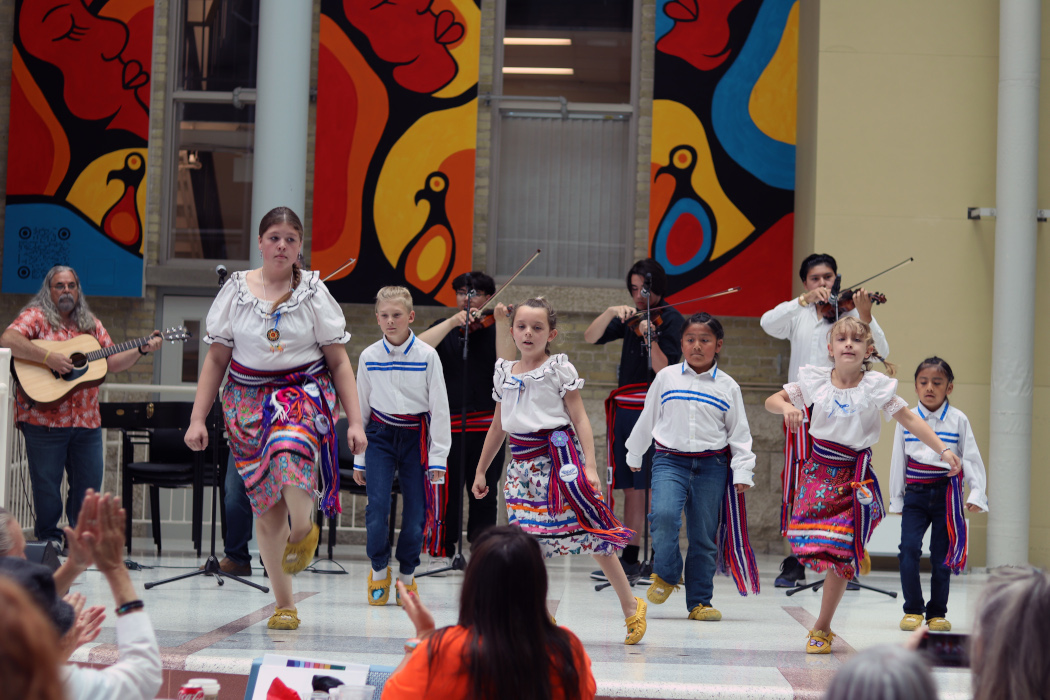 Multiple generations celebrate Indigenous Culture on NIPD
June 26, 2023 —
People of all ages filled Brodie atrium on June 21 to celebrate National Indigenous Peoples' Day.
Along with faculty, staff and students from the Rady Faculty of Health Sciences, Elders and youths gathered to enjoy Indigenous food, music and dance.
Debra Beach Ducharme, director of Indigenous health integration at Ongomiizwin – Education, told the audience that the Indigenous community tries to make sure all ages are represented in their ceremonies and celebrations.
"I'm so happy that the young people are here, the Elders are here and everyone in between," said Ducharme, who co-hosted the event with Vanessa Lillie, director of cultural integration (Indigenous) in UM's Office of the Vice President (Indigenous).
Melanie MacKinnon, head of Ongomiizwin – Indigenous Institute of Health and Healing, told the crowd that it's important for Indigenous people to bring their gifts and talents into mainstream institutions and organizations, and by including Indigenous culture, they are changing mainstream culture.
One example MacKinnon mentioned is the way older adults are treated. She said that mainstream culture looks at older people as elderly, not as Elders.
"That is a significant difference between cultures, and I think as Indigenous people we have so much to offer this world and we are offering our gifts and talents in different ways, and we will continue to do that," MacKinnon said.
As part of the celebration organized by Ongomiizwin, an Honouring Ceremony took place for six University of Manitoba Elders and Knowledge Keepers.
Knowledge Keeper Kimberly Guimond, Elder Margaret Lavallee, Elder Norman Meade, Elder Charlotte Nolin, Knowledge Keeper Leslie Spillett and Elder Carl Stone were presented with a print of an artwork, and Dr. Mandy Buss and Dr. Lisa Monkman sang an Honour Song for them.
"It's really a small gift compared to the gift we received from them," said Dr. Marcia Anderson, vice-dean Indigenous health, social justice and anti-racism for the Rady Faculty.
As an example of the wisdom and guidance the Elders share, Anderson recounted a story about Lavallee's teaching on how laughter is medicine.
"It's really helpful when we think what is sacred that we don't confuse it just for what is solemn but follow the lead and the teachings of our Elders, who no matter what is going on, bring all forms of medicine to it, including the laughter," Anderson said.
The Honouring Ceremony was followed by a bison chili and bannock lunch catered by Feast Café Bistro.
Entertainment was provided by youths from the Niji Makhwa School Little Singers, Kinew Youth Dancers, Kinew Youth Fiddlers and a group of Inuit throat singers.
The day's events began with the lighting of a Sacred Fire in Mashkiki Gitigann – Medicine Garden, and was followed by a pipe ceremony.
"Today is to celebrate our Indigenous day, our Indigenous people in Manitoba, as well as Canada – and the rest of Canada is doing the same thing," said Lavallee, following the pipe ceremony. "This is a beginning for us to be able to introduce and teach the rest of the University of Manitoba the significance and the importance of Indigenous people of this land."
In Brodie Centre, Indigenous vendors were set up to sell their hand-made artworks. Dana Tutcho-Ruben, who works in UM's financial services department, was one of the vendors. She said that beading connects her with her culture.
"I never grew up in my community, so I didn't have a lot of the cultural aspects growing up," Tutcho-Ruben said. "Beading is a way for me to feel reconnected and I fell in love with it."