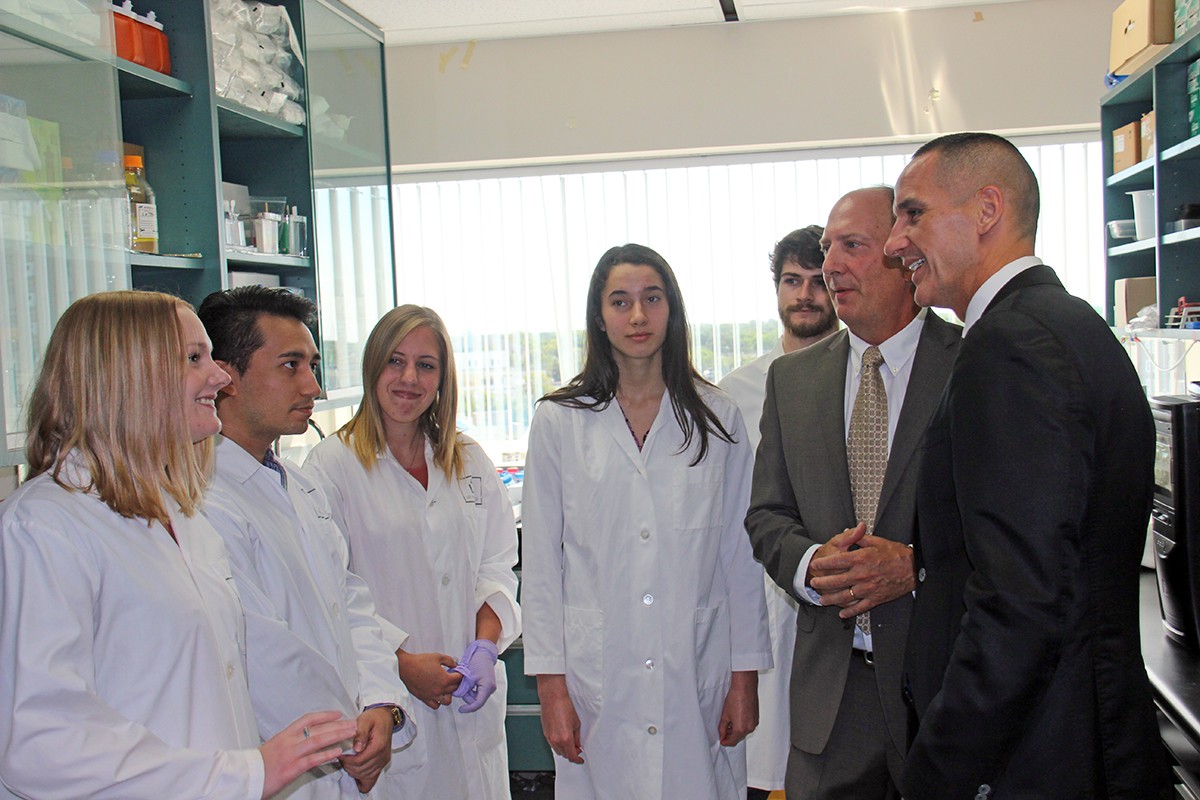 More money for dementia research in Manitoba
August 18, 2015 —
More investments for research into dementia are being made through Research Manitoba and in partnership with the Alzheimer Society of Manitoba, Jobs and Economy Minister Kevin Chief announced today.
'ÄúWith an aging population, there has never been a more important time to profile dementia research,'ÄĚ said Minister Chief. 'ÄúWe understand the contribution our seniors have made to this province and today'Äôs announcement will put more resources in place so that we can better understand the best ways to treat and diagnose dementia.'ÄĚ
Today's announcement recognizes Dr. Benedict Albensi as the recipient of the Manitoba Dementia Research Chair. Albensi is a professor in the department of pharmacology and therapeutics at the University of Manitoba and principal investigator, synaptic plasticity and cellular memory dysfunction in the neurodegenerative disorders division of St. Boniface Hospital Research Centre.
'ÄúIncreasing our understanding of dementia and improving diagnosis and care is an important step forward,'ÄĚ said Christina Weise, CEO, Research Manitoba. 'ÄúWe are proud to have Dr. Albensi and his critical research help to lead the way.'ÄĚ
The minister noted that projects undertaken through the Dementia Research Chair will lead to best practices in the care of people with dementia. The funding for Albensi'Äôs program, entitled 'ÄėBasic and Oriented Dementia Research: Linking Novel Methods for Early Stage Detection with Understanding Pathological Mechanisms in Dementia'Äô, is being provided to learn more about early detection of dementia, which affects thousands of Manitobans.
'ÄúMore than 20,000 Manitobans have Alzheimer'Äôs disease or another dementia, and they are surrounded by family and friends who are also impacted by the disease,'ÄĚ said Wendy Schettler, CEO, Alzheimer Society of Manitoba. 'ÄúThis initiative is a great opportunity for our community to come together and improve the lives of those affected.'ÄĚ
Minister Chief noted that partnerships like these are essential to learning more about dementia, and they show the dedication of multiple organizations and institutions working toward that end.
'ÄúAll Manitobans will benefit from the research discoveries this funding will fuel,'ÄĚ said Dr. Digvir Jayas, vice-president (research and international), and distinguished professor, University of Manitoba. 'ÄúThe early detection of dementia will result in better quality of life for patients, families and caregivers.'ÄĚ
'ÄúThis is one of the most memorable events of my professional career,'ÄĚ said Albensi. 'ÄúTo be recognized by the Alzheimer Society of Manitoba, Research Manitoba and the Government of Manitoba for the Manitoba Dementia Research Chair is a highlight I will remember over and over with gratitude.'ÄĚ
For more information on Research Manitoba or the Alzheimer Society of Manitoba, visit www.researchmanitoba.ca or www.alzheimer.mb.ca.
Research at the University of Manitoba is partially supported by funding from the Government of Canada Research Support Fund.