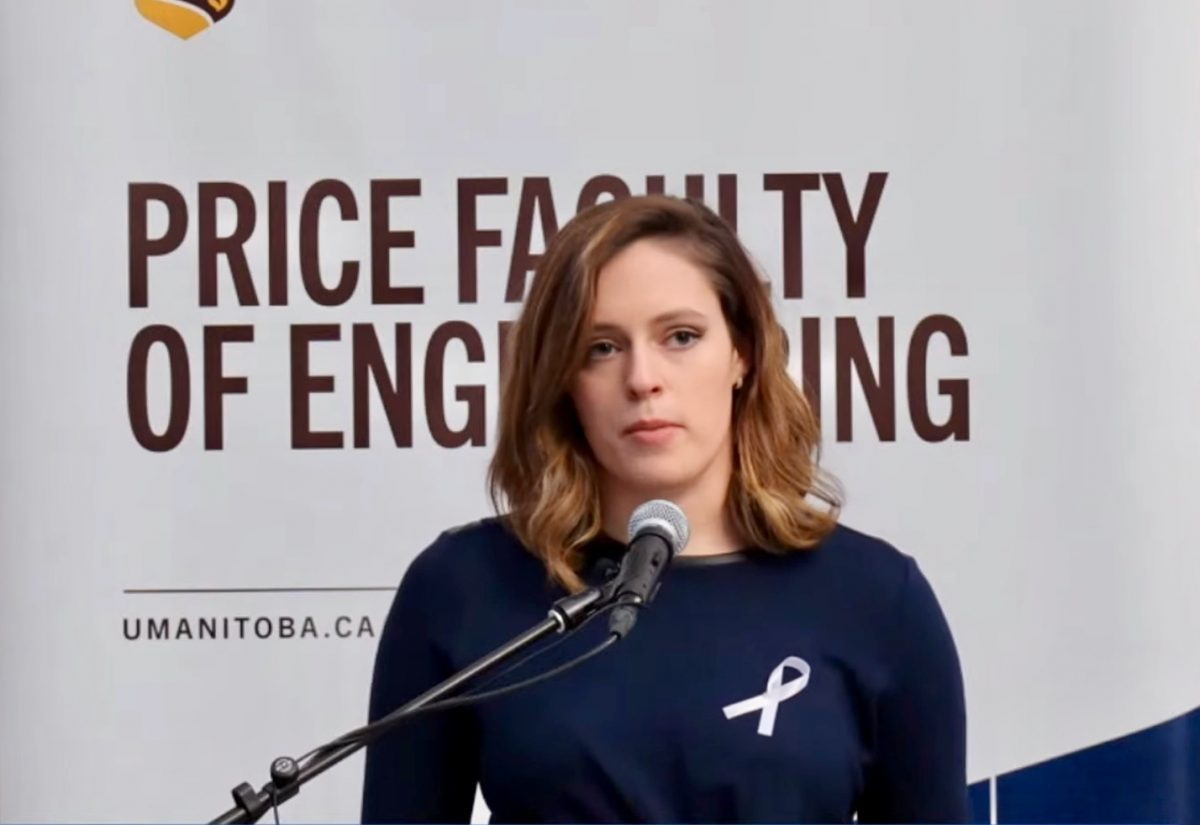 Engineering community gathers to mourn and remember the Montreal Massacre
December 6, 2021 —
The Engineering community gathers each year on December 6 to remember the heart-breaking tragedy that took the lives of 14 women at Ecole Polytechnique.
In an act of senseless violence, these innocent women were robbed of a future filled with potential and promise and left a nation devastated. This year, the University of Manitoba Engineering Society (UMES) with the Price Faculty of Engineering held a memorial service over livestream as community members joined virtually to remember the tragedy. 
After introductions by UMES Secretary Rupert Santos, Dean Marcia Friesen spoke to her experiences on becoming a professional engineer and in turn, lamenting the loss of incredible potential that happened 32 years ago to the day.
Friesen said, speaking directly to students, "I realize that it may be difficult to imagine what this might have meant 32 years ago. One way to think about it is that these women were like you. The students in that class were near the ends of their studies. Some were graduating that year. They had known each other for several years. They were friends, classmates. They had gone through the highs and lows of engineering, now suddenly, they were supposed to continue on without 13 of their classmates, the 14th being from a different faculty."  
Following Dean Friesen, Avery Edwards, Vice Stick (Socials) for UMES, spoke to her own viewpoints on and what this day means to her.  
"Today, I think about my female friends and peers in our faculty. How smart and talented they are. How driven and strong they are. How every day, they change the face of engineering. And then, I think of the women of École Polytechnique and how they would have changed the face of engineering. They had dreams and aspirations in life but instead their faces became a reminder that evil exists in this world. They remind us why we must continue to honour their memory in a fight for a world where no one lives in fear for pursuing a field they are passionate about." - Avery Edwards
In her speech, Edwards calls on us to not only honour the memory of the 14 women at École Polytechnique, but to also reflect on the discrimination against others that still exists today to truly understand how we can eliminate it.
"A lot of work has been done, but there is still so much more to do. Together, we can make a difference. Through our actions, through our intentions, and through the words we use."
You can view the full service on YouTube page: