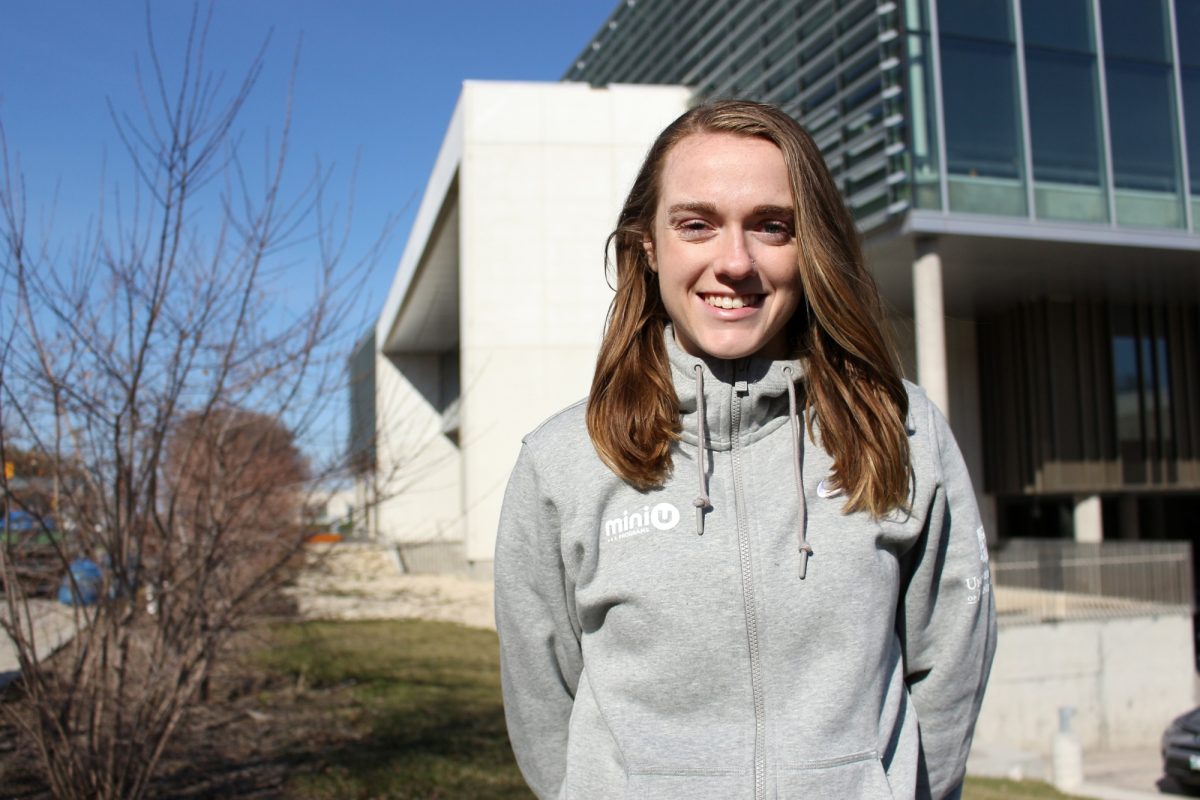 Mini U 'much more than a job'
January 28, 2020 —
Rachel Cumpsty is a Mini U Programs Leader—and thinks you should be, too. She shared her experience working for the UM spring and summer camp organization with UM Today, recalling her feelings about the much anticipated Leader Week. Application deadline for leader positions is Friday, Jan. 31.
"Today is the day that we have been preparing for. It's the day our Mini U family is reunited.
It's the last week of June. Leader Week is upon us. It's the week-long event to kick-off the summer week prior to campers arriving. Just outside the auditorium, there are 175 leaders, some new, and some returning, all eager to begin their summer with Mini U. Before we open those doors and welcome the remaining members of our family, we, the Leadership Team, made up of supervisors and coordinators, huddle to debrief one last time before the leaders' training begins. Surrounded by each other, I am filled with a moment of gratitude and thankful to be a part of such an amazing team full of passionate and driven individuals.
And in that moment, I know I am part of a family and right where I belong.
When I got asked to become a supervisor, I was filled with both excitement and fear of not being good enough. On the first day of our training, I remember looking down the table at people who I had admired and looked up to in my previous summers as a leader, and suddenly I was sitting among them and didn't feel as if I belonged to be there. However, right from the start of supervisor training, the team finds ways to highlight everyone's different strengths and create a sense of belonging on the team. Throughout the summer my confidence grew, and I found my stride.
Not only was I provided opportunities to develop myself, but also to develop those around me.
Together as a team, we hustled behind the scenes, laughed, and built a community that promoted support and growth. My peers exemplified what it meant to show up for your team and day after day we work together to create our vision for summer.
As a first-year supervisor, my summer was filled with many ups and downs; many moments of success, and also many not so successful. I was consistently supported, and as a group, we were reminded of the value each of us brought to the team. Having the opportunity to once again be a part of the leadership team, learn from those around me, and witness a new group of supervisors find their voice is something that makes me long for the start of summer.
When you join the Mini U Leadership Team, you are not only joining an amazing group of individuals who are incredibly passionate, you are becoming a member of a large, passionate, loud family, that constantly works to find the fun in everything we do.
So, if you are interested in joining a place where your job is so much more than just a job, then you should consider applying to be a supervisor with Mini U Programs."