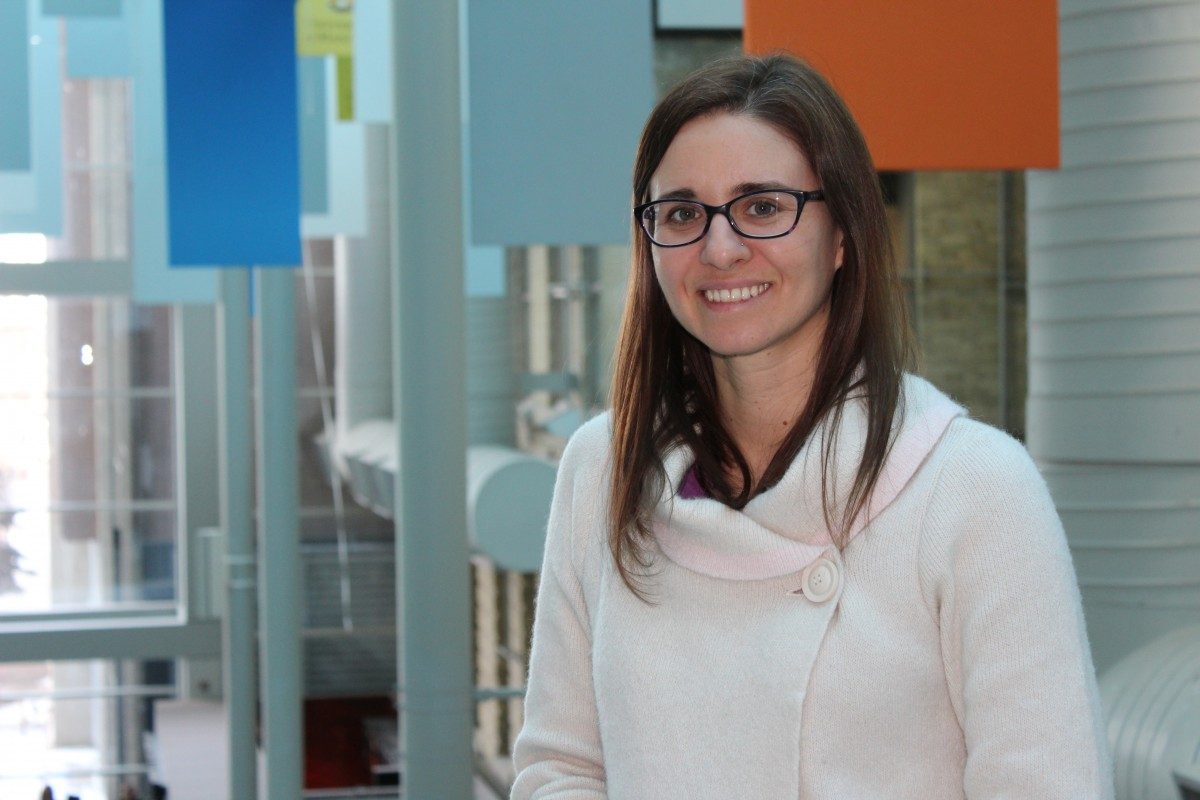 Mental health project to test 'virtual care' for rural Manitobans
February 13, 2018 —
A University of Manitoba study will test "virtual care" tools, such as videoconferencing, with the goal of increasing access to mental health care for rural Manitobans, thanks to philanthropic support from AstraZeneca Canada.
Jennifer Hensel, assistant professor of psychiatry at the Max Rady College of Medicine in the U of M's Rady Faculty of Health Sciences, has been awarded the Gerry McDole Professorship to carry out the study.
She will implement a pilot project using remote communication strategies to connect adult patients with psychiatric and other mental health support, with the goal of scaling up this solution across rural Manitoba.
Manitobans in rural and remote communities have much more limited access to psychiatric consultation and other mental health services than urban dwellers, says Hensel, a practising psychiatrist who recently joined the U of M from the University of Toronto.
"Virtual care strategies, such as videoconferencing between patient and psychiatrist via the MBTeleHealth secure network, offer great potential to create more equitable access," says Hensel, who has been appointed medical director of adult telemental health services by the U of M psychiatry department.
"These strategies could improve the quality of care and mental health outcomes for individuals living in rural Manitoba."
The Gerry McDole Professorship in Improved Healthcare Delivery to Rural, Remote and Underserved Populations of Manitoba, valued at $50,000 per year, is presented to a new faculty member in the Rady Faculty of Health Sciences for research in health service delivery and/or health policy development. The award term is three years.
The professorship is funded through a U of M endowment of $1 million made by AstraZeneca Canada Inc., honouring the 2003 retirement of Gerald (Gerry) McDole as president of the company. McDole, a Manitoban who earned a bachelor of science degree at the U of M, understood the unique challenges of delivering health care to rural and remote populations of Manitoba.
"Each individual's health-care journey is different, and your care is impacted by where you live. In many regions across the country, health-care issues faced by smaller, more remote communities are acute and require urgent attention," says Dr. Neil Maresky, vice president, scientific affairs at AstraZeneca Canada.
"That's why we're proud to support important projects that help close the gap in care, such as Dr. Hensel's pilot project using remote communication strategies to provide adult patients with psychiatric support."
Brian Postl, dean of the Rady Faculty of Health Sciences and vice-provost (health sciences), says one of the Rady Faculty's priorities is to conduct research that translates into better health-care delivery for all Manitobans. "Dr. Hensel's project furthers that mandate by studying ways to reduce barriers faced by those in underserved communities," says Postl.
Virtual care is one of Hensel's key research interests. She describes herself as an early adopter of e-psychiatry and e-mental health (also known as telepsychiatry and telemental health) and has conducted research on virtual care's effectiveness in Ontario.
"Studies have shown that it is equally effective to in-person visits for the assessment and treatment of mental disorders, including serious mental illnesses like mood and psychotic disorders," she says.
The Manitoba pilot project will test virtual care strategies in a small number of rural settings, including remote Indigenous communities. The services will be developed in consultation with local health-care providers and users, Hensel says.
The research team will gather feedback and modify the services during the pilot project. Services will be evaluated based on patients' experience of care, provider satisfaction, population health outcomes and costs to the health-care system.
As part of the project, Hensel will develop a residency training opportunity to expose future psychiatrists to virtual care delivery.
She hopes to receive further funding to sustain the successful virtual care services and expand them to more communities.
Research at the University of Manitoba is partially supported by funding from the Government of Canada Research Support Fund.