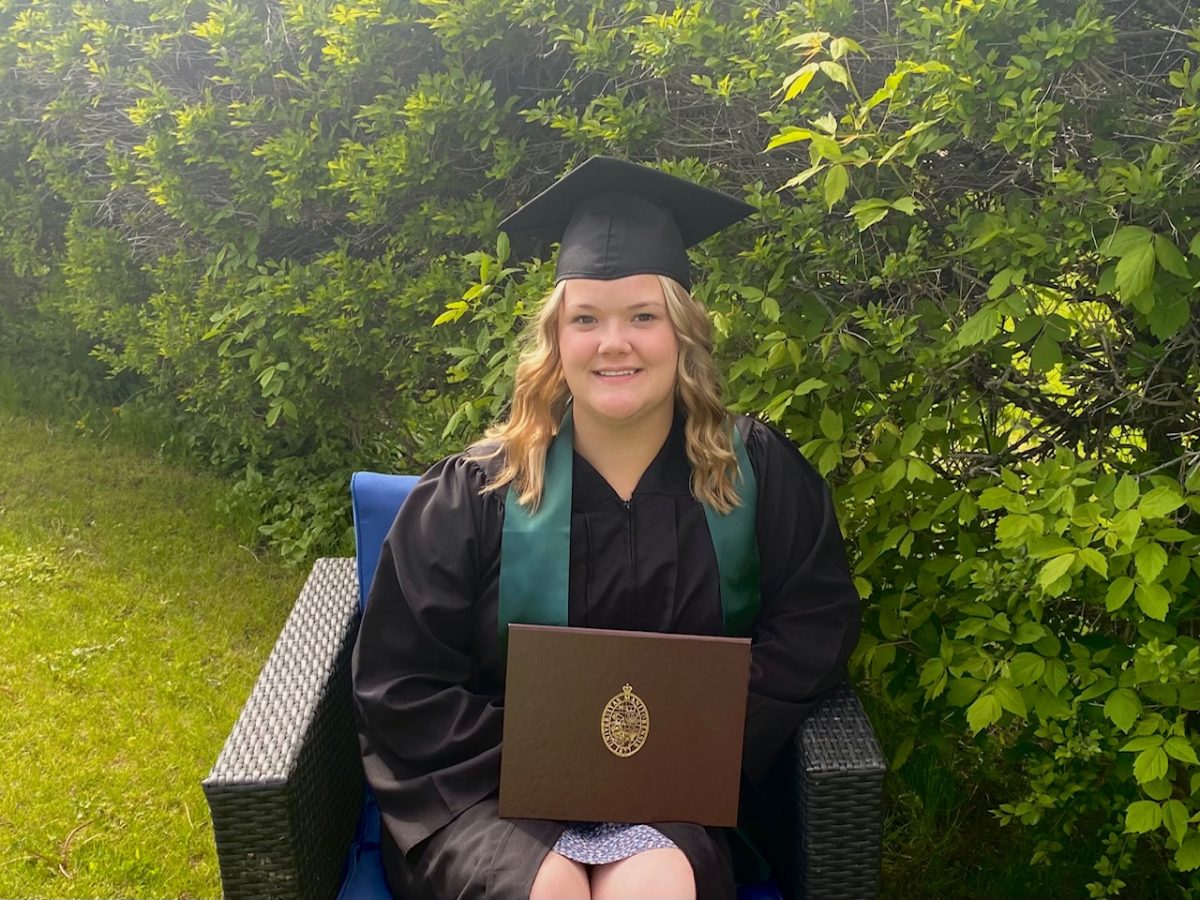 Meet the 2022 Faculty of Arts Gold Medal Recipients
June 7, 2022 —
The Faculty of Arts is please to present the 2022 undergraduate academic medal winners. Their achievements are recognized in the Spring 2022 virtual convocation ceremony.
University Gold Medal
Karlynne Sagert
B.A. General (Psychology)
The University Gold Medal is an opportunity to honour the best in the undergraduate graduating class of each faculty. A gold medal is awarded to the undergraduate student in the Faculty of Arts who has achieved the highest standing. This year's recipient is Karlynne Sagert. Karlynne is graduating with a B.A. General degree with a major in Psychology and a minor in Family Social Sciences.
Karlynne has a passion for working with children. Her academic and work choices so far are leading her toward a long career in a helping profession. During her undergraduate degree, Karlynne took courses in psychology, anatomy and family social sciences to learn more about how to help children with their reading, writing, gross and fine motor skills and self-regulation. She didn't hesitate to list her favourite course as PSYC 2290 Child Development. "I enjoyed learning about the developmental milestones throughout childhood," said Karlynne. "We had the opportunity to raise a virtual child which was really fun and an interesting way to comprehend the course content." While working as an educational assistant with the Swan Valley School Division, she saw the need for occupational therapy services in rural areas and felt her bachelor's degree choice would help her reach her goal. She plans to continue her studies with the Masters of Occupational Therapy program at UM. Karlynne would like to thank her "family, friends, professors and peers for their support and guidance" throughout her undergraduate studies. "I also want to thank the Faculty of Arts for granting me this award. It is a true honour and I am forever grateful for this recognition." We congratulate Karlynne on her outstanding academic success.
Faculty of Arts Honours Medal
Volodymyr Shevchenko
B.A. Honours (Philosophy)
Volodymyr Shevchenko is this year's recipient of the Faculty of Arts Honours Medal awarded to the student with the highest standing in a Bachelor of Arts four-year Honours Degree Program. Volodymyr is graduating with a Philosophy major and a Religion minor.
During his degree, Volodymyr was encouraged by how much the Philosophy faculty and staff genuinely care about their students and noted how that bond boosts the overall university experience. "Each of my professors was willing to take time to meet with me, answer my questions, review my grad school application and just connect with me on a human level," he shared. Volodymyr will begin a PhD in Philosophy studies at the University of Toronto this fall. He applied to the masters program only to have them reach out to him with a spot in PhD studies – a credit to his past academic success and future potential. At the same time, Volodymyr plans to write the LSAT this summer and apply to U of T's school of law so that he can pursue a joint JD/PhD. Volodymyr would like to thank "God, my wife Caitlyn, and my family for being my support during my studies."
Faculty of Arts Advanced Medal
Taleah Taves
B.A. Advanced (Psychology)
The award for the highest standing in a Bachelor of Arts four-year Advanced Degree Program goes to Taleah Taves. During her undergraduate degree, Taleah majored in Psychology and minored in Sociology.
The transition to virtual learning during a large portion of the degree was difficult for many students. Taleah credits her fellow classmates, peers and instructors for showing compassion to each other and for working together to help students like her not only make it through the degree, but also complete it with such success. "In my last term, I took SOC 3720 Criminal Law and its Procedure with Jodi Koffman, and it was by far my favourite course I have ever taken," she said. "I looked forward to the course each week despite it being over Zoom. (Koffman) created a safe and relaxed environment for us, which allowed us to get to know each other better and feel comfortable sharing our experiences and thoughts. I could not have asked for a better instructor and group of classmates to end my degree with!" Taleah plans to go on to an education degree, with a desire to teach history (including Indigenous perspectives) at the high school level. "My experiences coaching, tutoring and mentoring helped me decide to pursue a teaching career," she shared. "I believe teaching is one of the most rewarding jobs one can have. I am so excited for the future!"
Faculty of Arts General Medal
Delaney Fehr
B.A. General (Psychology)
Delaney Fehr is the 2022 recipient of the Faculty of Arts General Medal, awarded for highest standing in a Bachelor of Arts three-year General Degree Program. Delaney completed a major in Psychology and a minor in Sociology.
At the beginning of her degree, Delaney struggled with deciding on her path because she had too many interests. She knew she wanted to work with people and needed variety. The courses taken in her Bachelor of Arts undergraduate degree will provide a fantastic base as she begins the Masters of Occupational Therapy program at UM. "I love that OT focuses on all aspects of an individual's health, such as physical, mental, social, emotional and spiritual," said Delaney. She reminds us that getting a degree isn't just about the studies. One of her favourite moments came from her UM intramural soccer team Neymar Mr. Nice Guy. "I played in my first year and again in my final semester. We won the Winter 2022 tournament which was an awesome way to end my three years at UM!" Delaney would like to thank her family and friends for their support during her studies.
Congratulations to the Arts medal winners.
At its 2022 UM Convocation, the University of Manitoba will confer degrees, diplomas and certificates on 2,835 graduates.
Visit the UM Student Instagram and Faculty of Arts Instagram to learn more about some of the students graduating in 2022. You'll find congratulations messages from fellow graduates and professors, stories about fellow graduates, more information about convocation and tips for new alumni. You can also join the 'Convocation conversation' on social media by following #umanitoba2022.