Meet the 2021 Riddell Faculty Medal Recipients
Spring 2021 Convocation - Riddell Faculty Medal Recipients
June 17, 2021 —
The Riddell Faculty is pleased to present the 2021 undergraduate academic medal winners. Their achievements are recognized during the Spring 2021 virtual convocation ceremony.
University Gold Medal

Erin Wieler, Bachelor of Environmental Studies (Honours Co-op)
The University Gold Medal is an opportunity to honour the best in the undergraduate graduating class of each faculty. A gold medal is awarded to the undergraduate student in the Riddell Faculty who has achieved the highest standing. The 2021 recipient is Erin Wieler. Wieler is graduating with a Bachelor of Environmental Studies (Honours Co-op) with a Focus Area in Conservation & Biodiversity and a Minor in Biological Sciences.
Riddell Faculty General Program Medal
Devan Vercaigne, Bachelor of Environmental Studies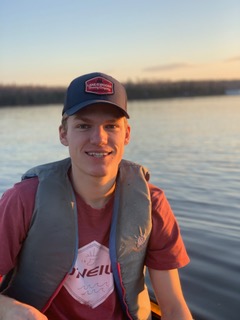 Devan Vercaigne is the 2021 recipient of the Riddell Faculty General Medal, awarded for highest standing in a three-year General Degree Program. Vercaigne completed a Focus Area in Policy and Law. Growing up in Winnipeg, Vercaigne set his goals on a career in the environmental field in grade 12. He achieved that goal by graduating with a Bachelor of Environmental Studies (General) degree – Vercaigne's proudest moment as a Riddell student is the completion of his degree in three years!
Vercaigne has been accepted into the University of Manitoba's Law program and hopes to eventually practice in the environmental law field.
While Vercaigne achieved Dean's Honours list status multiple times, he is also proud of his extra-curricular achievements as he received many scholarship awards from his hockey league and team, the St. Vital Jr. Victorias of the MMJHL. Vercaigne hopes to still play for his hockey team while attending law school.
Vercaigne credits his great professors for creating a "fun and interactive learning experience that made me happy I chose this path over others". Vercaigne notes that he was offered an education that covered all aspects of the environmental body of knowledge, which allowed him to gain a great understanding and specialization in this field.
An exceptional student throughout his time at UM, his advice to future students is non-academic in nature. "Don't be shy! Try to get involved and make connections with not only other classmates, but your professors as well. It makes your 3rd and 4th year a lot more enjoyable when you have many familiar faces around you helping each other reach their goals.", Vercaigne says.
Congratulations to the Riddell class of 2021!
For more information and messages to the Riddell class of 2021, check out the Riddell Faculty convocation website here.