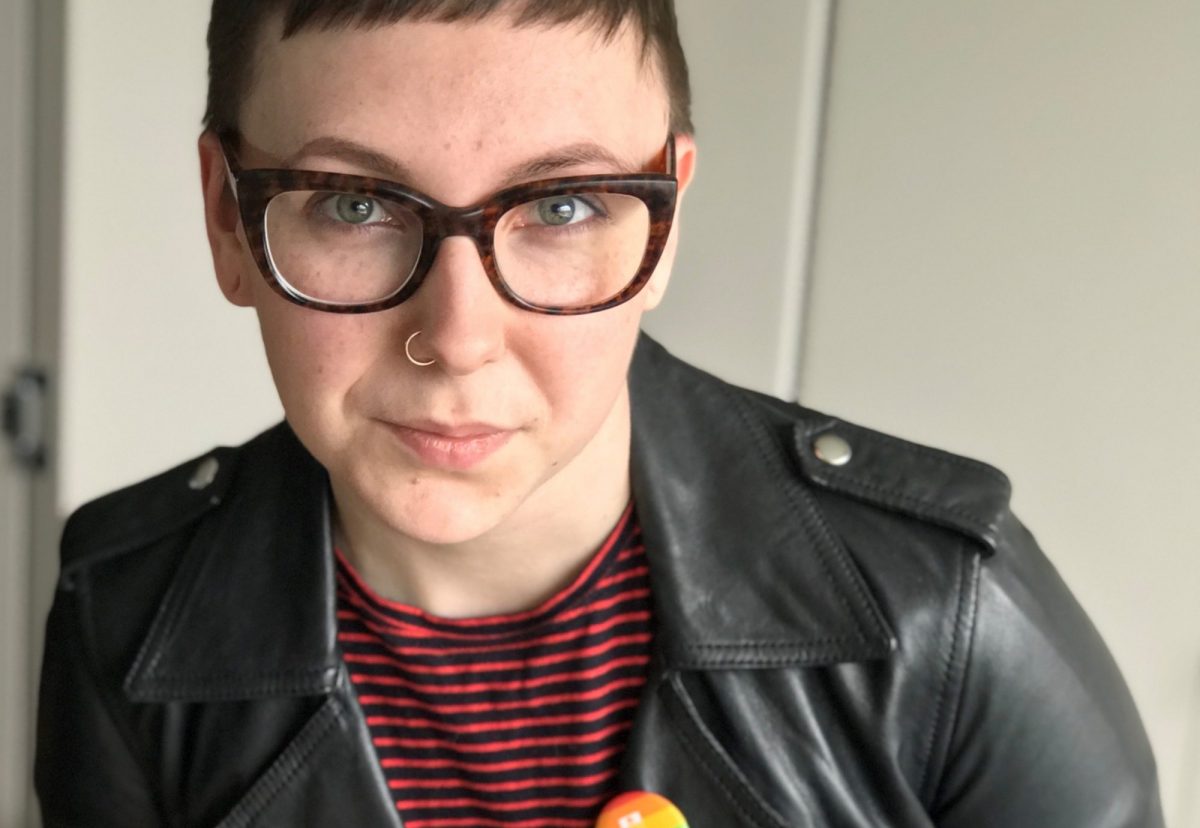 Meet the 2021 Faculty of Arts Gold Medal Recipients
June 15, 2021 —
The Faculty of Arts is pleased to present the 2021 undergraduate academic medal winners. Their achievements are recognized in the Spring 2021 virtual convocation ceremony.
University Gold Medal
Alexa Watson
B.A. Honours (English)
The University Gold Medal is an opportunity to honour the best in the undergraduate graduating class of each faculty. A gold medal is awarded to the undergraduate student in the Faculty of Arts who has achieved the highest standing. This year's recipient is Alexa Watson (she/they). Alexa is graduating with a B.A. Honours degree with a major in English and a minor in women's and gender studies.
Alexa excelled in her studies while in the Faculty at the same time as participating in various research opportunities in Arts, a multi-year student internship with the University of Manitoba Institute for the Humanities and practicing as a cellist. In the summer of 2020, Alexa received an Undergraduate Research Award where she was able to work on her own research project, supervised by Dr. Erin Keating, that she explains as "an act of queer feminist recovery work, exposing how female same-sex desire and radical gender performances exist well back in history and literature (late seventeenth-century), if you're willing to look for them." One of Alexa's favourite moments in her degree was participating in a historical re-enactment of a Restoration coffee house as part of a class project. She wrote an article for UM Today helping to promote the event and was interviewed on CBC radio (at 6:00 am!) to talk about the unique experience. "It was a very busy day but an incredible experience overall," she said. "I got to write a script and see it performed by my hard-working group mates. Watching something I wrote come to life was extraordinary." Alexa's next challenges will be to finish off some writing projects (and hopefully publishing an article!) and presenting at the Canadian Society for Eighteenth-Century Studies conference this fall. She'll be applying to grad school soon and is open to opportunities both close to home and internationally. "I cannot express enough gratitude to Dr. Keating, without her mentorship I wouldn't be where I am," she says, as well as adding special thanks to "Drs. Serenity Joo, Glenn Clark and of course, my mom, who's unwavering support got me across the finish line."
Faculty of Arts Honours Medal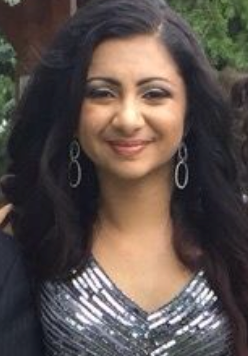 Trevyna William
B.A. Honours (Psychology)
Trevyna William is this year's recipient of the Faculty of Arts Honours Medal awarded to the student with the highest standing in a Bachelor of Arts four-year Honours Degree Program. Trevyna is graduating with a Psychology major and a Sociology minor. During her studies, she became passionate about the intersection between human biology and psychology leading her to pursue a career in the mental health field. Research has been a significant part of her university experience. After her second year, she received an Undergraduate Research Award exposing her to the world of psychology research. From there, she has had the opportunity to learn in various labs including Kinesiology and the Hearts and Minds Lab which investigates developmental and clinical science questions for children's and family health and support. "Some of my favourite memories are from the pre-COVID days – the late night study sessions and deep talks I'd have with friends at the Dafoe Library," she says fondly. Trevyna was also an active member of UM's Power to Change student group where she says she "grew as a person, made timeless connections, had the privilege to be a student leader and even met her husband." She'd like to thank "God, my husband, family, friends and mentors I have met along my university journey for their incredible support and encouragement."
Faculty of Arts Advanced Medal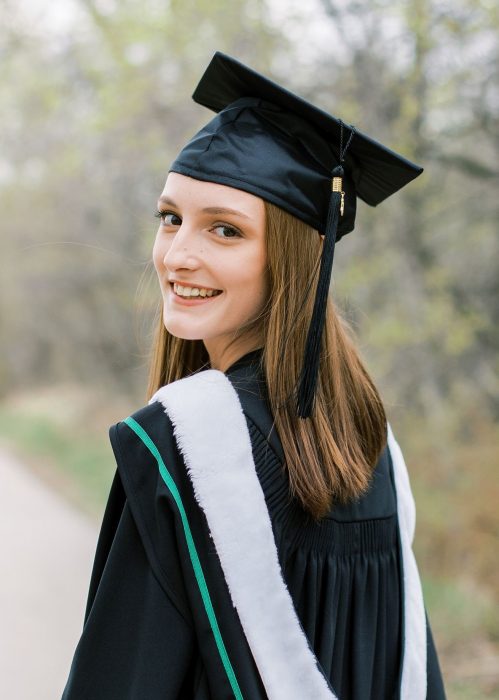 Bailey Thompson
B.A. Advanced (Linguistics)
The award for the highest standing in a Bachelor of Arts four-year Advanced Degree Program goes to Bailey Thompson. During her undergraduate degree, Bailey majored in Linguistics and minored in Psychology. "Taking a Bachelor of Arts allowed me to explore many interests including economics, abnormal psychology, communication and nutrition," she says. "My favourite classes were languages – Spanish and American Sign Language. It's so valuable to learn a new language and about other cultures and ways of life." Bailey begins a master's program this fall at McGill University in Communication Sciences and Disorders majoring in speech language pathology (SLP). She credits student group meetings at UM to help her learn about the opportunities for future studies in SLP and to meet like-minded students. Bailey would like to thank her parents for their support and the Department of Linguistics professors who "always put in extra to help their students thrive".
Faculty of Arts General Medal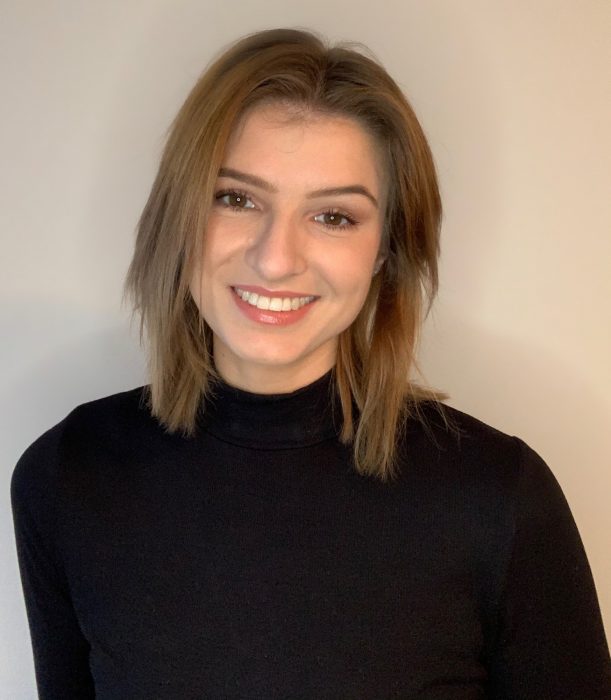 Melanie Vincent
B.A. General (Global Political Economy)
Melanie Vincent is the 2021 recipient of the Faculty of Arts General Medal, awarded for highest standing in a Bachelor of Arts three-year General Degree Program. Melanie completed a major in Global Political Economy (GPE). In 2019-2020, Melanie received the Paul Phillips Memorial award for the best research paper by a student in economics, labour studies or global political economy. She recalls this as a special moment as she remembers originally struggling with the topic, but ultimately was truly proud of the final paper. This motivated Melanie to pursue research further working as a research assistant and completing the GPE thesis course having opportunities to work with advisors from GPE, economics and sociology in topic areas such as land claims and cosmopolitan consumption, culture and markets in Canadian society. During her degree, Melanie also dove in to student life participating on the UMSU judicial board, the GPE student's association and she worked for three years as a student assistant with the UM Undergraduate Admissions office helping fellow students navigate their educational choices. She plans to attend law school at the University of Toronto this fall and has a goal to specialize in union-side labour and employment law. Melanie would like to extend thanks to her friends and family for supporting her "through every exam, rough draft and study session. I would not have made it through remote learning without you." She has some advice for U1 students who may be unsure of their next step, "I highly recommend looking into GPE. The program is made up of some of the most passionate, intelligent and inspiring people I've ever met."
Faculty of Arts Integrated Studies Program Medal
Adekunle Onakomaiya
B.A. Integrated Studies (Psychology)
The award for the highest standing in a Bachelor of Arts Integrated Studies Degree Program goes to Adekunle Onakomaiya. Adekunle graduates with a concentration in Psychology.
Congratulations to the Arts medal winners.
At its 2021 UM Virtual Convocation, the University of Manitoba will confer degrees, diplomas and certificates on 4,421 graduates.
Don't forget to check UM Student Instagram and Faculty of Arts Instagram to learn more about some of the students graduating in 2021. You can also join the 'Convocation conversation' on social media by following #umanitoba2021.