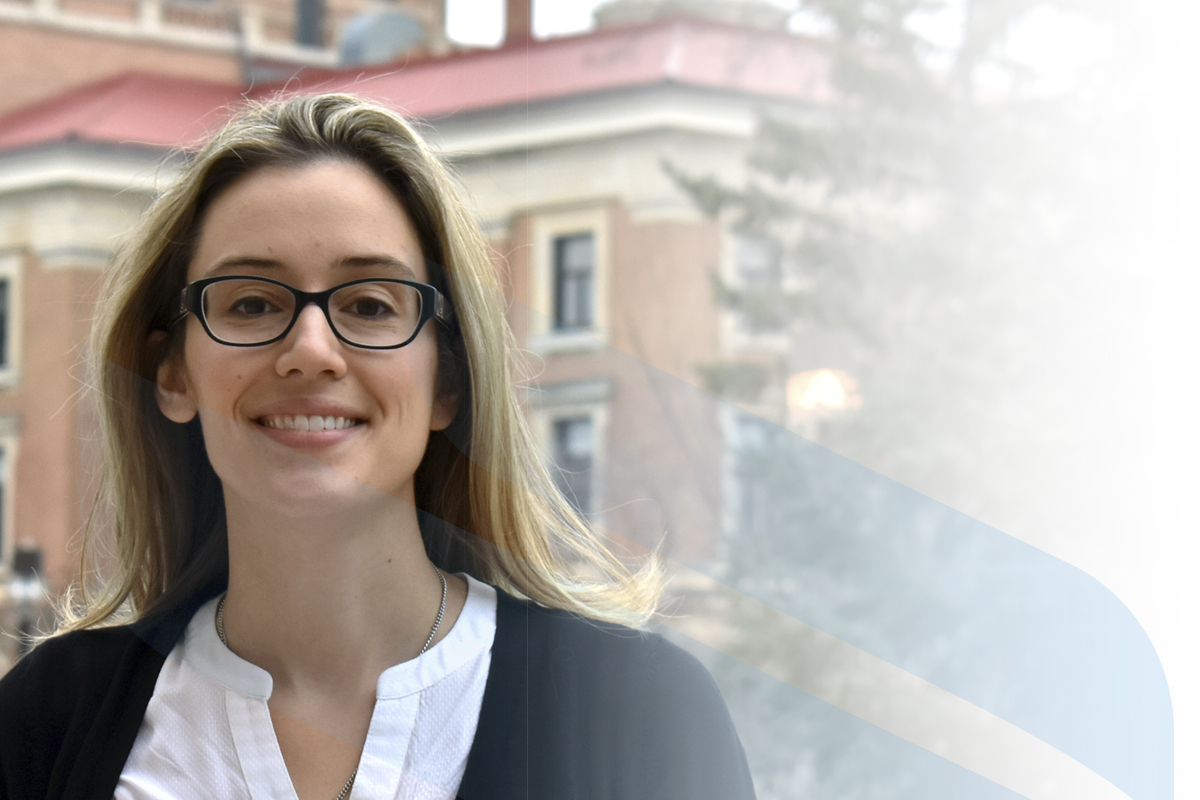 Meet Natalie Riediger, 2020 Rh Award Winner in the Interdisciplinary category
May 17, 2021 —
Natalie Riediger is an assistant professor of food and human nutritional sciences in the Faculty of Agricultural and Food Sciences who is driving discovery in understanding how to effectively address nutrition-related health inequities among oppressed populations.
Riediger is the 2020 recipient of the Terry G. Falconer Memorial Rh Institute Foundation Emerging Researcher Award in the Interdisciplinary category, in recognition of her research excellence. UM Today caught up with her recently to learn more about her and the research she is undertaking.
Tell us a bit about yourself and your research.
I was trained in nutrition (BSc and MSc) and my PhD was in the area of Indigenous health and diabetes epidemiology. I'm working on a number of research projects currently, which can be loosely linked by the theme of food security and health equity. My largest research project is looking to examine the acceptability of a sugar-sweetened tax among Indigenous populations. This is a multi-site, mixed-methods study, which includes quantitative and qualitative research components. We are interviewing people to gather their perspectives, as well as collecting data on beverage prices in different settings, such as different locations and different types of stores. Another important component to the study is examining how treaties inform policy discussions regarding taxation, specifically for First Nations people living on or near reserves.
Why is this research important?
Access to food is a human right. Beyond that, food insecurity is associated with adverse health outcomes, including type 2 diabetes, infectious disease, and mental illness, among others. What this helps demonstrate, is that we need to think about the impact of food insecurity on health beyond the direct impacts on nutrition. Not being able to access enough food for yourself and your family is stressful. With respect to the study on sugar-sweetened beverages, our research findings will provide a more fulsome picture of the multiple ways raising the prices of beverages may influence health, aside from the direct nutritional consequences of consuming them (or not).
What does the Rh Award mean to you?
Generally, I'm internally motivated in doing my work, but it is still satisfying to be recognized. The Rh Award is an acknowledgement from UM and my peers of the quality of my research, which I greatly appreciate. I also share the award with my many community partners, collaborators, research staff and students. I'm very fortunate to work with great people who I've learned so much from and enhance the research.
What do you hope to achieve in the future?
Right now, I'm just hoping to get through this pandemic. It's difficult to think too far into the future when it is currently uncertain. Generally, I plan to continue to listen, learn, stay curious, show up and mentor students. I hope to retire in the future, which I consider an achievement and leave the research field behind in the good hands of the next generation. I hope that I will have passed on something useful.
What about you would people find surprising?
I think the people who know me best would probably never describe me as a surprising person! Otherwise, I enjoy playing tennis, which may surprise some people. If anyone is looking for a hitting partner to play at Max Bell Centre, please email me. I'm always looking to play on campus in winter when I'm unable to play outside.
Research at the University of Manitoba is partially supported by funding from the Government of Canada Research Support Fund.