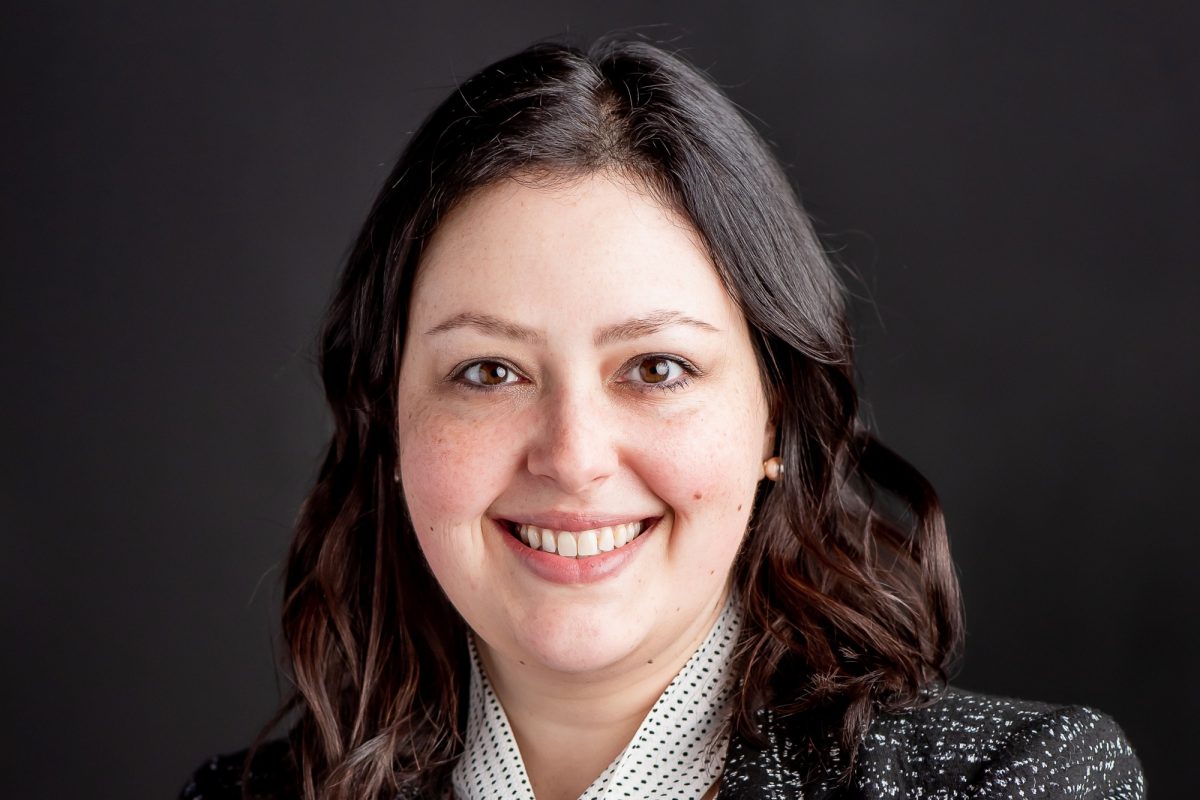 Meet Natalie Mota, 2021 Rh Award Winner in the Health Sciences category
May 27, 2022 —
Natalie Mota is an associate professor in the Department of Clinical Health Psychology at the University of Manitoba using epidemiologic data to study the impacts of trauma exposure among individuals who serve in high-risk occupations (e.g., military, public safety personnel). She is particularly interested in identifying resilience factors that can mitigate the development of post-traumatic stress disorder (PTSD) and related conditions.
Mota is the 2021 recipient of the Terry G. Falconer Memorial Rh Institute Foundation Emerging Researcher Award in the Health Sciences category, in recognition of her work to generate knowledge that can be used to develop and improve treatment and prevention programs for PTSD. UM Today caught up with her recently to learn more about her and the research she is undertaking.
Tell us a bit about yourself and your research.
I'm a clinical psychologist by training and work at a clinic called the Operational Stress Injury Clinic, affiliated with Deer Lodge Center, that serves members of the Canadian Armed Forces, RCMP members, and veterans of those organizations. My research broadly focuses on stressor- and trauma-related disorders such as post-traumatic stress disorder.
A large component of my research involves studying the mental health impacts of serving in occupations where exposure to traumatic events is very prevalent. So, for example, public safety personnel, frontline health care workers, military members, and police. I'm interested in using epidemiologic data to identify risk and protective factors for PTSD so that we can improve the mental health resources that we already have and develop new ones.
Why is this research important?
I think this research is important because individuals in these organizations serve on our front lines, protecting us and serving us in different ways, day in and day out. We have a responsibility for really understanding the mental health needs that might arise from working and serving in these high stress occupations. We need to be ready with evidence-based interventions when individuals need support.
What does the Rh Award mean to you?
It means a lot to me. I am so humbled and grateful for this recognition. I am so mindful of the mentors, collaborators, and students who have paved the way to help get here. I'm a really big advocate for the importance of mental health research in medicine, and I hope to use this award as a bit of a platform for continuing to highlight the importance of this area of study.
What do you hope to achieve in the future?
Most recently we received funding from the Canadian Institutes of Health Research to study how mental health has changed during the pandemic among public safety personnel in Manitoba. Important future components of that work will be understanding risk and protective factors that might impact the development of mental disorders. For example, social support and the perception that one feels appropriately trained and prepared for their work may foster resilience. My goal is to synthesize this knowledge and see where we can strategically incorporate it to better tailor treatments to the needs of these different occupational groups.
What about you would people find surprising?
People who know me well know this about me, but others might find it surprising that I'm a huge musical theater buff. I've been to New York City many times. I've seen many Broadway shows. Sometimes I wonder, if I hadn't gone down this career path, might I have given the theater a try?
My favourite Broadway show is Dear Evan Hansen, which is about a young boy who lives with social anxiety. I love how theatre can help us see the world through different eyes and experiences.
Any advice for early career researchers and students?
You really can't underestimate the importance of mentorship. I had several mentors along the way who have really taken a genuine and vested interest in my career, and who have opened doors and opportunities for me that I'm so grateful for.
Another piece of advice is to look at science as teamwork. It can be difficult as a clinician scientist to be able to engage in all the aspects of research alone. I very proudly serve patients as part of my role in providing direct clinical care, and working as part of a research team really just allows for a bigger, better products.
Research at the University of Manitoba is partially supported by funding from the Government of Canada Research Support Fund.