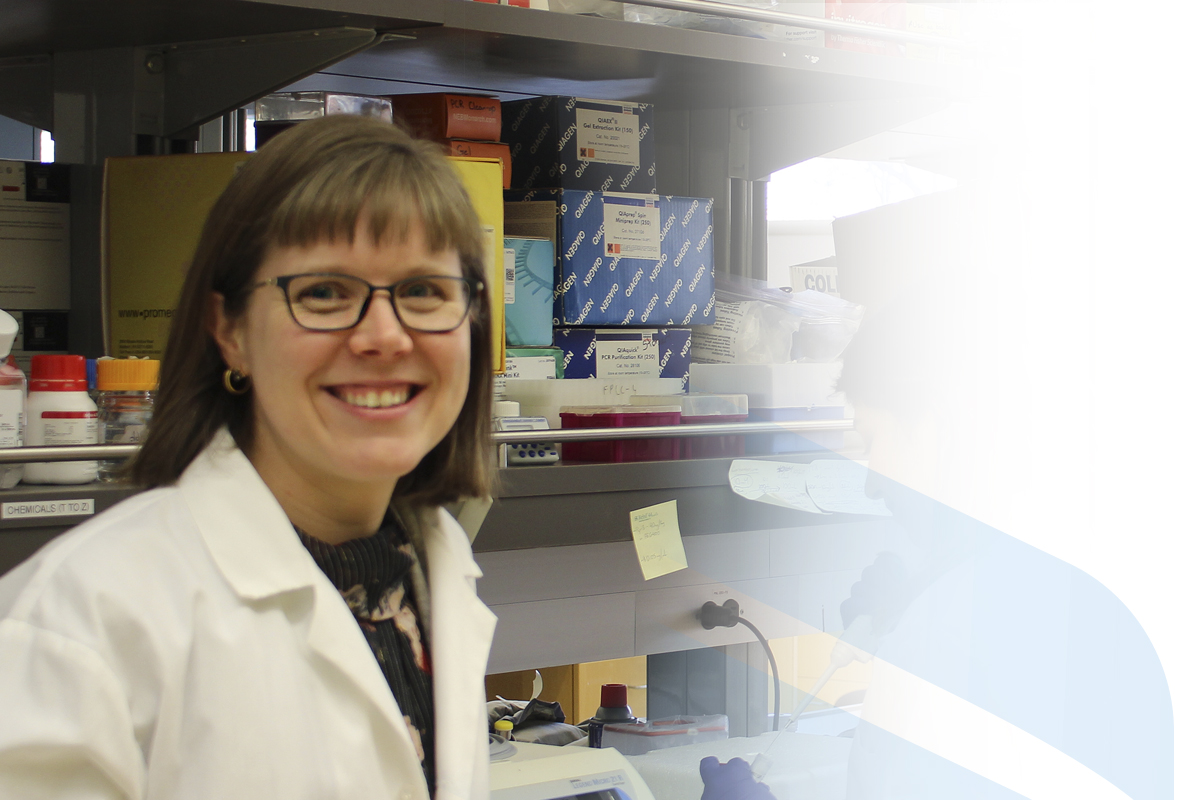 Meet Jill Stobart, 2020 Rh Award Winner in the Health Sciences category
May 17, 2021 —
Jill Stobart is an assistant professor in the College of Pharmacy, Rady Faculty of Health Sciences, whose research seeks to understand the contributions of astrocytes and pericytes to brain health and disease.
Stobart is the 2020 recipient of the Terry G. Falconer Memorial Rh Institute Foundation Emerging Researcher Award in the Health Sciences category, in recognition of her research excellence. UM Today caught up with her recently to learn more about her and the research she is undertaking.
Tell us a bit about yourself and your research.
I am a UM alumna graduating with a BSc. Honours Biochemistry (Co-op) in 2006 and a PhD in Pharmacology and Therapeutics in 2012. My research aims to understand the contributions of astrocytes and pericytes to brain health and disease. Our brains are incredibly complex organs filled with billions of electrical circuits that are wired together. Much of the field of neuroscience is dedicated to determining how these circuits function optimally and how this changes in diseases such as Alzheimer's disease.
My work is taking several different approaches, which involve state of the art imaging techniques. First, we are examining the role of astrocytes in brain circuits composed of neurons. To use an analogy, neurons and astrocytes talk back and forth, much like they are "texting each other with smartphones." In our research, we take the smartphones away from the astrocytes so that they can no longer receive or send messages. This causes a communication breakdown in the brain, which is important because these types of changes may also occur during neurological diseases. Second, we are looking at how vascular cells known as pericytes can regulate brain blood flow. We know that blood flow decreases in many neurological disorders, so our goal is to determine how pericytes change in normal healthy aging and in Alzheimer's disease.
Why is this research important?
As our population ages, diseases such as Alzheimer's disease are becoming more common. We are racing against the clock to make advances in understanding brain diseases and developing new therapies. This research could very well be the missing link that will help us to understand how the brain works and how it changes in disease. With our exciting new experimental techniques, we are poised to make important new discoveries. This may results in new treatments for neurological diseases that target astrocytes or pericytes.
What does the Rh Award mean to you?
This award is a true honour. Several of my mentors at UM have also won this award in the early stages of their careers and they have gone on to be fantastic and successful scientists whom I greatly admire. I hope to follow in their footsteps and continue to build a successful research program. In the end, acknowledgement of my early success through this award will help to advance my career to the next stage.
What do you hope to achieve in the future?
There is some amazing research going on at UM and I am happy to be a part of it. From a research perspective, I hope that we impact the neuroscience field with our findings in the future and contribute to new treatments for neurological diseases. Training future scientists is an important part of my research program, so I look forward to growing the number of undergraduate and graduate students in my lab and building a collaborative team. I have a strong passion for science and I want to foster this in my students. From a career perspective, I hope to become an established leader in astrocyte and pericyte physiology and a Tier 1 Canadian Research Chair, which is a top national research acknowledgement.
What about you would people find surprising?
People would probably be surprised to find out that I put myself through the first few years of university by working for Hudson Bay Mining & Smelting (now Hudbay Minerals) in Flin Flon, MB in the summer. It was a dirty and physically demanding job, but I learned the value of hard work and to be tenacious. These are skills that continue to serve me well in my research.
Research at the University of Manitoba is partially supported by funding from the Government of Canada Research Support Fund.